Comprehensive IT Services
Businesses are under constant pressure to deliver, increase efficiency, and reduce costs. Our IT services make this easier for you to achieve. 
We deploy IT services tailored to your business, managing your infrastructure and supporting you every step of the way. Use your precious time to grow your company and leave the IT side of your business to us!
The purpose of Stanfield IT is to provide excellent IT services to you and your business. We can build your IT systems from the ground up, or test, update, and maintain your existing IT infrastructure. We take care of all of your technical headaches to ensure you can maximise your productivity business-wide.
Our expert technicians use a range of tools to monitor your IT systems and data security. Cyber security strategies are a top priority and our IT services are delivered with data security in mind. 
Whether you have a small or medium business, we are able to provide IT services that align with your vision and budget. We are locally based in Sydney, but our services extend to businesses across the globe. On-site visits are commonplace for our Sydney clients, while our national and international client base enjoy comprehensive IT services over the phone or via email. 
Our services cover IT solutions for the health, education, finance, property, and retail sectors, but our strategies can be effectively applied across all sectors. We're confident in providing a reliable and comprehensive service to small-to-medium businesses in all industries.
IT Services We Provide
Stanfield IT provide extensive IT services. We can work with you to tailor these services specifically to your business, in line with your needs and budget. Our IT services include:
Consulting and Strategy
We'll evaluate your business goals and determine what IT services best suit your particular business plan. We will provide a strategic, proactive approach to get your IT infrastructure working in an efficient, secure, and streamlined way. Our strategies are flexible and will morph with your business as it grows. This includes incorporating any new relevant technologies and cyber security defences into your IT services as they become available. 
Managed IT Services
 Our managed IT services are ideal for consistently providing reliable support across cyber security, desktop and mobile devices, the Cloud, backups, and networks. Whether you're a small company with limited IT-based capabilities, or are a medium-sized business with a dedicated tech department, we can fill any gaps in your IT services. From the hands-on installation of new technology in the office to setting up your business with cloud-based services like Office 365, we will ensure you are set up to take your business to the next level. 
Help Desk and End-User Support
Our team at Stanfield IT don't just know how to talk to computers! We can talk you through any issues that may arise, no matter how simple or complex. We provide help desk support to you and your employees that is user-friendly and as uncomplicated as possible—so we won't just be talking your ear off with technical lingo. You'll get to talk to a 1st, 2nd, or 3rd level technician, with our team comprising of experts with different specialties. There's someone ready to deal with any issue or query. 
Project Deployment and Management
Our IT services cover the scope, approach, and execution of your business's personalised IT plan. This includes any system support, risk management (such as data loss prevention), and issue tracking. Want to convert to Google Workspace? Done. Set up a cloud facility with backups? Easy. Whatever the project, we can take care of it from planning to deployment.
Workstations and Mobility
If it's time to bring your office into the 21st century—allow us to assist. We'll get your team working on modern, efficient work systems and mobile devices that keep your business running smoothly. Your computers and mobile devices can be managed and maintained by us on or off-site—they'll be kept up-to-date and secure. If a new employee comes on board your business, we'll have their workstation set up and ready before they start. 
Cyber Security
Small-to-medium businesses often become targets for hackers, as the defenses in place aren't up to scratch.  Protect your data and secure your business from cyber threats by getting us to take the reigns on your cyber security. This includes training your staff so they can properly recognise and respond to threats, setting up and maintaining security measures, and assisting you with a cyber security response plan. 
Networking and Servers
Your network is the heart of your business, connecting you to customers, clients, and stakeholders. We can install, maintain, and monitor your networks and servers. We'll keep a close eye on your network status and be on hand around the clock to prevent any potential downtime or external security threats. Don't worry about missing any important upgrades—we'll take care of your network infrastructure so it remains as efficient as possible.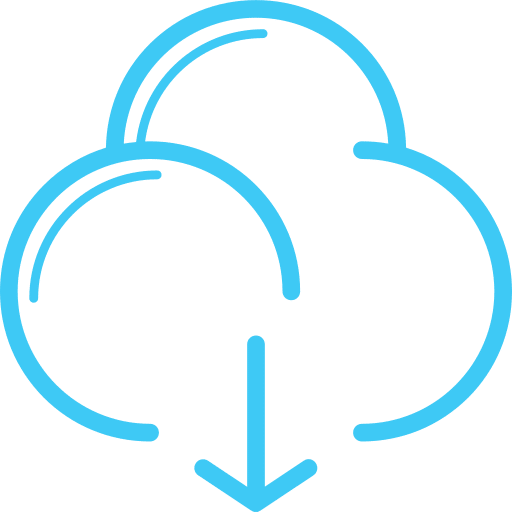 The Cloud
 No matter how you'd like to divvy out what you host on The Cloud and what is stored on premises, we can set up, maintain, and manage your cloud computing. We can train your staff across document collaboration services (Google Workspace and Office 365) and always be on hand for technical support. With our professional advice on how you can intelligently use cloud solutions within your business, you'll be set to outperform competitors and stay ahead of the game.
Support Contracts
If you don't want to hire full-time IT support staff, talk to us about our support contracts. We can do month-by-month or annual contracts. We also offer no lock in at all, where we can work on an hourly basis. There's an option for every business's budget and scope. 
Internet and Connectivity
Are you re-evaluating your connectivity options? We can get your office connected and online whether you're upgrading servers, moving office, or setting up a new business. You can be confident in receiving a premium service that meets your budget and can deliver the performance, ease of use, and user experience your business needs. We are on top of the latest trends and are able to assist with the migration to NBN and the set up of modern solutions like SDWAN. 
Auditing
Use us to evaluate if your IT is up to scratch or receive a no-obligation cyber security audit of your business. Our comprehensive audits examine the management controls you have in place within your business and how they are used. We flag any tech or security gaps that appear in your IT infrastructure and then work closely with you to come up with a plan of action to ensure your business to operating safely, efficiently, and lawfully.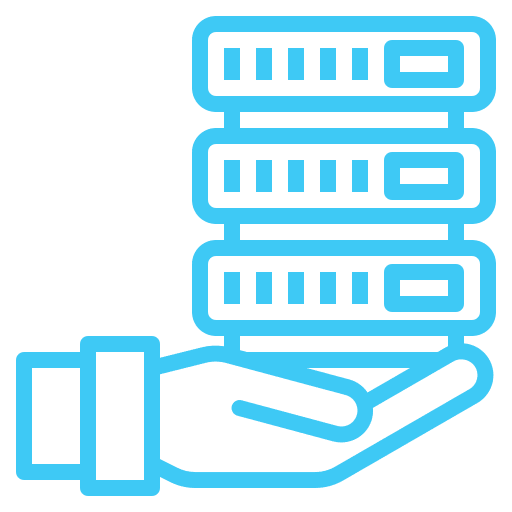 Backup and Disaster Recovery
If you're worried your business might be relying on outdated—yet expensive!—recovery solutions, trust Stanfield IT to rectify this. We'll ensure data is backed up at least quarterly, set up backup storage on a secure separate server, and put a fool-proof disaster recovery plan in place just in case anything goes awry. 
Enjoy the Best Local IT Support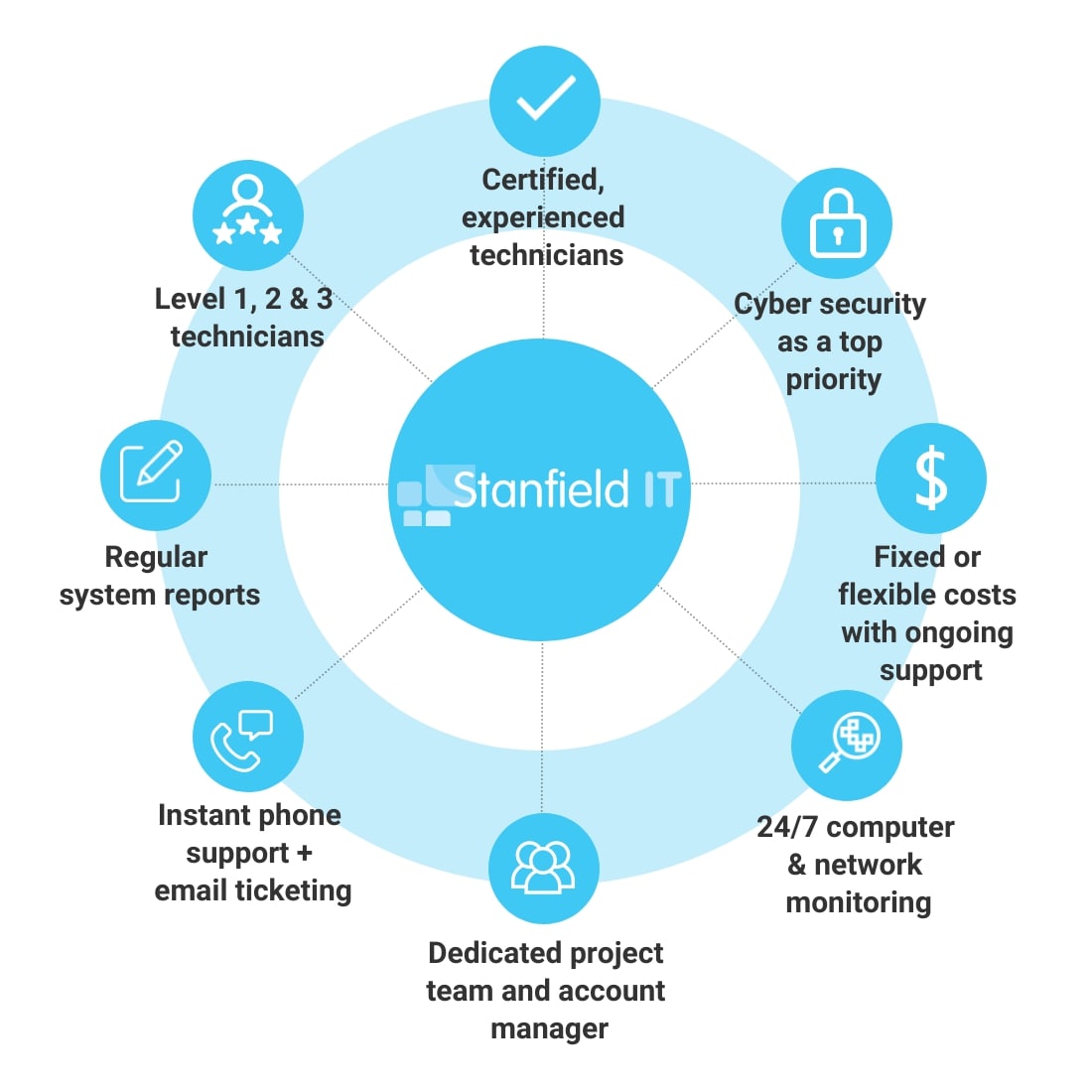 What to expect when you engage with
Stanfield IT
We have a team of IT solutions experts who pride themselves on being able to deliver the best IT services to you.
We plan, implement, and manage all facets of your business's IT infrastructure, leaving you to focus on growing your business. 
We provide ongoing IT management with flexible payment options—either a fixed monthly rate or pay-by-the-hour services.
We understand small businesses (we are one, after all!) and appreciate that every business is different. We intimately get to know your business and tailor our IT services to suit. 
By engaging Standfield IT services, you can expect that we will:
Identify the needs of your organisation by learning the ins and outs of your business.
Protect your business by developing and implementing security systems, measures, infrastructure, controls, policy, and provide ongoing training for you and your employees.
Complete an IT infrastructure and cyber security audit of your business so that you know exactly where your business stands and what issues we plan on addressing. 
Respond quickly to any IT issues that arise—we have a customer-friendly ticketing service for minor issues, but you can also directly speak to one of our technicians in Sydney over the phone. 
Train and support your employees on-site with their desktops, applications, and software, so that productivity is at a high.
"Stanfield IT has been my go-to tech help desk and IT advisers for about five years. Whether it's setting up a network for KDK Media, advising on the latest Google or security updates, or working out our printer network. Nothing phases their IT team. Professional, prompt and always courteous. And they always come up with a solution on time, and on budget."
Key Facts about IT Services
IT services and business strategy go hand in hand. IT infrastructure runs the applications that process transactions, handles customer data, and stores your critical business information. It's the foundation on which your business can function.
Even if you have a dedicated IT department, using IT services like those listed above will increase your business productivity and assist growth. Why? Your team can focus on strategic projects relevant to growing your business rather than having to address time-consuming daily IT issues.
Never underestimate the importance of IT to a business. IT drives innovation, which is key to a successful business. Smarter apps, improved data storage, faster processing, and wider information distribution are all innovations that make businesses more efficient and increase value.
Effective IT services give your business the tools to solve complex problems. Advanced hardware (more memory, faster processors, and better displays), combined with smarter applications, have made it easier than ever to research data, analyse it, strategise, and problem solve.
The total cost of cybercrime in Australia is estimated to be at least $3 billion, highlighting the real need to implement some cyber security measures or perform an audit of your existing IT infrastructure security.
Stanfield IT Most Recent Case Studies
Kennedy Partners Wealth is a trusted financial advisory firm based in Sydney, Australia. Their team of experienced advisors provides tailored financial advice to individuals, families, and businesses across Australia. With over 25 years of experience in the...
Calix is a global company changing how we address sustainability issues worldwide. They've created a patented technology used to develop environmentally friendly solutions for advanced batteries, agriculture, wastewater, and carbon reduction. Intro Calix...
MD Imaging needed a bespoke IT framework in order to open their practice. Stanfield IT successfully managed the project on budget and on time.
Contact 
Stanfield IT

 today and discuss how we can best deliver IT services tailored to your business. 

We don't ask you to go big or go home here. If you need some IT services that fall outside the 'mammoth project' scope, that's okay.

Whether you just want someone to connect your phones and internet, or you need a total overhaul of your IT infrastructure, Stanfield IT has the right team for your needs.

We can build your whole network from scratch, migrate your office to a new system, and stick with you for learning, updates, and maintenance as you require. Essentially, you just focus on your business, and we take care of all the technical headaches.

We will work with you to tailor a package of IT services to suit your needs and your budget.
Companies Who Trust Stanfield IT for Cyber Security Services