If there's one thing we do here at Stanfield IT, it's provide excellent IT services for you and your business. With your business under the hammer to get your product or service delivered on time to your clients, don't waste your precious hours dealing with IT drama when it's a far more effective use of your money to hire us for your IT services.
Our team of professionals can build your IT from scratch, get you up and running and then stick with you along the way to operate, maintain, and update your IT services as you need. We take care of the technical headaches, to ensure you can maximise your productivity.
The range of IT services we provide is extensive, and we can work with you to tailor a package of IT services to suit your needs and your budget. We provide:
Consulting and Strategy: We'll evaluate your business goals and determine what you need and then provide a strategic approach to get your IT on top.
Managed IT Services: Cybersecurity, devices, cloud, backups, and networks. Our managed IT services are ideal for consistently reliable support.
Help Desk and End User Support: We don't just know how to talk to computers, we can talk you through any issues that may arise. We provide help desk support to you and your employees.
Project Deployment and Management: Want to convert to G Suite? Done. Set up a cloud facility with backups? Done. Whatever the project, we can take care of it.
Workstations and Mobility: If it's time to bring your office into the 21st century, allow us to assist. We can get your team working on modern and efficient work systems and mobile devices that keep you running smoothly.
Cyber Security: Protect your data and secure your business from cyber threats.
Networking and Servers: We can install, maintain and monitor your networks and servers. We'll keep a close eye and be on hand around the clock to prevent any potential downtime.
Internet and Connectivity: Even something as simple as getting your office connected and online is one of the IT services we are happy to provide.
Auditing: Use us to evaluate if your IT is up to scratch, or for a cybersecurity audit.
Support Contracts: If you don't want to hire full-time IT support staff, talk to us about our support contracts.
We don't ask you to go big or go home here. If you need some IT services that fall outside the 'mammoth project' scope, that's okay. Whether you just want someone to connect your phones and internet or you need a total overhaul of your IT infrastructure, Stanfield IT has the right team for your needs.
Key Facts about IT Services
The total cost of cybercrime in Australia is estimated to be at least $3 billion, highlighting the real need to implement some cyber security measures or perform an audit of your existing security.
IT services and business strategy go hand in hand. IT infrastructure runs the applications that process transactions, handles customer data, and stores your critical business information. It's the foundation on which your business can function.
Even if you have a dedicated IT department, using IT services such as above will increase your business productivity and assist growth as your team can focus on strategic projects more relevant to growing your business.
Never underestimate the importance of IT to a business. IT drives innovation and innovation is key to a successful business. Smarter apps, improved data storage, faster processing, and wider information distribution, these innovations all make businesses more efficient and increase value.
Effective IT services give your business the tools to solve complex problems. With more better hardware (more memory, faster processors, and better displays), combined with smarter applications have made it easier than ever to research data, analyse it, strategise and solve your problems.
Stanfield IT Latest IT Services Articles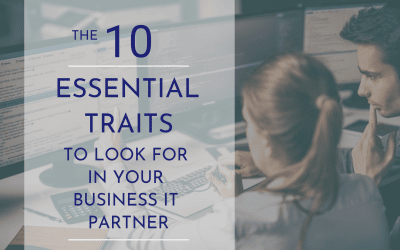 Choosing your business IT partner can be a stressful decision. How do you know when you've made the right choice? Do they have the relevant skills and experience to fully support you? How much do they charge? Is that a reasonable cost? How do you know? So many...