If you're looking for IT Solutions in Sydney, you've come to the right place. Stanfield IT's team are ready to provide expert IT solutions for your small-to-medium business in Sydney. We understand small business, as well as the priorities of local businesses in Sydney. We are across the competitive Sydney landscape and our IT solutions keep your data safe, technology updated, and team productive and proactive. We will enable your business to continually reach new heights.
We provide IT solutions and support across Sydney, with both remote support and onsite management available for your bigger projects. We have completely built businesses from the ground up, relocated offices, and helped businesses update their IT solutions to align with the current tech landscape. No matter how big or small an IT task, we have a local teams of experts ready to help.
Outsourcing your IT solutions to a local Sydney partner is a powerful way to boost your own business. Save your in-house resources for growing your business—take advantage of a team like Stanfield IT to manage your IT solutions and provide ongoing technical support. Being local, you can enjoy hands-on support at your business, as well as phone and email support. You'll never be talking to someone offshore or waiting days for an answer to a simple question.
We listen to your needs and understand the local business environment—we are a small business ourselves! As such, we work with you to create a strategic approach to supporting your business. Our aim? To provide you with the best possible IT solutions.
Get all the benefits of in-house IT experts without the exorbitant cost and resources usually required. 
With growing threats in cyber security in conjunction with exponential growth of online services, outsourcing your IT solutions is a great business move for small to medium businesses in Sydney. The largest city in Australia, Sydney is a hub for businesses—both established and starting out. While competition is hot, our IT solutions for Sydney businesses can help you stand out and get ahead.
At Stanfield IT we have a range of IT solutions, Sydney, that we can tailor to your business needs and project requirements. While the scope of our expert IT services on offer for Sydney businesses is huge, we're going to give you a taste of some of our most popular IT services. We have successfully implemented and maintained these solutions across many Sydney businesses, including in the online retail, healthcare, education, and design sectors.
1. Managed IT Services
Managed IT services take the pressure off your team so that they can focus on what really matters: your business. Utilise an IT partner like Stanfield IT to manage your cyber security, systems monitoring, mobile devices, workstations, and more. With managed IT services, you don't lose time on issues and projects that don't directly contribute to growing your business. 
2. Networks and Connectivity Services
One of the IT solutions Sydney requires of any business is great networks and reliable connectivity. Stanfield IT is well-versed in designing the perfect network for your business, so that you experience minimal downtime and optimal speeds for running your business.
We can also set your office up with internet connectivity, including SDWAN for bundling internet connections for your office and/or remote locations.
3. Backup and Disaster Recovery
We can protect your data and your productivity with backup solutions and incident response plans. If you experience unexpected outage or attack on your business—you'll need that disaster recovery plan in place in order to get back on top ASAP. 
We can arrange for scheduled backups to your system on a regular basis, with periodic testing to ensure it's all working effectively. You can work free of the concern that your data and/or client's confidential information is at risk of being lost. This safeguards your business's reputation and credibility. 
4. Project Management
Whether you want to expand your office network, convert everything from Mac to Windows, or upgrade your networks and firewalls, Stanfield IT's experts can take on the project for you.
Trying to figure out specs and requirements for a job can bog you down. Avoid the hassle by letting Stanfield IT handle it. We can scope out the project for you, quote it, and manage it from beginning to end, while keeping you in the loop at all times.
5. Business Continuity
Having a business continuity plan in place may not seem like an IT solution at first glance, but with IT now playing such an integral role in any business, it's crucial to have a dedicated business continuity plan for the IT side of your business. 
We can work with you to create a business continuity plan that accounts for retrieving data, getting your networks up and functional again after any incident, and so on.
6. Cyber Security
This is an essential concern for any business. Cyber attacks and incidents can (and frequently do) come from any angle—and small businesses are targeted more often than not. Save your business from the ensuing financial and reputation damage, and allow Stanfield IT to implement the best cyber security protection and policies to ensure that your business doesn't become another victim.
7. G Suite
Running a business in Sydney requires an IT solution like Google's G Suite. G Suite empowers your business to collaborate, and create on the scale that you require. 
 G Suite will take your business from a fledgling production to a professional, impressive organisation that can handle anything.
8. Office 365
Office 365 is a competing IT solution for Sydney based businesses. With Office 365, you'll have professional domain-based emails for your staff, cloud storage, Office applications, and collaborative tools at your fingertips.
We have Microsoft experts who will be happy to take you through the process and get your business set up with this powerful tool.
9. Employee Education
Employee education is a core aspect of cyber security that many businesses may not consider. It's just as much an IT solution as any other we've listed. Why? Because human error plays a huge role in cyber incidents. 
Stanfield IT can run cyber security awareness seminars, and provide up-to-date news and information on the latest cyber security threats and technology available for protecting your business.
10. Intrusion Detection & Threat Protection
Let Stanfield IT be the security guard for your organisation's data. We can set up next-gen firewalls and round-the-clock network monitoring. We'll identify any suspicious activity on your system, and work to get ahead of any incidents. 
With the right tools and eyes on your system, you'll find your business can be protected from most external threats before they get a chance to fully infiltrate.
This is just a sample of the IT solutions we can provide for Sydney businesses. What makes us different from other IT partners in Sydney? What sets Stanfield IT apart from the herd? Read on to learn why we're the right choice for your business.
8 Reasons to Choose Stanfield IT As Your IT Support
We understand small, local businesses. Because that's what we are.
We are a small, cohesive team that understands the priorities and pressures of being a small business. Our team has a wealth of experience working in and supporting businesses and understand where you're coming from.
We can provide obligation-free quotes for projects and services.
It can be difficult to know exactly what you need doing, and you don't want to waste your hard-earned money. We'll give you an idea of project scope, cost, and turn—you'll know from the start if it's going to be the right fit for you and your business.
Remote support over the phone means that many issues can be resolved on the spot.
In the case of many issues, work will come to a grinding halt until it can be fixed. That means you don't have the luxury of waiting for a tech to come and see you during some vague four-hour window. We can talk you through resolving many issues over the phone as soon as you call, so you get everything back on track with minimal downtime.
Reasonable costs and flexible month-to-month payment plans.
It can be daunting to hand over large amounts of money on what might seem like an inconsequential service, but we can offer a month-to-month support arrangement for your business that gives you the most value at a cost-effective rate.
We can provide employee education seminars on cyber security.
We won't leave you and your team to flounder in the dark. One of the most important tenets of cyber security is to have a well-informed team who understand the importance of cyber security and know how to proceed online. We can arrange an employee education seminar as a part of your IT solutions Sydney inclusions. This will get your team informed so that you achieve an across-the-board knowledge base in your business regarding cyber crime.
We are happy to arrange an on-site visit to assist you.
Sometimes phone calls and emails are not enough; you may need someone to visit you in person to lay it all out, so you can get the full picture of what you need. Because we are local to Sydney, we are happy to come out to you and assist you in person.
Friendly, local expertise from a diverse team.
Having a diverse team is so valuable for a business, and, at Stanfield IT, we are pleased to have just this. Each team members brings something unique and valuable to the table. With such a variety of backgrounds, we have a wealth of knowledge to share.
We are early adopters of new technology and keep abreast of cyber security news.
Cyber security is an ever-evolving domain, and we do our best to keep up with the newest and latest. As cyber attacks become more sophisticated, new technologies are constantly being developed to keep up with protecting data. We take pride in being one of the rare businesses who will inform you about new anti-malware and security technologies, which offer you the best protection possible.
Latest IT Support Articles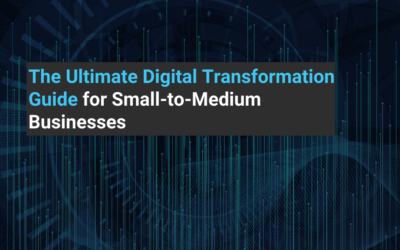 Business is constantly reshaped by the forces of technology. For many small-to-medium businesses (SMBs), digital transformation isn't just a buzzword; it's a critical investment into their future competitiveness and growth. For a start, it involves rethinking your...