Cyber security services have seen some real growth in recent years, and if you're just now becoming aware of the need for cyber security services for your business, then you've come to the right people. At Stanfield IT, we are well-versed in cyber security services and needs, and pride ourselves on being at the forefront of cyber security resilience and management.
We provide cyber security services tailored to your business requirements and risks. We do this by following a standardised process:
Identify the needs of your organisation by learning about your business.
Protect your business by developing and implementing a security systems, measures, infrastructure, controls, policy and provide training for you and your employees.
Detect any suspicious cyber security incidents by continuously monitoring and reporting on cyber activity within your business.
Respond quickly to any issues by having an established incident protocol in place, allowing for prompt communication, containment and mitigation. Recover your data in the case of any cyber incident by implementing backup procedures and having recovery framework to minimise the impact to your business.
We protect your business by working with you to select one of our cyber security services that works best for you and your business needs. We can arrange for any number of solutions such as:
Cyber security auditing
Next generation firewalls
Business continuity management solutions
Cyber security monitoring and alerting tools
Cyber security policies and systems
Mobile device management and control
Mobile application management
Employee training and education
Industry specific standards
We have a team of cyber security experts who pride themselves on being able to deliver the best cyber security solutions to you, tailored specifically to your needs. We provide ongoing management of your cyber security solutions and assist you to optimise your cyber security resilience and minimise your risks.
Key Facts about Cyber Security
The importance of having a secure system and cyber security management cannot be overstated. With 56% of all reported cyber incidents are due to a compromised system, and 22% due to a malicious email, that's nearly 80% of all cyber incidents occurring as a direct result of insufficient cyber security measures.
Small businesses are the primary targets of cyber attacks now, more so than individuals or larger businesses. Small businesses are often willing to pay ransom to secure and retrieve their information and less likely to have the security measures in place to deter the attack in the first place.
Governments are constantly adding new legislation and measures to keep up with the rapidly-evolving world of cyber security and cybercrime. Keep abreast of new laws like the Notifiable Data Breaches Scheme, and the GDPR to ensure your business is compliant with these requirements.
Due to the ever-changing and expanding world of cybercrime and security, it's not enough to merely be industry compliant. To stay ahead, you need to think ahead in order to protect your business.
Users are (and always will be) the biggest risk to your business. Outside threats are very real, but all the protection in the world is useless if you have someone on inside being negligent or malicious with your sensitive information. Employee education is key!
Stanfield IT Latest IT Services Articles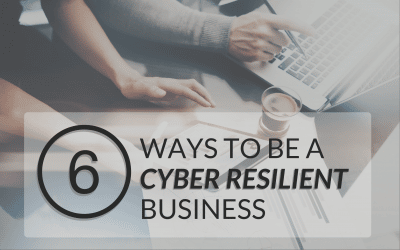 Being a cyber resilient business isn't just about preventing cyber attacks. If that were the case, then no business would be cyber resilient. Every business is at risk of a cyber attack, regardless of the security measures you may have in place. A cyber resilient...