Business Continuity Planning Services
Complete Business Continuity Planning Services
Stanfield IT's business continuity planning services give your business ongoing resilience against downtime. We assess the unique makeup of your business, the technologies you use, and where you're most at risk. 
From here, we work with you to put a plan together to mitigate these risks. This is achieved through implementing solutions to current areas of concern, plus flagging issues that may arise in the future. We plan ahead with you to eliminate avoidable downtime and have steps in place for the worst-case scenario.  
Business continuity planning ensures your business is prepared for anything. Businesses who implement the recommended business continuity planning are far less likely to experience downtime, especially for an extended period.
With businesses and customers being increasingly interconnected via technology, it's important for you to shape your business contingency strategy to reflect this landscape.
To stop the potential of circumstances that lead to a stop in business operations—whether they be caused by a cyber security breach, data loss, or technology mishap. We'll assess where you're at risk and take appropriate steps to mitigate these risks.
Business continuity services we provide
Whether you want an assessment of your current contingency strategies, or need to build your plan from the ground up, you'll benefit from Stanfield IT's team of business continuity planning experts. Our comprehensive services in the field of business contingency include:
Conduct a Risk Assessment
Firstly, through the lens of IT business contingency, we identify your critical services. We then assess where immediate and potential risks lie in your business that could impact these critical services, indicating the severity and likelihood of events occurring that could stop business operations.
Create a Plan to Implement Solutions
From here, we identify solutions to these issues, putting them together to form a business continuity plan. This plan will make sure that, in the face of disaster, downtime is kept to a minimum or completely avoided. With this plan in place your business will heading in the right direction for profitability, success, and trustworthiness.
Testing and Training
Of course, you won't be given a plan and expected to be left to your own devices from there onwards. We will train key staff members and test that everything is working as planned, undertaking any adjustments to your business continuity plan as needed. These staff members will be able to understand the processes that need to happen in the case of a disaster. Of course, you will still be able to engage our services if this were to happen.
Documentation
Through our business continuity planning, we provide you will all the appropriate documentation, which lays out your uniquely-tailored contingency plan. This will not only detail procedures to avoid any business losses and what to do in the case of a disaster, but detail your business processes, assets, human resources, and key partners.
Backup Solutions, Connectivity, and Infrastructure
A huge part of the business continuity planning process is having a comprehensive backup solution, which acts as a safety net for your business. This should include connectivity and infrastructure solutions in the case of downtime. The most important thing is to ensure your data is consistently backed up on a server separate from the main server.
High Availability Solutions
High availability solutions are paramount to prevent huge access loss in the face of compromised business operations. However, such solutions are often too costly for SMEs to consider. Stanfield IT tailor a high availability solution for your business's budget through our business continuity planning services. This means that you'll have a core to keep your systems running, and files accessible, even if disaster strikes.
Cloud Backups
Are you a cloud-based business? Our business continuity planning services include hybrid cloud backups. This hybrid approach means that we can assess and rectify any vulnerabilities that a cloud-only or local-only are subject to. We aim to ensure that it's not only your data that's available and protected, but your applications, too. 
Monitoring
To make sure you're aware of any issues or potential downtime—so this can be rectified before it causes business disruption—we offer testing and monitoring of your networks. This can be done remotely, where our system will constantly monitor your network for any slow or failing components. In this circumstance, we will be notified automatically so that outages are avoided.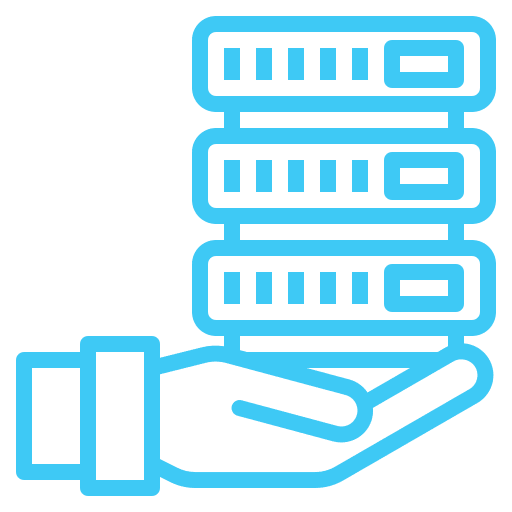 Disaster Recovery Planning
Your plan will include strategies to be implemented in the case of corruption or loss, so that data can swiftly be recovered. We will prepare you for the worst-case scenario, so that reactions can be immediate, justified, and give your business the best chance of making a full recovery. Recovery targets will be set that reflect your assets, business size, and budget. 
Our business continuity planning services process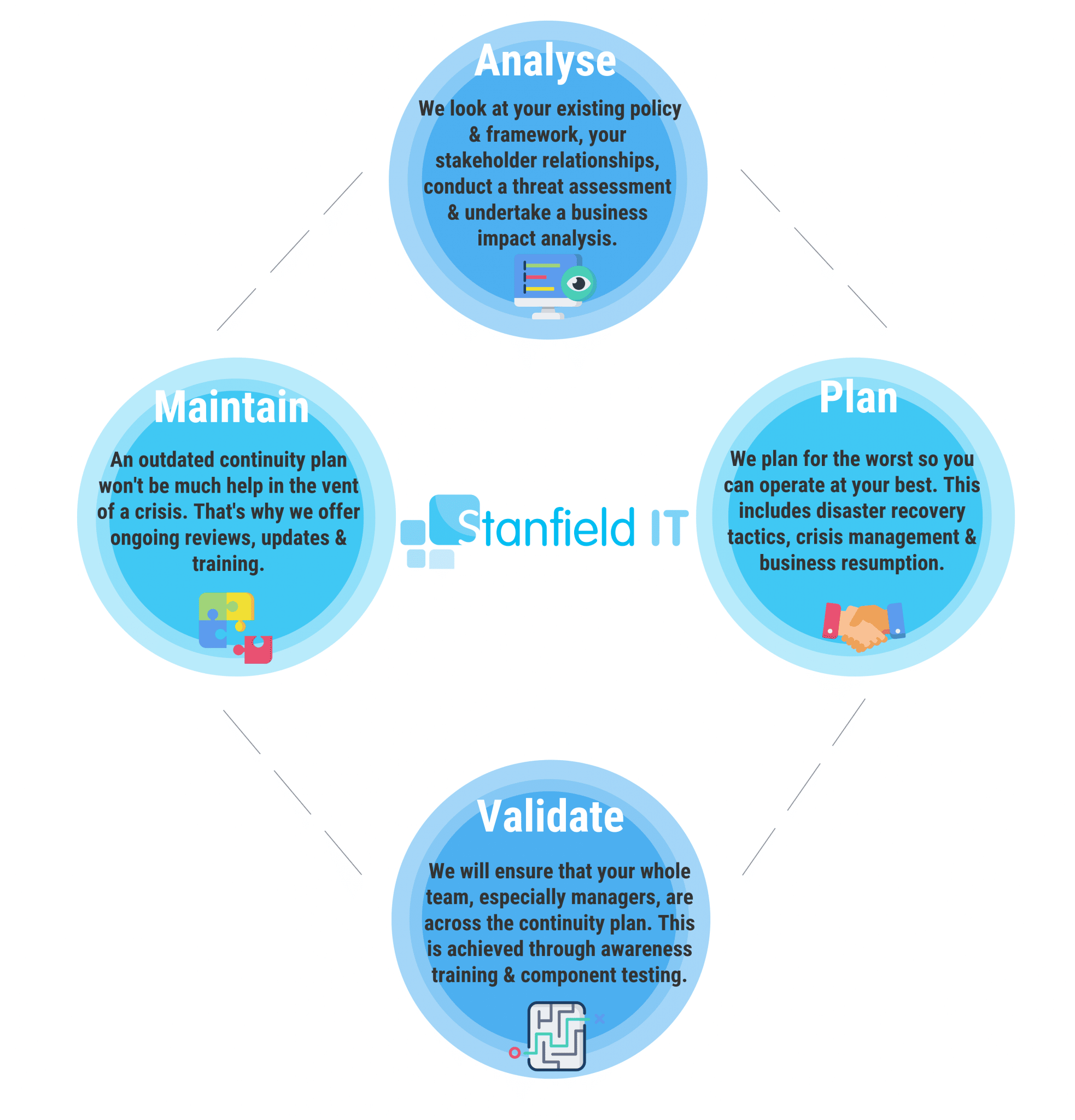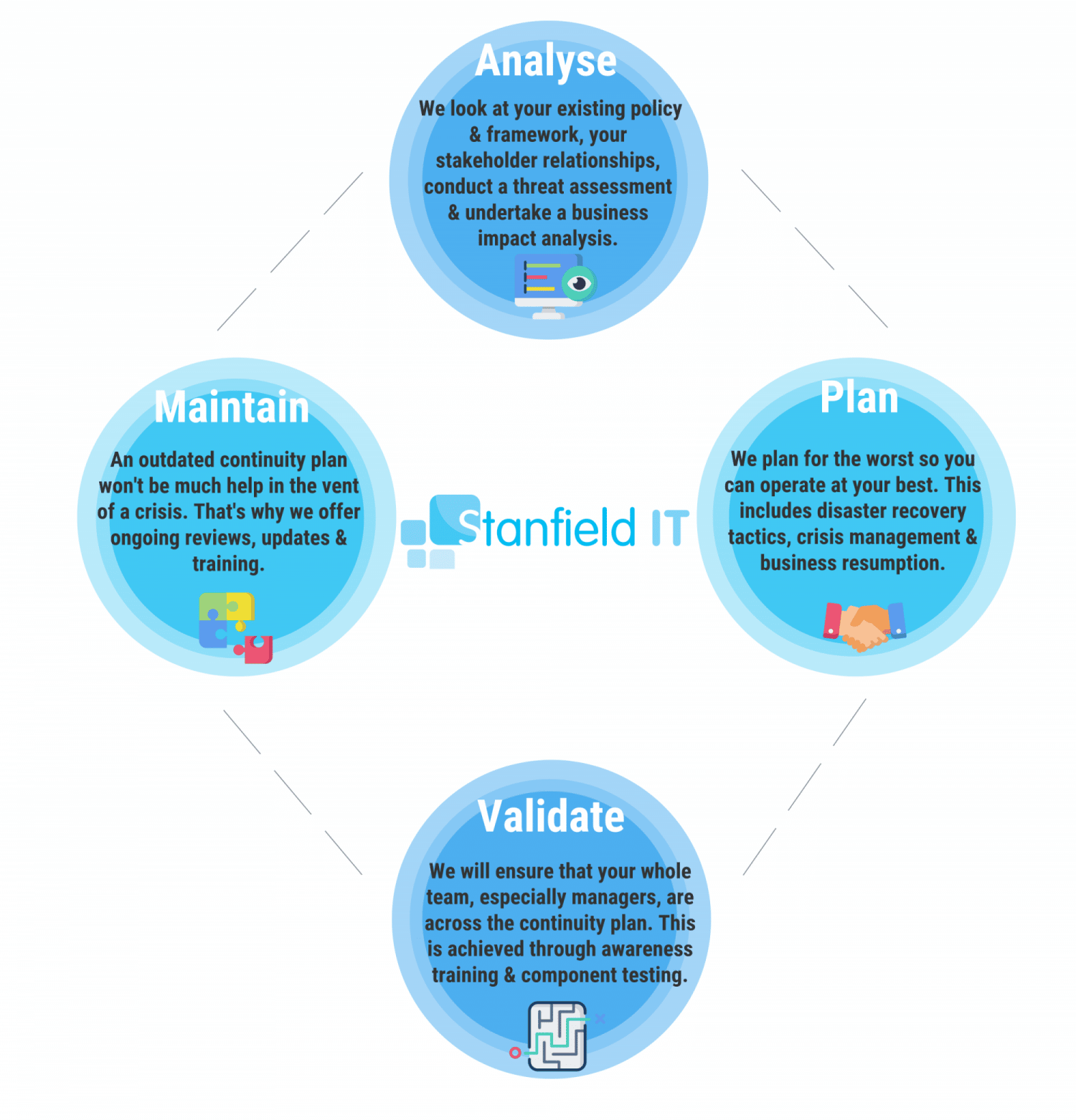 What to expect when you engage with
Stanfield IT
We have a team of business continuity planning experts who pride themselves on being able to deliver the best services to protect your business.
We will work alongside you to create a business continuity plan specifically tailored to your business and based on industry best practice.
We offer ongoing management of your cyber resilience solutions. This includes monitoring your networks, training your employees, and providing maintenance, updates, and support.
Our business continuity services achieve this by following a standardised process:
Establish a plan so your business is always prepared for critical service disruptions, giving you the best chance of a quick, full recovery.
Minimise risks through disaster recovery strategies, letting you avoid incidents that cause your business to come to a standstill.
Orchestrate and simplify any existing recovery plans you have in place to minimise risk and increase availability, efficiency, and business assurance.
Safeguard your data with efficient cloud-based and local backup and recovery.
Recover your data in the case of any cyber incident by implementing backup procedures and having a recovery framework ready to contain the breach.
Mitigate cyber disruption through practicing expert cyber resilience to flag risks, secure applications and data, and rapidly recover IT.
"Stanfield IT have provided excellent service to our company over a number of years, and have always provided valuable solutions to improve our IT environment as our business has grown. I would have no hesitation in recommending the Stanfield IT team to other businesses."
Key Facts about Cyber Security Services
Good business continuity planning will ultimately reduce the risks and downfalls associated with natural disasters, or business interruptions that we are all subject to from time to time.
Network downtime costs 80% of small and medium-sized businesses at least $21,300 per hour. Business continuity planning ensures you get back online and running faster and aren't subject to astronomical costs.
Backing up your data is not enough. Effective business continuity planning needs to account for hardware, software, communications systems, and all operations that rely on your IT systems.
Hardware failure is the leading cause of all network downtime, accounting for about 45% of downtime. Backup infrastructure, high availability and cloud servers help to mitigate this risk.
With ransomware being the most common and threatening form of cyber attack, you'll be pleased to know that 96% of businesses affected by ransomware attacks survive and thrive after an attack, when they had a reliable backup and disaster recovery system in place.
Stanfield IT Most Recent Case Studies
Kennedy Partners Wealth is a trusted financial advisory firm based in Sydney, Australia. Their team of experienced advisors provides tailored financial advice to individuals, families, and businesses across Australia. With over 25 years of experience in the...
Calix is a global company changing how we address sustainability issues worldwide. They've created a patented technology used to develop environmentally friendly solutions for advanced batteries, agriculture, wastewater, and carbon reduction. Intro Calix...
MD Imaging needed a bespoke IT framework in order to open their practice. Stanfield IT successfully managed the project on budget and on time.
Contact 
Stanfield IT

 today and see if you're eligible for a free cyber security assessment for your business!

Stanfield IT specialises in all aspects of cyber security preparation and planning. Business continuity planning is a key aspect of that for any business. It will also be invaluable if your business is subject to any unforeseen accidents like fire, network disruptions, or power outages.

Bear in mind that comprehensive business continuity planning will not only save your business from possible financial hardships. It will also enhance your reputation and goodwill amongst clients and stakeholders. In short, you'll show that you're keen to protect not just your own interests, but those of your clients.

Building the right plan and steps for your business requires specialised IT knowledge. This is where Stanfield IT comes in. We will amend your current business continuity plan covers all bases, or build you a plan from the ground up.