IT Infrastructure Services
Without IT infrastructure services in place, you are neglecting the backbone of your business. The very thing that allows you to work efficiently and securely! As such a critical element, you want to ensure you have the best IT infrastructure possible, and that's where Stanfield IT comes in with all the knowledge and tools you need to tailor and roll out an infrastructure suited to your business.
A great IT infrastructure will perform invisibly, without interfering in your daily work and provides your team with everything they need to get the job done. This is what we strive to achieve and bring to your business. We work with you to deliver one or multiple IT infrastructure services that meet your needs:
End-to-end Support: We provide consultation, planning, installation, as well as ongoing maintenance and support.
Networking: Optimised network structure, network devices, IP and network security.
Cyber Security: Rolling out required security tools, security testing and monitoring.
Servers: Installation, maintenance, performance monitoring.
Wireless: Setting up wireless solutions and access points, configuring WiFi to support BYOD.
Backup and Disaster Recovery: Resilient backup systems, cloud systems, DR compliance and backup testing.
Storage: Local or cloud-based storage solutions, including maintenance and backup.
End User Devices: Mobile devices, laptops, remote access management, MDM & MAM.
Internet and Connectivity: VoIP, Fibre, Ethernet, NBN, installation and support with a management solution.
With your new system in place, we'll help you manage it and keep it secure. Our team are always on hand to provide advice, support and management solutions to keep your business running smoothly. With the ever-evolving capabilities of IT infrastructure services, it can be overwhelming to build a framework that meets required capacities within a required budget. We aim to provide IT infrastructure services that keep your business on track, so you don't have to take time away from your work to deal with slow servers or connectivity problems.
Contact Stanfield IT today for a chat about what IT infrastructure services we can provide you with.
Key Facts about IT Infrastructure Services
IT infrastructure is the entire connected system of your hardware, software, networks, data centres, facilities and related equipment used to develop, test, operate, monitor, manage and/or support information technology services.
IDC predicted that by 2021, 50% of IT Infrastructure will utilise some form of cognitive and artificial intelligence to improve business productivity, risk management, and drive overall cost reduction.
Your IT Infrastructure is not something to just 'set and forget'. Refreshing your IT infrastructure brings you flexibility and adaptability by facilitating new business initiatives and processes whilst keeping up with changing market conditions.
Additionally, with the accelerated trend towards robotics, immersive virtual reality, AI and connected devices (IoT), existing IT infrastructure is likely to quickly become outdated and unable to support the future of technology.
Hiring an external business for your IT Infrastructure Services is a cost-effective way to regularly keep your business with the times, with the full capacity to support up-and-coming technologies that are the way of the future.
Stanfield IT Latest IT Infrastructure Services Articles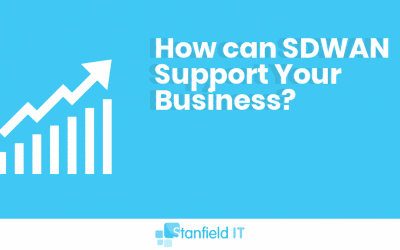 SDWAN is a networking tool often used for businesses who are spread out geographically. It's been growing in popularity and use within Australia for several years now, but there is still a lot of confusing information surrounding it. When you first begin researching...