What is Digital Transformation?
In the modern workplaces of today, technology is shaping how we do business. Encompassing the shift to new technologies in the workplace, digital transformation fundamentally changes how businesses operate, how they handle assets, and how employees engage with and deliver value to clients, customers, and stakeholders.
Digital Transformation Definition
"Digital transformation is the integration of digital technology into all areas of a business, fundamentally changing how you operate and deliver value to customers. It's also a cultural change that requires organizations to continually challenge the status quo, experiment, and get comfortable with failure."

The Enterprises Project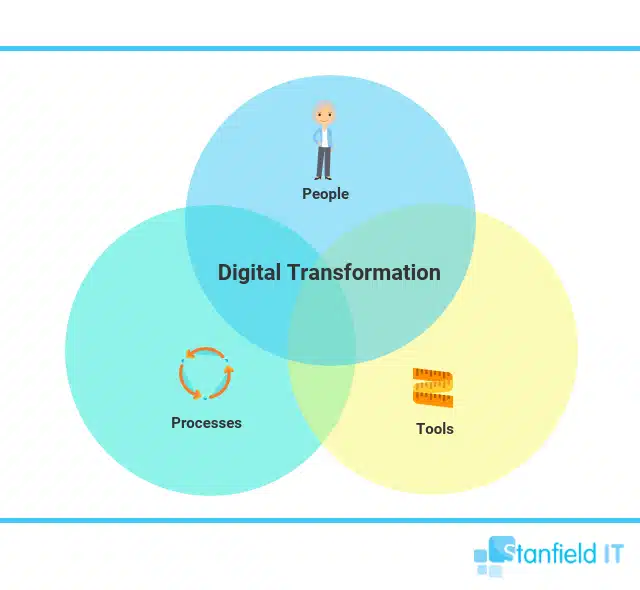 No matter how it presents―it can be different for different businesses― digital transformation is impacting every industry. In order to have a successful, forward-thinking, and innovative business, business owners must take it in their stride to understand the modern technological landscape and which upcoming technologies can transform their business for the better.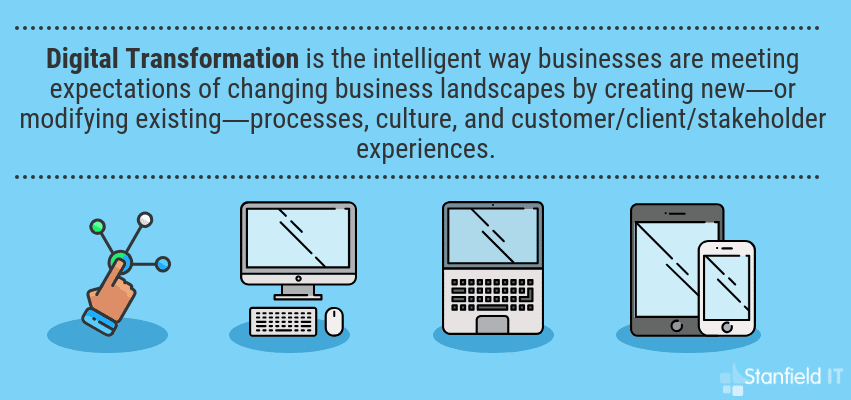 Findings from McKinsey & Company reveal that deploying multiple technologies is actually key to a successful digital transformation, with transformations that are wide in scope being more successful than ones that are only focussing on one or two technologies. If you're a small business owner and still just see 'digital transformation' as a buzzword that makes your head spin, don't worry―organisations will 99 or fewer employees reported to be 2.7 times more likely to report a successful digital transformation when compared to large, 50k+ employee bases. This means you already have size as an advantage!
"Digital transformation marks a radical rethinking of how an organization uses technology, people and processes to fundamentally change business performance."

George Westerman, MIT principal research scientist and author of Leading Digital: Turning Technology Into Business Transformation.
Digital Transformation Journey― how did we get here?
Before we dive into how you can intelligently transform your small-to-medium business, let's look at how we went from paper and pencil to hard drives and the Cloud.
Although it may be unimaginable today, it wasn't actually very long ago that records were kept on paper―first, handwritten, and then typed into documents. You had to deal with these physical documents―paper, binders, xeroxes, faxes―if you wanted to gain, share, or source information (you're giving the Cloud a virtual hug now, aren't you?). Computers then went mainstream and businesses started converting their files. Finding and sharing information was now much easier, but methods were nowhere near peak efficiency, as the way businesses used digital records to find, share, and use information was built on analog-era methods.
The process of digitalisation used new digital ways of working to simplify processes, turning away from outdated analog methods that didn't mesh with the new systems. Digitalisation centres around working quickly and more efficiently—hopefully, with a more polished end result, too—taking advantage of the data you need being right at your fingertips. With this digital workplace evolution came a whirlwind of ideas for using business technology in different ways.
Enter, digital transformation!
Suddenly, new technologies, new things—plus new ways of doing them—were possible for our small-to-medium Australian business. As well as promoting new, innovative, customer-centric ways of doing things, digital transformation has added other value to businesses: prompting them to revisit everything they do and how they do it. This lets managers and other stakeholders identify how processes can enable better decision making, sizeable efficiency increases, and more personalisation for customer and client engagement. Digital transformation has seen countless small, medium, and large businesses leveraging new technology in smart new ways that reinforce their business goals and overarching objectives as a company.
The Anatomy of Digital Transformation
Why does digital transformation matter?
Business is everything but stagnant and modern-day business leaders play an active part in embracing, applying, and growing the movement of digital transformation. In the technological business landscape of today, we have technologies, knowledge, and support available to us from across the globe. The time is now for leaders to own digital transformation. These leaders are not just big business owners or high-profile CEOs. They are entrepreneurs―people who started their business from their garage or living room on the back of their life savings. No matter what stage your business is at, or if you have a workforce of one or one-hundred, small-to-medium business owners need to understand how to take digital transformation in their stride.
Drives data-based insights
When it comes to tracking your metrics and analysing data, digital transformation means you can leave no stone unturned. Going digital has meant that businesses can use these helpful insights for strategy and process optimisation. In terms of costs and revenue, massive changes can come about from applying data-based insights into company processes and culture. Feeding into business strategy, data-driven insights can offer customer insights that would be otherwise unattainable: hyper-personalisation, relevancy, real-time feedback, and agility. Here, businesses use data insights from structured (personal customer information) and unstructured data (social media metrics) to drive business transformation.
Updates skills and knowledge constantly
Specialised skillsets are coming into their own as new technologies go global. Digital business is beginning to offer more and more room for new skillsets, as displayed below. Companies big and small need to embrace digital advancements and allow room for employees to develop future-orientated skills. The mindset that digital transformation is just a huge cost, not a smart investment, is a way of thinking that letting business's fall by the wayside when it comes to sustaining growth and being competitive.
Fosters digital culture
Having a strong digital workplace that is flexible and adaptable will make digital transformation a smooth process that employees can embrace. If you think it's enough to just get the new technology, you're mistaken―a company culture that is receptive to change and instils the common goal to strive for success within employees is crucial. This can be achieved through creating a digital learning environment that upskills employees and encourages teamwork.
Consolidates operations  
One of the biggest benefits that technology has offered businesses is the connection it has allowed with people. Social media, analytics, and project management interfaces are some examples of how digital transformation can bring the architecture of a business together. Digital transformation also offers cost-effective, customer-focussed digital tasks that streamline business workflows. Overhead costs are minimalised as many of these expenses come hand in hand with outdated solutions.
Workforce unification 
A huge positive that comes from digital transformation in the workplace is unifying people and how they work together as teams. It lets organisations and the individuals within them see that everyone is a contributor to the business and to the facilitation of productive, positive ways of working. With collaboration stemming from apps, such as Teams and OneDrive, it also happens naturally in a digital environment―people can stay connected even when in transit, working from home, or on a worksite. Common goals can be set in place where everyone can contribute and track the process― like Trello―and documents can be updated by groups of people instead of just being emailed back and forwards. This encourages more real-time conversations, collaborations, and contributions from team members.
Digital Transformation Trends
From 2017 onwards, there have been many landmark technological advancements and trends that have shaped how we view digital landscapes today. This isn't unusual for business, where the only constant is change itself. The biggest driver for change today in businesses is digital transformation. According to a 2016 Harvard Business School study, firms that embrace digital tech transformations see an average 55% growth margins over three years. Companies that were unwilling to embrace digital technology saw just 37% margin growth during the same period.
Past/ongoing digital transformation trends
IoT as a vehicle of digital tech growth
Currently, there are approximately 8.4 billion global devices connected. But the point of IoT (Internet of Things) isn't just to have smart devices gathering and storing data. The real importance is the technologies ― like advanced analytics, 5G, sensor tech, and edge computing ― that it contains that makes it work. Analytics systems surrounding AI and machine learning are a result of this movement, with the priority being to record data, analyse it, and create actionable insights. Companies want insights in real-time, or close to it, so communications firms have been developing networks, like 5G, that can move large amounts of data as quickly as possible. The development of edge computing systems is growing, as firms are increasingly wanting to store data off-site, as opposed to on a central server.
The need for speed
There has never been a greater competitive environment for businesses, whether it's competition for customers, resources, or skilled workers. In the digital world, you need to move quickly but also be the best. That means you need to reach markets and potential customers/clients before the competition, as well as have a product or answer to a problem that is better or done in a better way than your competition. Sourcing the supplies or resources needed to successfully produce products or services and quickly locate the right staff if your business is growing is crucial, too. Digital transformation is paramount here, as these processes require faster processing, intelligent and quick ways to search for information, and faster ways to evaluate data and in turn determine its relevance.
Great attention on crypto-currency
In 2017 and 2018, Bitcoin values were through the roof. Naturally, this caused cryptocurrency (blockchain) to garner more attention. Blockchain is the foundational technology at the heart of all major cryptocurrencies. Blockchain isn't just used in the world of bitcoin trading. It can be used for anything that requires provenance―from international products to home-delivered wine, and from digital identity authentication to web content generators.
However, fast forward to today, and we can ask if we're seeing a decline in Blockchain popularity. Was it just all hype over something new? A joint report by MERL Technology Conference indicated the prevalence of failing Blockchain projects and a lack of evidence supporting the value claims of the Blockchain. Although Blockchain is rolling out slower than predicted, it still has untapped potential. This potential goes beyond cryptocurrencies and offers solutions to an imbalance between scalability, decentralisation, and security.
Emergence of Al
Mention artificial intelligence (AI) and you'll get different reactions from different people. Executives of large organisations may like the prospect of AI ensuring future profits, while employees from the same organisations may fear their roles will be able to be done by robots in the future. Presently, AI just appears in customer-touchpoint circumstances, like chatbots―and even these need some drastic improvements. With these improvements will come more AI applications that will be able to help companies grow their bottom line. This includes businesses strategising marketing and business plans by data analysis, aggregating and contextualising information, and generally increasing efficiency via these analyses―such as flagging where expenses could be saved.  
Intelligent data management
With the transition of many of a business's services and applications to the Cloud, it's now easier to track what you're spending your money on. There's a second big trend in intelligent data management―the automation of Itops. Smart, Al-based systems can make things run much more smoothly. Upgrades and changes are automatically taken care of by the intelligent Al-based systems, mitigating the risks posed by human error. Al can be used for many things, depending on the needs of your organisation, such as advanced analytics.
Recent/emerging digital transformation trends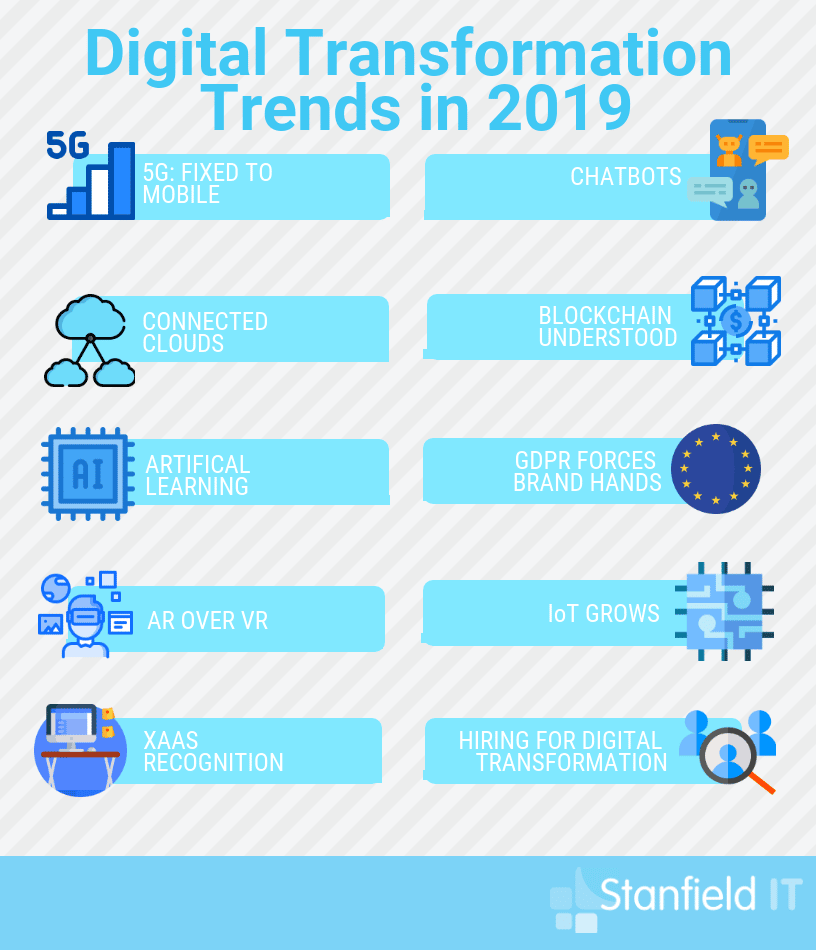 Blockchain hype disappearing
Blockchain entered Gartner's 'trough of disillusionment' after a joint report by MERL Technology Conference documented failing Blockchain projects and lack of evidence supporting value claims of the Blockchain. According to the report, 43 Blockchain projects under-delivered, notwithstanding a great number of promises and convincing claims regarding unheralded transparency, outputs, outcomes, and impact. Despite this, Gartner still encourages IT leaders to prepare for the inevitable Blockchain 'spring' that will emerge once the core-enabling technologies and use cases evolve and mature.
Blockchain is commonly seen as a footnote in the realm of cryptocurrency and it's rolling out slower than what the research firms predicted. However, the potential of Blockchain goes way beyond cryptocurrencies and incorporates solutions to the trilemma being faced by the industry i.e. imbalance about scalability, decentralization, and security. 2019 is the year when Blockchain will become involved in core business operations, enabling transactional transparency and security through a wide range of business functions. We may also see increased use of Blockchain in RegTech—helping automate processes that need to meet certain regulations before being executed.
As mentioned previously, the Blockchain hype seems to be dwindling. Although 43 blockchain projects reported by the MERL Technology Conference to have underdelivered, there's still a predicted Blockchain spring that is set to occur once core-enabling technologies develop and evolve. One area where blockchain may be used in the future is in Regulatory Technology (RegTech).
Smarter business systems with AI
Depending on who you are and what division you work in, AI
(artificial intelligence) may have different implications to you. A contributor
of Forbes magazine, Daniel Newman, inferred that the 1% effective data
utilisation out of 90%
of the data created in 2018 could grow to 3%–4% by 2020 thanks to AI
and ML (machine learning). In order to make the most of these new technologies,
companies should take note of how they can utilise dark data to derive business
insights. An Information Age study suggests
75% of commercial enterprise apps will feature in-built artificial intelligence
by 2021, with over 50% of consumers interacting with it. Some up-and-coming Al technologies
include: advanced AI assistants, AI-powered talent acquisition tools (candidate
communication and screening tools), virtual agents, conversational chatbots,
and AI-powered search.
Multi-cloud becomes the norm
The 2019 State of Cloud Survey by RightScale found that 84% of the global enterprises have set up a multi-cloud in their business strategy already. One challenge of an all-inclusive cloud strategy rollout is effectively protecting information and data. Luckily, Stanfield IT are experts in protecting your business in the Cloud, setting security measures that enforce permissions, and privatise data. As time progresses, cloud services within businesses will grow as cloud technology expands to facilitate the impacts of multiplied innovation. Looking to the future, the Cloud will overtake IT spending, optimise workloads, and cloud-based apps will take over marketplaces. IDC predicts that nearly 40% of core IT spending will be cloud-related by 2022, and then, by 2028, this will become 80%.
Rise of edge computing
Edge computing is computing that's done at or near the
source of the data. This is the opposite to cloud computing, where data is
stored at global data centres. It's a key ingredient when it comes to meeting modern
digital transformation demands. Edge computing expands computing power indeterminately,
as well as taking advantage of micro-services architectures. By 2025, the trend
of edge computing becoming more critical will see over 75 billion global loT
devices. This will generate large volumes of data. By 2022, the edge computing market
is estimated to reach $6.72 billion.  
We now have 5G
With 5G rolling out in Australia, we now enjoy wider, stronger network availability. Anticipated as being strong enough to support next-gen technologies, we could see 5G being utilised for self-driving cars and similar technology in the future. Businesses can welcome 5G, as it brings less network issues, faster download speeds, and even generating over-borders possibilities.
Your Small-to-medium Business's Biggest Digital Transformation Assets
Digital transformation offers a wide scope of opportunity for small-to-medium businesses, with a different set of challenges―but the same development, growth, and innovation prospects―as larger enterprises.
Your website
Sometimes, business owners underestimate the sheer power their website holds when it comes to reaching potential customers and clients, as well as building business trust, exposure, and approachability. For small-to-medium-sized businesses (SMEs), the role of the website is crucial and is (still!) sometimes forgotten.
SMEs are often fast-growing, with new challenges to overcome and opportunities to grasp coming at them from all angles. Too often, these businesses make the mistake of neglecting their biggest digital asset―their website. Your website is not just a source of company information and opening hours, it drives operational efficiencies, increases innovation and business competitiveness, and is often the first impression of your business that potential clients will have.
So, ask yourself: if you were looking for the service that you offer, would your website be enough to make you want to engage with this company? It should be! Your website needs to meet your business objectives―both current and future. You can often get quick fixes for website bugs, or template kits that can quickly build or revamp your website. However, your website shouldn't be a second thought and minimum-spend part of your business. Take the time and funds to make a website that really reflects who you are as a company and how you can meet and exceed client needs.
Remember that a huge part of digital transformation has been going mobile. Mobile should be a critical part of your website strategy and your website should be designed for mobile from the ground up to accommodate this.
Your team
A major advantage of being a smaller business, as opposed to an enterprise, is the ability to take digital transformation on board as a smaller, tighter team―a united front. Changes can be more personalised, IT teams― internal or external―can roll out changes quicker and at a more personalised level.
Ensure your employees are across the changes, how these will affect their separate teams, and how they will make the work they do easier and more hassle-free. No one wants changes that make their job harder, so be sure to stress that your company is moving forward with the times in a positive, strategic, forward-thinking way to embrace digital transformation.
Your adaptable business
Small-to-medium businesses bring with them the advantage of flexibility and adaptability. Digital transformation has reshaped the way we approach customer service. Previously, businesses would wait for customers to find them—in person or through calling their business number (remember the White Pages!?). Today, digital transformation has reshaped this: think social media optimisation, paid media, link building, eDM/database marketing, and mobile engagement. This has changed advertising, marketing, sales, and customer service across both B2B and B2C interactions. You can't just have these platforms, though, digital transformation means using them effectively.
Remember: recognise the possibilities of your business
You can't just stop at getting new technologies, you need to understand how they work (we can help with this!). This includes understanding what technology is capable of and how you can adapt your processes to foster better decision making that makes the most of these technological investments. Look at additional things you can do with the technology you have—get the most out of it!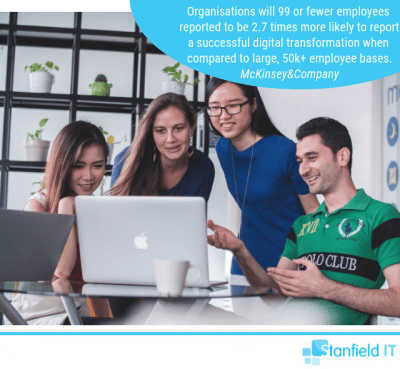 Digital Transformation Strategy
A strong, thought-out strategy will give your business's digital transformation the chance to succeed. Don't get caught up on doing everything perfectly the first go—change like this requires flexibility and ongoing learning. Digital transformation will look differently on every company, so don't get too preoccupied comparing your efforts to other businesses in your industry or region. Beyond fundamental changes to business operations and delivering value to customers, digital transformation is:
"A cultural change that requires organizations to continually challenge the status quo, experiment often, and get comfortable with failure."
Tips on building your digital transformation strategy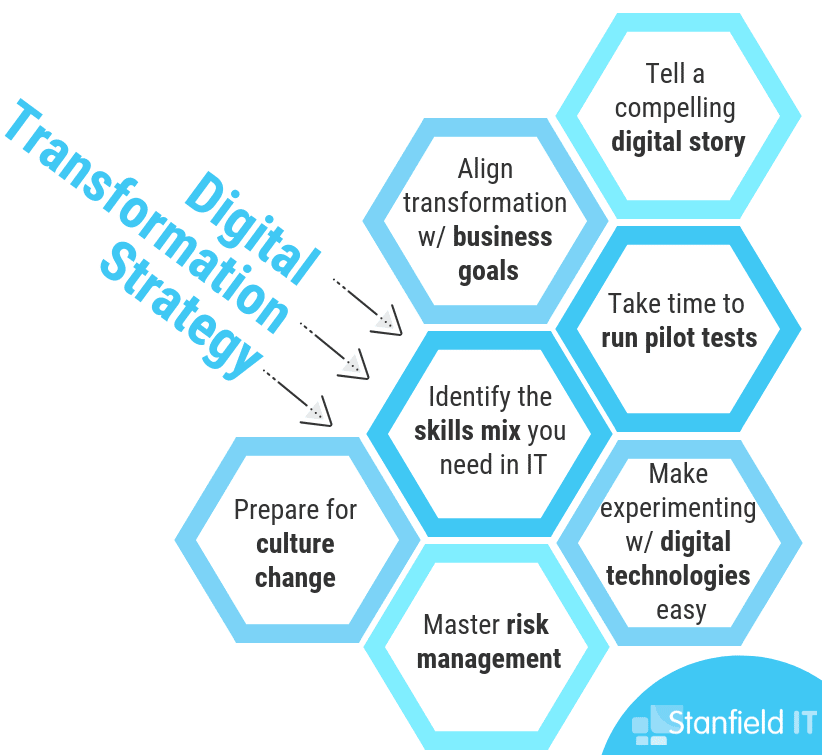 Tell a compelling story digitally and strategically
You need to know how to answer the question: what changes are in store for your company on the back of digital transformation? Making your answer to this meaningful across departments is a great step to forging your digital transformation landscape in your business. Employees need to truly understand what the Cloud is and how it's a vital part of your workplace, if your business incorporates it. 'The Cloud' is a term that gets freely tossed around more often than not, but many people just have a vague idea of what it actually means for business. Walk your employees through what their average day-to-day will look like, highlighting both the benefits acquired and challenges faced.                                                                                                             
Make sure the transformation aligns with your goals
You've established your digital story, what next? Make sure that others know how to tell it and tell it well—especially if your business has other leaders, managers, etc. The most integral step for successful digital transformation is alignment. You need to be able to communicate that your digital transformation strategy is beneficial to business so that any apprehensions about moving away from previous systems and ways of doing things can be addressed. Digital transformation cannot just solely stem from the IT team alone. It bleeds into each business function, so the transformation needs to fully align across teams to meet the business's overarching goals.
Test the waters and embrace digital transformation as a united front
Incorporating digital transformation into your business will require internal business stakeholders to do things in a different way. Some processes may have worked well in the past, but there are now new, better ways of doing things that will positively impact office productivity. Roles may even change or be reshaped, depending on the size and nature of your business, as will client or customer interactions.
Get everyone on board and test the waters―much easier in a small-to-medium business as opposed to a larger enterprise. You want to gauge reactions so you can see where any rollout difficulties may present and possibly avoid them before they come to fruition. A streamlined digital transformation can result from bringing the entire workplace on the same journey, especially through any stages of major disruption. Identify obvious and non-obvious stakeholder groups.
You should be realistic and upfront with the changes, ensuring buy-in from all stakeholders of the business―you don't want business assets getting cold feet when the change in processes has already begun, as this could just cause more disruption. This is particularly important if you're deploying any completely new technologies in your business. Everyone should be ready for the journey before it begins.
Know the skills needed for execution
Of course, there may be some unpredictability for any new rollout of systems and technology in business. However, it's important to be as prepared as possible; this means knowing the expertise needed for rollout. Hiring an internal IT department, like Stanfield IT, can simplify this for you as you won't be left trying to source different areas of expertise in your own team alone.
Ask yourself: What people do we need? What skills need developing? Are we lacking any competencies?
"We retooled the IT department to move away from some of the commodity skills to more forward-looking capabilities that align with our strategy. In addition, we have an ongoing need to build competencies that augment our skills, especially around business acumen. You may be the best UX person around, but if you aren't competent with your business acumen, you won't be successful."

James Swanson, CIO and head of digital transformation at Bayer Crop Science
Use digital technologies that add business value
Many businesses make the mistake of chasing digital products and offerings that don't add business value but just sound good. Make considered choices, handpicking what will actually work for your business model and not sit unused.
You should aim to set parameters around digital transformation so that you can continually test hypotheses, gain actionable learnings, and either adapt or discard experiments along the way. Businesses that do this well link their innovation to their big-picture vision, make experimenting simple for their employees, and disperse responsibilities amongst everyone with a role in the digital transformation.
Be diligent with risk management
The disruption digital transformation can bring, and change to business models, may appear to go against traditional IT concepts of risk containment and controls. With digital transformation, you move quickly, challenge the status quo, and scale new technologies (bringing about different mindsets, too). Barry Brunsman, principal with KPMG's CIO Advisory, says these very characteristics demand the diligent design of risk management and controls around the digital transformation effort. He explains that CIOs who have mastered this aspect of disruptive change are more likely to be managing a successful transformation program―this is also relevant to digital transformation in small-to-medium businesses.
Be ready for culture change
The digital transformation process is different for every business and there isn't one make or break factor that you must consider (if only it were that easy!). A successful digital transformation comes through a clear vision, shared with the team, and careful orchestration. You must balance incremental and radical transformation objectives to ensure smooth transitioning from the start-up phase to the scale-up phase.
The cultural aspects of transformation bleed through this entire process. You must make sure that you have the right culture to adopt change and adapt to it. Your team needs to be board with the processes and prepared to accept risk and tolerate failure. Overlooked cultural change implications has been said to be one of the biggest reasons that digital transformation fails, as, no matter how great the technology, employees who won't accept new ways of working will dictate how successfully technologies are used in the business. Deal with any concerns prior to rollout, so that employees don't feel like they're just being thrown in the deep end and their views aren't valued.
Digital Disruption as a result of Digital Transformation in your Business
Digital disruption is defined as the set of changes that happen as a direct result of new technologies and business models impacting existing products and services. The huge increase of mobile devices in both the home and workplace, a pattern sometimes referred to as the consumerisation of IT, has made the potential for digital disruption across many industries rise.
Disruption is recognised as the combination of external factors undergoing change, such as:
Customer expectations
Employee expectations
What is technically possible
Successful commercial models
Which strategies work
It's pretty unrealistic to think that any company can completely avoid some setbacks and learning curves during project fulfilment. Being able to recognise potential project disruptions, however, can help keep your employees and business as a whole on track to meet deadlines.
When can you expect digital disruption to affect your business?
The common pattern is that digital disruption happens after digital innovations being rolled out in businesses, as opposed to during the process. This has happened to businesses as a result of the digital transformation of businesses that has come with movements to big data, machine learning (ML), internet of things (IoT), or bring your own device (BYOD). After such rollouts, digital innovation affects how customer and client expectations and behaviours evolve. This then makes companies have to reconsider how they create their products and services, engage the right audience through their marketing strategy, and evaluate/respond to feedback. This shift in digital strategy is broad. It can occur on an individual, organisational, industry, or societal level.
Be careful not to get sucked into some of the digital disruption clichés that have, over the years, seen the term being misused. Digital disruption is not, for example, any product that involves digital technology or the use of digitisation to better compete against marketplace peers. It's also often confused with the term 'disruptive technology', which was coined by Harvard Business School professor Clayton M. Christensen to describe a new technology that displaces an established technology. Recognising what digital disruption truly is can be aided by looking at well-known trends of recent times. See below.
A few examples of digital disruption include: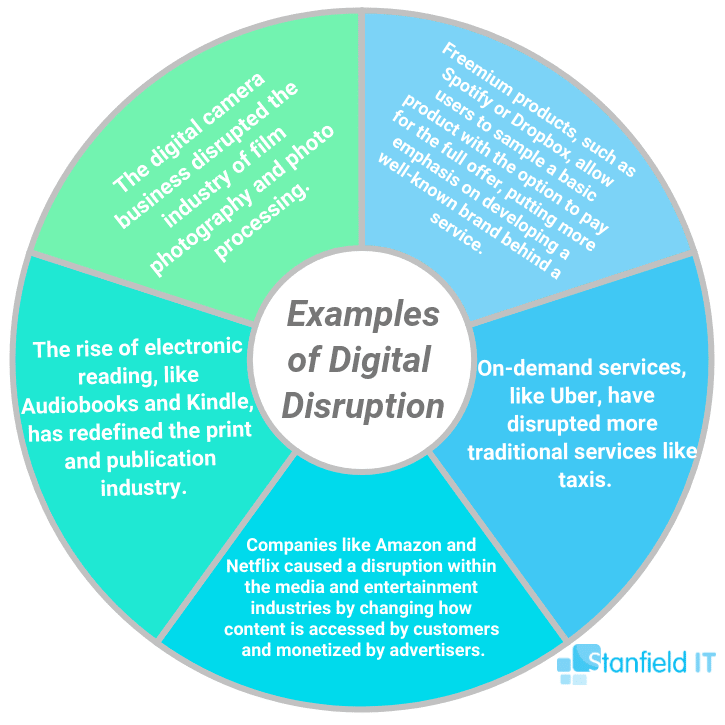 The Importance of digital disruption
Don't worry, digital disruption does not have to be a negative, scary term. It's crucial for businesses to embrace digital disruption to stay ahead of the times and keep their competitive edge. When an industry experiences digital disruption, it's a sign that the needs of consumers are shifting. In this way, it can act as a useful eye-opener for businesses. Understanding that digital disruption allows companies to keep existing customers satisfied, as well as create opportunities for new customers, is important to remember. It also gives companies insights into human behaviour, particularly for their target audience, and how trends over time may look. Ensure digital disruptions are more of an opportunity for your business rather than a threat by: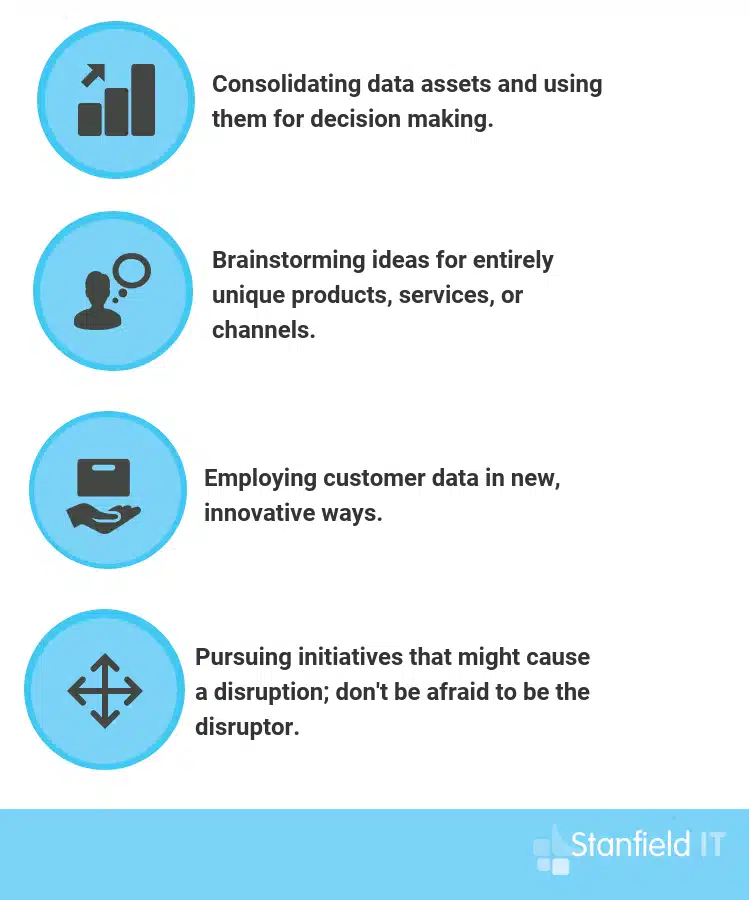 Industry Deep Dive: Digital Transformation of Healthcare
Digital transformation in healthcare affects us all, which is why we have chosen to look into it as an industry example that most people will be able to relate to, or will at least experience digital transformation of healthcare in the future.
The digital transformation of healthcare is the integration of digital technology into all aspects of how a healthcare business interacts with patients, healthcare providers, and regulators. The results of the digital transformation of healthcare can often be described as radical. This is because of the way in which these changes bring about the disruption of long-standing practices that use continually-evolving longstanding practices. However, a successful digital transformation strategy isn't just about the technology–particularly in healthcare.
As Tom Sullivan points out quoting Michael Monteith, CEO of Thoughtwire, in Healthcare IT News, "Digital transformation is fundamentally about improving patient experience." Wouldn't this mean that a healthcare company just has to make sure they implement technologies and transform its business, patient care, and services? If only it were this simple! Fortunately, there are helpful project and change-management principles that can heavily assist in a successful digital transformation within healthcare. As touched on, it's important to remember that it isn't just about technology.
Cultural change in healthcare
In saying this, the first thing to take into account is that a successful digital transformation rollout needs to promote a cultural change that caters to implementing new business models, encouraging out-of-the-box ways of thinking about the healthcare industry, and positively communicating what you intend to do with stakeholders: patients, providers, and regulators.
Those in the healthcare sector can get the ball rolling on cultural change, and thus be on their way to achieve a successful digital transformation, by following the below advice. Remember that you want to make the technology work for people, not make people deal with the technology.
Big-picture thinking
The first thing to consider when tackling the digital transformation of healthcare is that technology doesn't define what you're doing. Instead, what you're doing—or how you want to be doing things after these changes — should inform what you want the technology to do for you. Know the big picture of what you want digital transformation to achieve, then go smaller. Look at how the different processes can or should work together to make these goals a reality.
Some key questions to help you sketch out this picture are: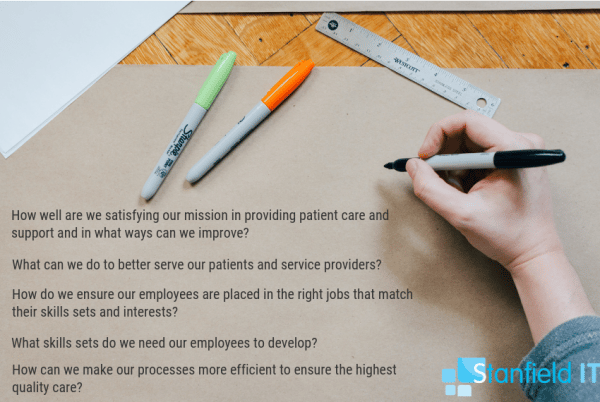 Get out of your comfort zone
In healthcare, as with any industry, it's easy to get a little bit too comfortable doing things the way things have always been done. Re-imaging processes and envisioning how things could be done better can be left by the wayside. When it comes to digital transformation, you need to get comfortable with constant change and doing things differently. This may make you feel uncomfortable at first, but, trust us, it's worthwhile!
"Almost daily, the industry witnesses data points in the tech media that show us that we are currently at a high watermark for technological innovation. In this hyper-competitive yet nearly flat operating environment that organizations face today…the pressure to keep pace and deliver a wider range of digital capabilities has never been greater."

Dion Hinchcliffe
In order to get out of their comfort zone—for employees and an organisation as a whole—the organisation must:
Evaluate their state of readiness. Consider how open to change the existing management team, front line, clinicians, and community are.
Promote a culture that encourages experimentation and is constantly questioning the status quo.
Learn from past mistakes. If you punish failure instead of learning from it you'll never realise it's an important by-product of experimentation.
Determine the skills and tools required to advance your digital transformation goals.
Measure, analyze, and act.
To get started, assess the overall current state of your organisation. For healthcare, consider employee engagement, patient expectations, and the way you're viewed by the community. The first place should look for feedback are from patients and staff. They will, of course, have the most detailed, informed insights. By asking for constructive criticism, as well as feedback on what you do well, buy-in and enthusiasm for change and innovation will follow. That is, as long as you act on suggestions and are open to change!
Once you've identified where to start, measuring the impact of the actions you've taken is critical to keep your chosen initiatives on course. This will also help you pivot or adjust your course as any roadblocks are encountered. Use real-time feedback to assist in managing the implementation of changes and to arm staff with insight into what works and where further changes are needed.
Encourage cross-functional communication
Get people out of their 'silos'. Employees must realise that their actions contribute to the larger business objectives. This includes objectives laid out for continued business growth and improved customer/patient experience. They need to be able to recognise their impact doesn't just lie in what their team is doing, but how each team interacts with each other as well as patients. To make everyone work together as effectively as possible, and avoid any disputes that change can bring, organisations must encourage the concept that everyone, regardless of their individual positions, is contributing to and an important part of the bigger picture.
Sharing operational results, in combination with patient and employee feedback, will let you organise priorities. Greater transparency and knowledge sharing will quicken progress and best practices will soon become apparent.
Technology should empower and accelerate
 The ability to use feedback to ascertain the impact of change, and sharing those results with team members, will support the correct application of digital solutions. Additionally, the right digital transformation partner, such as Stanfield IT, who specialise in healthcare IT, will help design and implement the innovative technologies that let your vision become a reality. Digital transformation will only be successful in healthcare if everyone is on board. This includes employers and employees alike, as well as the community who use the services.
"True digital transformation comes from a new way of thinking that fully embraces technology, not for technology's sake, but rather as drivers to improved customer experience and business growth."

Carlos Melendez, InfoWorld contributor.
Frameworks for Digital Transformation in Business
What is a digital transformation framework?
We've learnt how digital transformation comes as a result of changes and brings a lot of change with it itself. A digital transformation framework is a blueprint that can assist you when moving through these changes, as it provides a set plan and goals—stopping you from veering off course. A proper, effective framework will guide all levels of the organisation through the digital transformation journey and ensure all areas of the business are attended to through the change, leaving no areas misunderstood. This may sound like it's tailored to larger, enterprise-sized businesses, but a framework can work for a business of any size—they're versatile and can be made from the ground up just for you. Acting as a common reference point—that can easily be amended as changes evolve—a digital transformation framework can often be the key to success. Organisations of all sizes can use their framework to enable the strategy and road-map needed to best tackle rapidly changing market conditions.
How to choose the right digital transformation framework
The right digital framework will be easily adaptable for your business. It will concurrently retain logical, cohesive steps that can be used to indicate progress and setbacks. The initial phases identified in the framework should ensure everyone knows what they need to do and why the changes need to happen. The following phases can help you get started on your framework: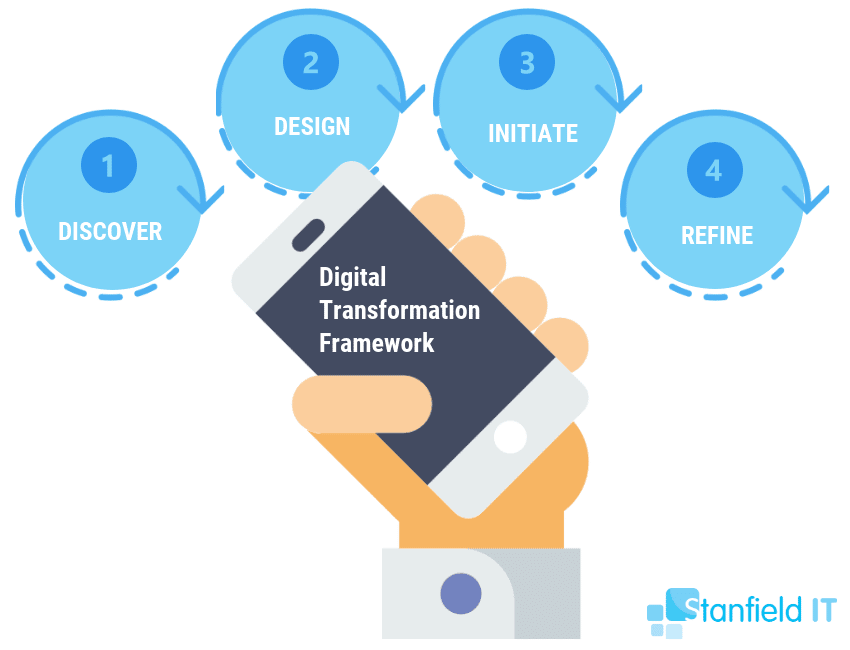 1. Discover
You must have a vision of the future for the company. This
should encompass staff, customers, and the overall marketplace. You can't just
change because of commercial pressures and replicate the changes of other
businesses. Your business must define why changes need to happen and get
employees and clients/customers on board. To effectively do this, your digital
transformation framework needs to leverage internal insights and knowledge to
determine the desired outcome for the business. 
2. Design
Leadership is important to the design of your digital transformation framework, no matter how small your business is. Assign roles, allocate tasks, and ensure the entire organisation can support rollout. In your strategy, you should include a complete market, legislative, regulatory, and competitor reviews. A detailed assessment of the current state of the business is crucial so that you can compare it to the desired end state. Your framework can include detailed metrics that determine when success has been achieved at each stage, what will be done differently, and how it will come into effect. An important thing to remember is that how change will happen is more intrinsic to the process than what change will happen. Success is hinged on mindsets—allowing things to be done differently. Metrics also play a vital role in tracking how things are changing, which the entire business can call upon. Here, your digital transformation framework acts as a road-map that clearly defines the stages to progress through the transformation.
3. Initiate
Ensure that your digital transformation framework provides the organisation with one, unifying language. This aligns expectation and goals for creating a common goal. The establishment of distinct streams for the core areas of the business need to be established for the different categories of digital transformation affecting in your business, such as people, customers, process, product, and technology. Lastly, reflect your business's culture (and initiate any change) via your digital transformation framework. It should stand as a dedicated, overarching program. This program should ensure workplace culture can positively evolve and adapt to the upcoming changes. Time for dedicated communication surrounding the changes, such as workshops or meetings, should be made.
4. Refine
Your digital transformation framework must include space for the constant evaluation of metrics. These should map the progress towards the end goal of your business's change roll outs. At the start of the transformation, benchmarks need to be set. Your framework should allow room for these to evolve and change, within reason. This will lead to the best end result for business positioning as possible. You must remember that changes to benchmarks are positive, as new ways of doing things can't be effectively measured against old methods anyway. In the case of a change from the original plan occurring, pivots—informed by the assessment and bench-marking process—occur. Changes in direction can be wholly positive, as long the end goal doesn't change along with them.
All of the above should come together to provide a digital transformation framework. This framework should highlight the areas in your business that need to change. In a time of organised chaos, your framework should act as a port of call to get back of track. It will be a reminder of your end business goal. Stanfield IT can create a digital transformation framework that gives your company tangible benchmarks, meaningful metrics, clear indications of progress, and direction by identifying where more attention is needed.   
Conclusion
So, are you left wondering if your business needs to
digitally transform? Unless your business has a deep understanding of its
clients/customers, sky-high employee engagement, and up-to-date technologies
delivering innovative results, then the answer is YES.
No matter what industry your business falls in, I'm sure you've felt the all-too-common pressures of profit margins, competitor analysis, employee and customer expectations, and outdated technologies that make you itch for change. Maybe your organisation has already unofficially begun its digital transformation—but it's never too late to implement a framework, assess employee understanding of the changes, and make it a more thought-out, streamlined process for your business. The digital transformation of any business is complex, you can't just tick off some boxes on a whiteboard, but Stanfield IT have your back.
About Stanfield IT as a digital transformation agency
Stanfield IT is home to a team of specialists in digital
transformation who provide a number of solutions to help bring your business up
to date. We can manage your digital transformation through strategies that work
best in conjunction with one another and are tailored to your business. This
includes Identity Management, IT Infrastructure, Cyber Security, Cloud
Transitions, Network Restructuring, Software Solutions, IT Processes, and Reporting
and Analytics
Digital transformation requires well-architected infrastructure to drive real business results. From end-user devices, networks, servers, cloud and cyber security our specialist technical team at Stanfield IT deliver results to meet your business objectives.
Feel assured that with Stanfield IT we will provide you with all you need for your digital transformation. We transform your capabilities and build digital services that are simple and fast to use. We provide total visibility across any project we undertake, working and communicating with you to ensure we deliver the right services for your needs.