Microsoft Teams is the ultimate tool for collaborating at work. Teams provides a fully decked-out document storage, chat, and online meeting environment. Teams is a key component of Microsoft 365.
If you've ever needed to participate in a team project at work, you'll fully appreciate the need for such an easy-to-use tool. Each program is designed for work collaboration and has a slightly different set of features and benefits. Microsoft Teams is your new best friend for group projects.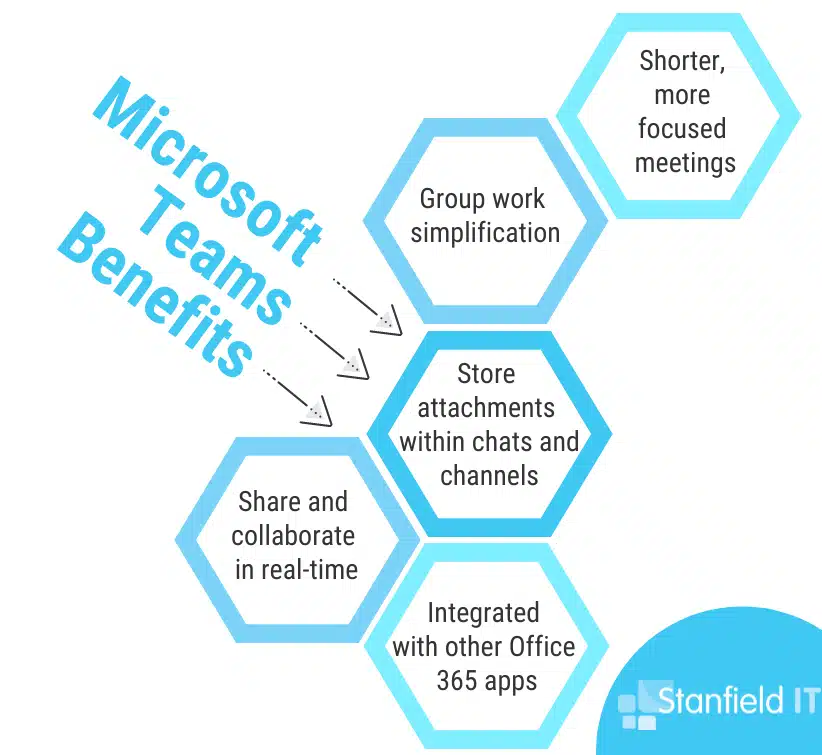 Our hand-picked top Microsoft Teams features:
1. Seamless Microsoft 365 Integration
As another Microsoft product, Teams integrates beautifully with Microsoft 365, which is perfect if you're already using that for your business. All of your most used Microsoft 365 apps―like Word, Excel, PowerPoint, OneNote, SharePoint, and Outlook―are fully integrated into Microsoft Teams.
With Teams integration you can quickly create teams within a group, bring deleted groups back, edit the group email alias, and use sensitivity labels.
For employees who prefer Files Explorer, Teams is optimised for this browser, too. You're provided with Explorer-view access to OneDrive and SharePoint locations directly from Office suite applications or Explore itself. This is a major tipping point to push people towards Teams when considering Teams vs Zoom.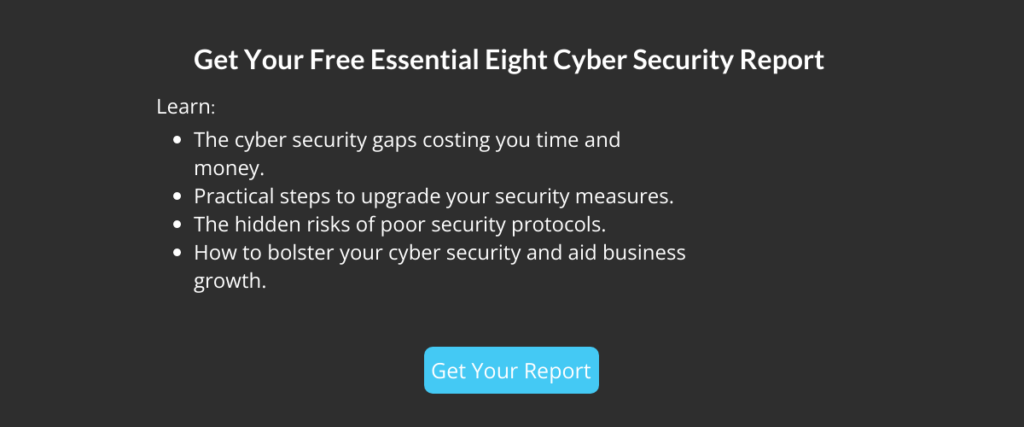 2. Instant Chats
Chat is one of the key features of Microsoft Teams. Whether it's just with one person or with a group chat allows you to instantly message team members for quick discussions and feedback. You can even start a chat with yourself whenever you want to draft a message or even send a file from one device to another.
Chats is the fastest way to communicate with your team when you need to ask a question or send a file to a co-worker. And don't worry about losing focus. Chat lets you mute conversations for those times when you need knuckle down and focus on your work.
3. Conversation Channels
You can dedicate chat channels to certain topics, making it easier to keep messaging relevant and resolve problems faster, without distraction. With channels separated by topic, there's far less clutter. It also makes finding what you're looking for seamless, as you don't have to scroll through a lot of irrelevant messages. This means less time wasted and less frustrated employees.
The Conversation tab in Microsoft Teams appears in the General channel. It also shows up in any other additional channels you create. All class members can contribute to this channel. In other channels, the @mention button can be used to invite people to the conversation. Conversations vary from chats, as everyone in the channel can view them. They can view the files that are shared in the conversation, too, by going to the Files tab.
4. Reduced Email
You'll have less clutter in your inbox as prompt, quick questions get resolved over Teams chat, rather than a potential long wait for an email reply.
A cool feature of Microsoft Teams is that you're able to send an email to the team channel, with the contents of the email appearing in the threaded conversation for all team members to view.
Benefits of using Teams over email: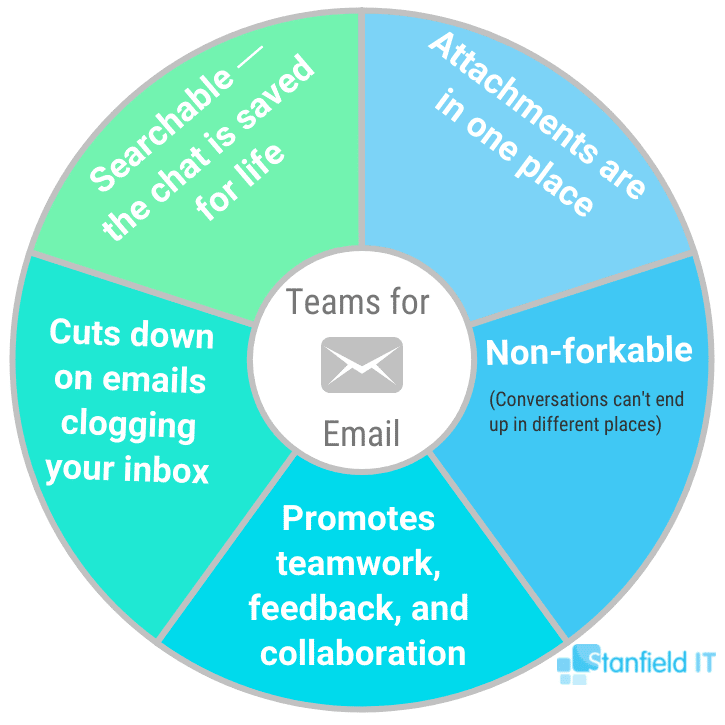 5. Direct Access to Email, Skype, OneDrive, and SharePoint
Teams provides you with access to Microsoft 365 applications within one location, letting you work more efficiently. Access files and documents in OneDrive and SharePoint, plus make calls and conduct video conferences directly from Teams.
When you're getting stuck into a task at work, you want everything to be in the same place. Microsoft Teams gives you exactly that.
Everything you need is in the same place, including messages, meetings, notes, and documents. You also have immediate real-time access to online teammates, making collaboration quick and easy.
6. Collaborate Live in Real Time
Real-time presence changes will come as a pleasant surprise to those who are exasperated by the slowness of presence updates in Teams. This especially affects people moving from Skype for Business Online because the presence changes in that app happen very smoothly.
You can complete work in real time with your colleagues as you chat together, and work on files through Teams, rather than taking turns emailing updates. Say goodbye to having multiple versions of everything.
7. Mobile App
Teams not only has a comprehensive web interface, but you can collaborate on the go, or answer teammate questions from afar, using the mobile apps.
Available on both Android, Windows, and iOS, Teams provides a simple and easy-to-use app that allows you to chat with your team via text, have a voice conversation, or have a video meeting. These mobile versions are extremely popular in today's technological workspaces and are must-haves for Teams users in 2023.
You can use Microsoft Teams on these mobile platforms: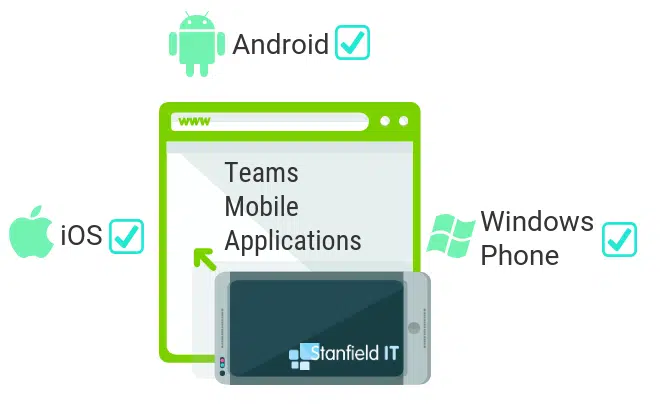 8. Collaborate Internally and Externally Securely
Security is another area where Microsoft Teams lifts itself above competitors. In fact, we've listed security as one of the main benefits of switching to Microsoft 365.
Customise your teams to be private or publicly available for other users within your business who have been allocated an Microsoft 365 account. With Microsoft Teams, you can enjoy advanced security controls that cover data-loss prevention, information barriers, retention policies, eDiscovery, legal hold, and more.
While both in transit and at rest, your data is encrypted. All Microsoft 365 services, including Teams, meet compliance standards, including: ISO 27001, HIPPA. SOC 2, and EU Model Clauses.

9. Collaborate With Vendors, Suppliers and Clients
You can even invite chat users from outside your business using their direct email. They will be tagged as 'guest' users, and this is a great functionality for communicating with vendors or other third parties.
This guest access allows teams in your business to collaborate with clients, contractors, stakeholders, etc., by giving them access to your Teams existing teams and channels. Admins can control which features guests have access to, so you can be confident business information won't be put at risk. Anyone with a business or consumer email account, such as Outlook or Gmail, can participate as a guest in Teams.
10. Automatic Setup Across the Suite
When you create a Team, Microsoft Teams will also create a shared selection of Microsoft 365 elements for whatever you're working on. This includes a SharePoint team site, a shared OneNote notebook, and a shared Plan.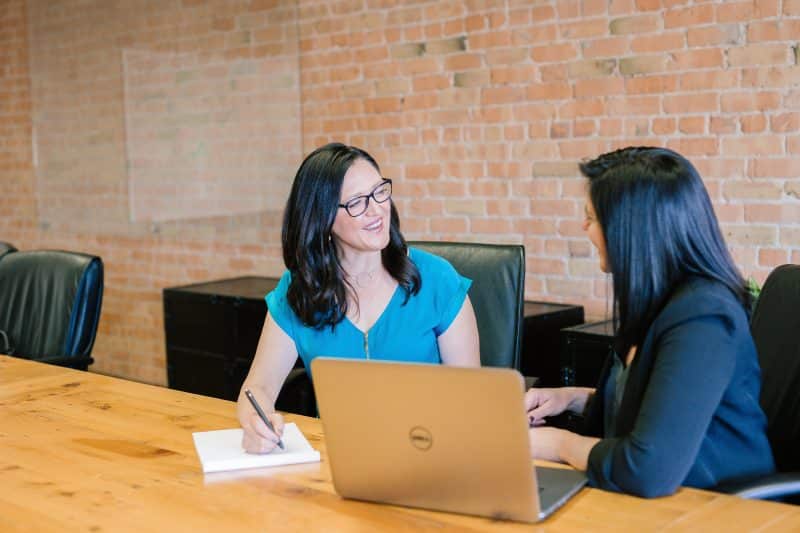 11. Fast Searching for Information
Use the search and filtering function in Microsoft Teams to easily find relevant information from conversations, people or files. You can directly schedule meetings for your group and automatically invite all members of the team. These content search capabilities provide a way to search your Microsoft Teams information, including:
Exchange
SharePoint Online
OneDrive for Business
12. Easily Organise Related Emails
You can forward emails directly to your channel as a clever way to share them. Just click the '…' next to any channel name and select 'Get email address'. That generates an email address for the channel.
Teams actively aims to organise your workplace's communication, activities, meetings, and creative/strategic ideas into one platform, all the while integrating with the people in the business you know and interact with. Teams seeks to optimise organisation for a larger group of related individuals, as opposed to individual team members.
13. Conversation Threads
Teams displays chats as threaded conversations, so you can easily track the flow of conversation without having to look through irrelevant information.
Within a Team, you can make multiple chat rooms and channels, keeping chats easy to follow. To further enhance this, conversations are threaded and flow from top to bottom. Users are notified of any updates and if they need to communicate with someone face-to-face, they can switch the conversation to a voice or video chat with just one click. The number of participants in a video chat has also grown, with up to 49 people shown on a single screen. Additionally, Teams can host up to 250 people for a video conference, which is similar to Zoom and Slack.
14. Quickly Integrate Third-Party Applications
Microsoft Teams supports third party applications like Zendesk, which give you the functionality of integrating Teams into other areas of your business for streamlined processes and communication.
Some other examples of applications include:
Asana
Polly
Smartsheet
Zoom.ai
Salesforce
But there are hundreds of third-party apps that have been integrated into the Teams platform. These apps cover the needs of many different teams in your business―from IT to analytics to marketing. No matter what your business does, there will be an app you can use that will easily integrate with Teams.
15. Cyber security
Microsoft Teams is built with the best cyber security standards possible: ISO 27001 and SSAE16 SOC one and two, just to name a couple. There is also integrated mobile device management to help keep your data and fleet safe.
No software can prevent all phishing attempts, or all malware and ransomware attacks, but Microsoft Teams has stepped up its cyber security game in this arena. Microsoft Teams uses business-wide multi-factor authentication, single-on and data encryption to protect your business information. Additionally, Teams will backup and store data, so you won't lose data if there is an outage.
You can even set up Safe Links using Microsoft Defender for 365. Safe Links provides URL scanning and verification on top of normal anti-spam and anti-malware security functions. This is an added layer of protection from malicious links used in phishing and other cyber attacks.
16. Work Faster With Slash Commands
In today's fast paced environments we're always looking for ways to do more efficient work. That's what's so great about slash commands in Microsoft Teams. A slash command is a short typed phrase, preceded by a slash '/', which causes a specific action within an app. They're meant to make some everyday functions quick and easy to activate, without your hands leaving the keyboard.
The most common slash command is likely "/away", which sets your status to Away. However, they can do much more than that. When used in a chat app, slash commands let you join a channel, invite other users into a channel, mark yourself as away/busy/available, and dozens of other things.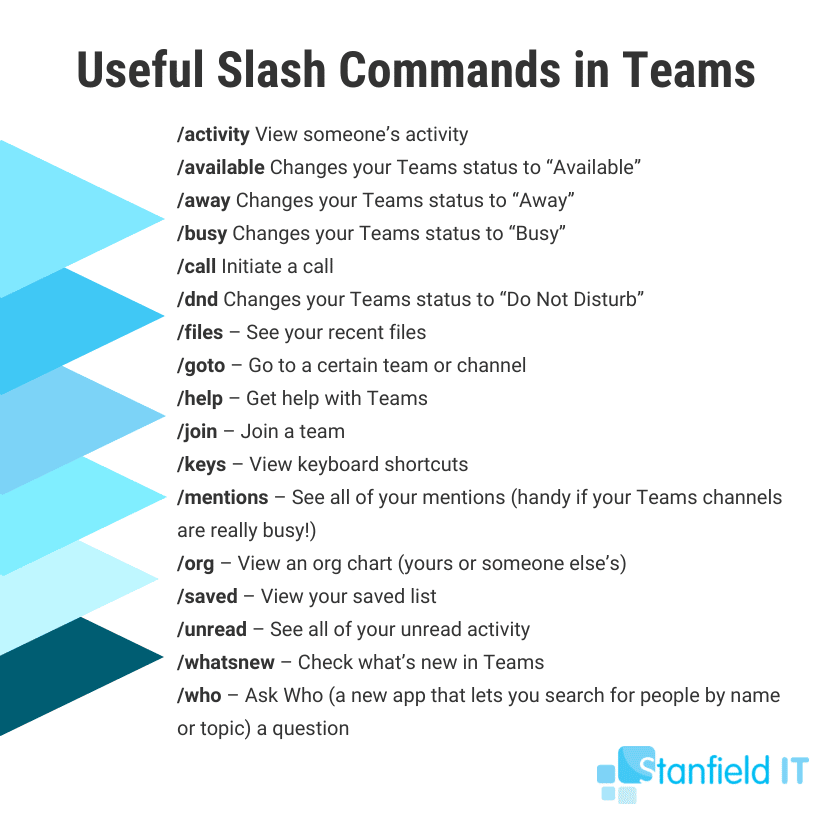 17. Use Grid View
There's a new, simpler way to navigate your teams. See all your teams in one centralised place, including class, PLC, Staff, and other teams. Select any team to focus on your conversations and files without extra visual distraction. Don't worry―all your files, conversations, and assignments are still right where you left them. You can switch back to the old view at any time.
Here is a side-by-side comparison of the new Teams experience (Grid view) and the original Teams experience (List view):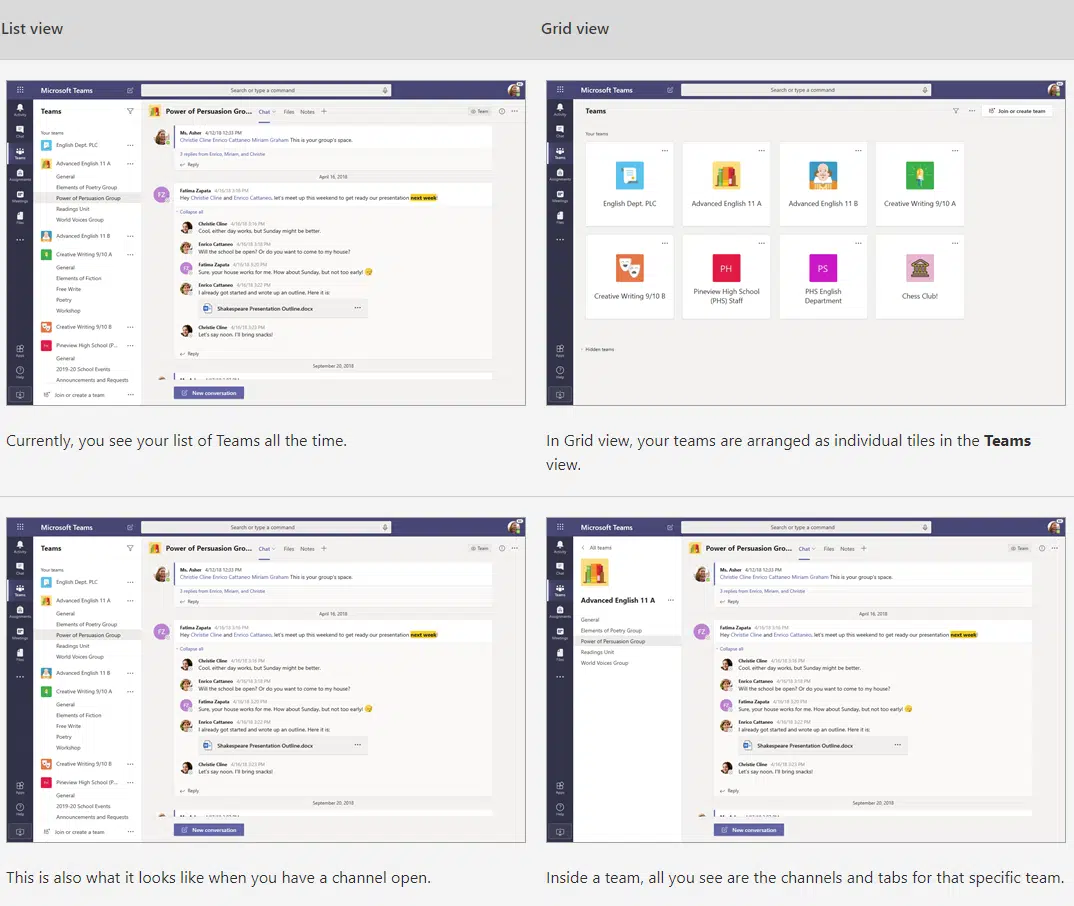 18. @ feature
The best way to make sure someone on your team sees your message is to @mention them. All you have to do is type @ before someone's name and they'll get a notification. If you need to get the attention of your entire team, or relay information to them all, just type @team before your message, and everyone in your team will receive the notification. You can also type @channel before your message to notify everyone in the channel that you have posted something. The @team and @channel mentions must be enabled by team owners.
This saves a whole lot of time and effort required when sending individual messages. It also means that team owners can organise users into roles, projects, and locations. This makes for seamless communication. Not only admins can add tags. In the Microsoft admin centre, admins can control who can add tags and how they're used.
19. Standard or Private Channels
Standard channels, which are what most channels are, are available to all team members in Teams. If you need a smaller, specific audience for a particular subject, you can use a private channel.
Here's a look into each type: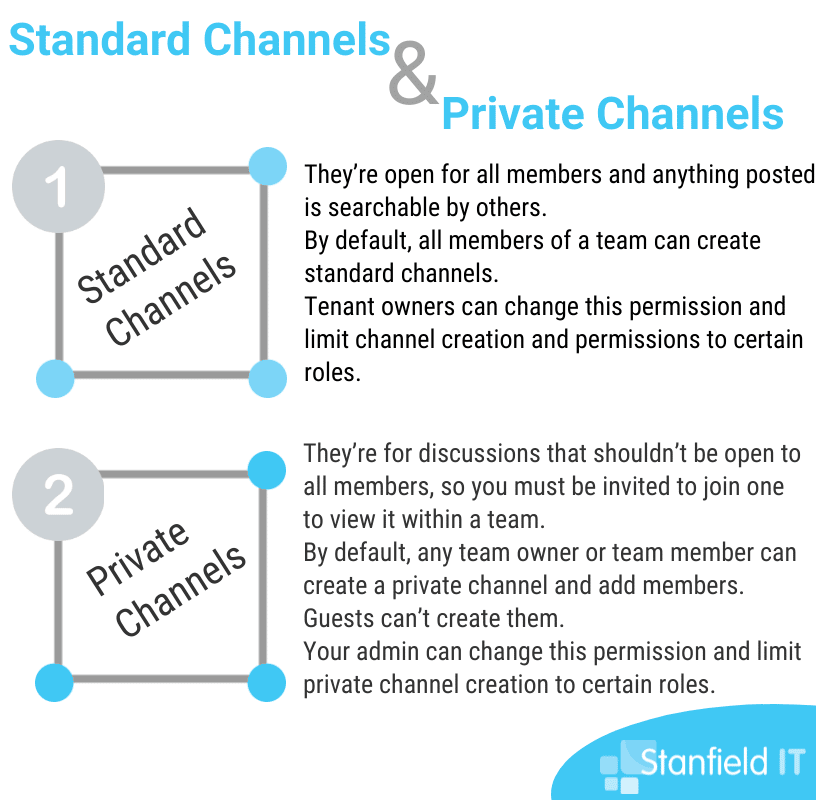 20. Bots Gallery
Microsoft Teams has about 24 bots available with a variety of functionalities to help increase productivity. There's the T-Bot, which can answer most basic and frequently asked questions about Teams, Polly Bot for polling co-workers, Statsbot for delivering scheduled reports via sources, such as Salesforce and Google Analytics, and Growbot, which allows the exchange of kudos with your co-workers.
21. Integrated Between Outlook and Teams
While we always push just how much of your workplace collaboration happens on Teams, we also realise that you will still use email daily. Microsoft knows this, too. That's why they've made the relationship between Teams and Outlook seamless with the function of being able to move a Teams conversation to Outlook just by clicking the '…' icon, which means 'more options.' Similarly, you can also move a conversation in Outlook to Teams―including attachments. To do this, you simply just click "Share to Teams." If you'd like more information on how to use this feature, you can check it out on the Microsoft website. Currently, these features are only available on desktops, as opposed to mobile applications.
22. Manage Your App Catalogue
Admins can now manage apps straight from the Microsoft Teams admin centre via a 'Manage Apps' page. This lets administrators view all of the available apps in the tenant, plus gives information to assist with decisions surrounding which apps would be best for their business. The app catalogue also gives admins the ability to streamline the testing and distributing line-of-business applications process.
23. Teams New File Experience
Powered by SharePoint, the Teams file experience has now rolled out online to all tenants. What is the benefit of this for your users? You can sync files to your PC or Mac, see rich previews of 320 file extensions, create data views and work with metadata, view the lifecycle signals of documents, review on-hover file cards, select files to pin at the top, and perform new actions like 'check-in' and 'check-out.' You can read more about these new functions on the Microsoft website.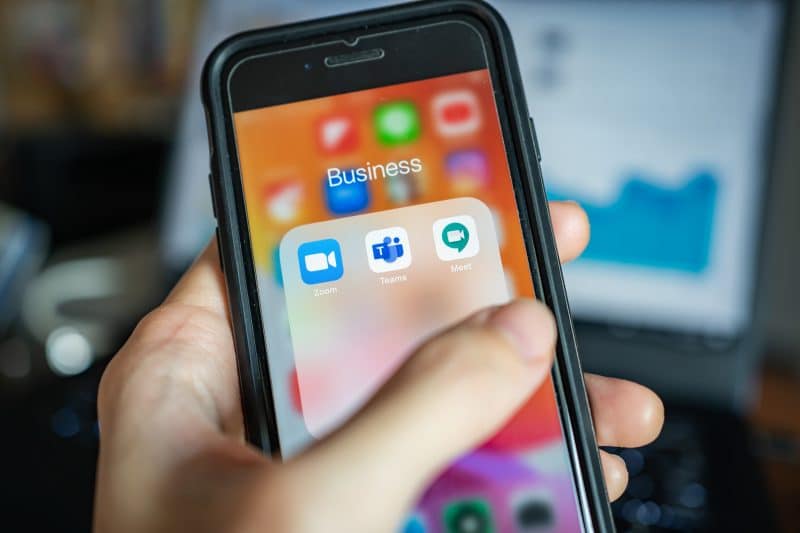 24. Recording Storage
Microsoft Teams has the function of letting users record their meetings and group calls in Teams to capture audio, video, and screen sharing. Even when Microsoft Stream isn't available in Go Local, Microsoft is enabling 'allow cloud recording' and having this turned on as default. This means that recordings will be stored in the respective in-region data centre. Previously, customers in an area where Stream service isn't available in the corresponding Go Local region have been unable to use the cloud recordings function.
25. New Power BI Tab for Teams
The new Power BI tab for Microsoft Teams has great new features that let everyone in a channel or chat find and track the data they need to complete their daily tasks. The new tab adds support for reports in the new workspace experiences, reports in Power BI apps, and paginated reports―plus it's easy to add it to your channels and chats. Another function of the tab is that it's can help you manage organisational change. Someone new joining the team? The data they need is right there for them.
26. Introducing App Pinning
The Teams App Bar lets you pin personal apps to the Teams app bar (on the left-hand rail). All you have to do is locate the app you'd like to pin for easy access, right click on the app icon, and choose 'Pin'. The app icon will remain in your Teams app bar so that you can access it easily. Microsoft Teams also lets you pin apps to relevant channels or chats for Simply find the app, right-click the app icon, and select 'Pin'. Even after you navigate away, the app icon will remain so you can easily return to it. Also take advantage of being able to pin apps to relevant chats and channels, too.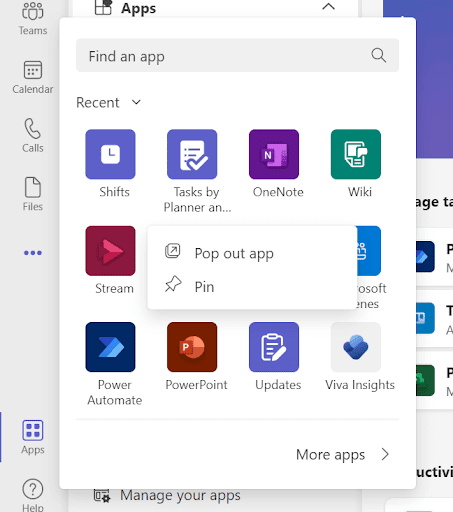 27. Speaker Coach
Got an upcoming meeting or presentation but not too confident about your delivery? Speaker Coach is made just for you.
Speaker Coach uses AI to give you feedback on how you're speaking. The best part, it does it in real time. For example, if you're speaking too quickly, Speak Coach will prompt you to slow it down.

Speaker Coach can also detect filler words and give you feedback on if your tone of voice is probably putting people to sleep. No more boring presentations. If you're looking to assess your presentation skills, Speaker Coach will give you a report after your presentation so you know what areas you need to improve.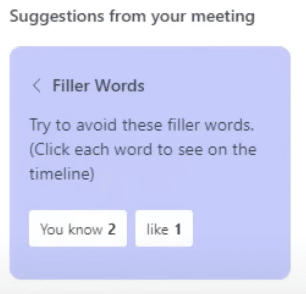 28. Collaborative Annotation
Bet you're starting to notice a collaboration trend. And that's good, it's what Microsoft Teams is all about. One of the best features of Teams is the highly requested Annotation. Annotation helps you work with others while sharing your screen during a meeting.
When using Annotation everyone in the meeting is able to draw, highlight, type and react right on top of the what is being shown on the screen. Just like using a whiteboard, but you can do it from anywhere. This way you and your team are able to plan ideas in real time, making meetings faster and guaranteeing everyone is on the same page.
29. Instant LinkedIn Connection
Teams has made connecting with people via LinkedIn a seamless process. Furthermore, Teams allows you to see a person's experience, education, skills and much more without leaving the app. This is the perfect for the start of a business meeting where you can easily connect with people over areas you have in common.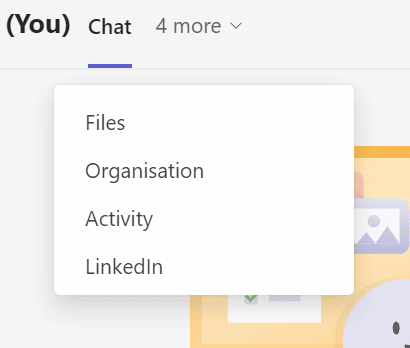 30. Easily Join a Meeting With ID and Passcode
Teams has made it easier than ever to join a new meeting. Whether it's on the web or using the app, you can now join a meeting using a unique meeting ID and passcode.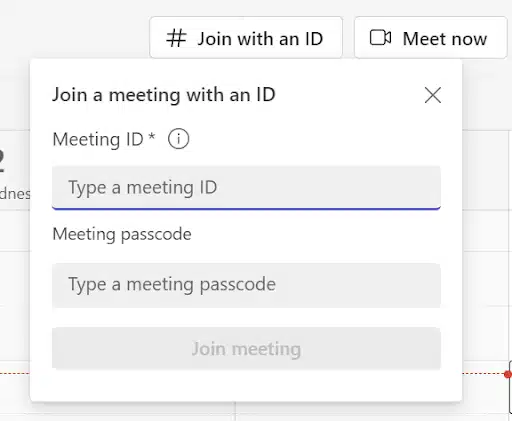 Simply find the meeting ID and passcode in the meeting details tab or in the meeting invite. Then enter the details into the '#Join with an ID" as shown above, and you're good to go.
31. Task Management with Microsoft Planner
Teams integrates with Microsoft Planner, a task management tool that allows your teams to create, assign, and track tasks within Teams.
32. Live Events
Teams allows you to host live events, such as webinars or virtual conferences. You can create public or private events for up to 20,000 attendees.
33. Priority Notifications
This one might make you a little unpopular, but sometimes you need a response, fast. Teams allows you to mark a message as urgent. This means the recipient will receive a notification every 2 minutes until they respond. Don't say we didn't warn you.
34. Meeting Recap
Streamline your review process with the meeting recap feature in Microsoft Teams. This feature summarises the key elements of your Teams meeting and organises them for easy access. You can watch the meeting recording, go through shared content, and look into other relevant information – all from one place.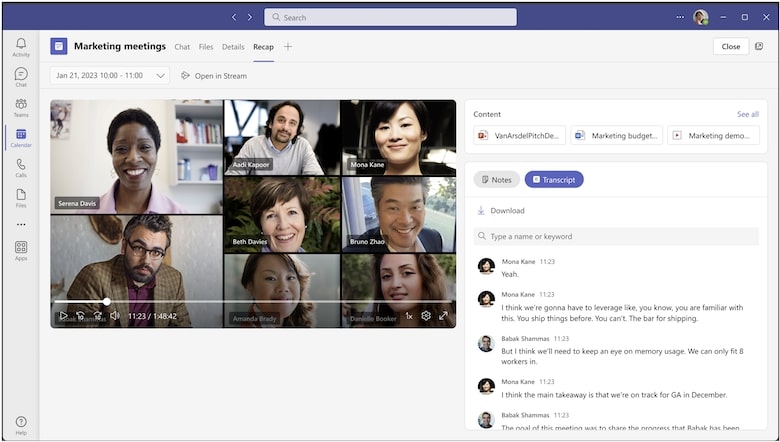 The recap feature is available after your meeting for scheduled sessions that have been recorded and transcribed. With this feature you can review:
Recorded footage of the meeting
The transcribed dialogue
Content shared during the session
Meeting notes
The initial meeting agenda
Tasks assigned for follow-up
To view meeting recap, navigate to the Recap tab in the meeting chat or Teams calendar event once the meeting has concluded. Alternatively, open the meeting chat and click on the thumbnail of the recording or transcript.
Conclusion
You can use these Microsoft Teams features to help optimise your workflow or connect with your team. While you may not use every feature, it's good to know just how useful of a tool Teams is. Take time to familiarise yourself with Teams, and you might just find something that is a game changer for your business. When it comes down to it, Microsoft Teams is a huge bonus for workplaces already working with Microsoft 365 and supports all your collaborative needs with ease.
Finally, if you need help setting up Teams or Microsoft 365, click here to speak with our team.
Register Your Interest
We're constantly looking for ways we can help businesses optimise Microsoft Teams. If this aligns with your needs, sign up and we'll reach out when we have something we think will interest you.