IT Support Northern Beaches
Stanfield IT is the name in IT Support on the Northern Beaches. When you want a team to support your business, you're more confident with someone local who understands the local business environment. We provide IT support across the Northern Beaches, from Manly to Palm Beach and everything between. 
Outsourced IT support is a powerful tool for your business. An IT Support Northern Beaches team will keep you from being distracted by fiddly technical issues. We understand the priorities and needs of local businesses and we work with you to meet those needs.
We empower you to focus on your business goals, growing your influence and hitting targets while we take care of the IT support.
With growing threats in cyber security, and the exponential growth of online services, it makes sense to have someone manage your IT needs. As a local IT support for Northern Beaches, we offer the following IT support:
1. Cyber Security Management
Cyber security management is a critical part of any IT support. With the implementation of government-recommended best practices as a start, your Northern Beaches business becomes insulated from the high risk of many cyber attacks. We also perform measures such as intrusion detection and network monitoring, cyber security auditing, and anti-malware and threat protection solutions. 
We'll help you ensure your business keeps running after incident with business continuity management and cyber security policies and frameworks that give you the tools to perform after disaster and minimise your downtime.
2. Network

Services
Network services covers a range of network-related services within your business and is an essential part of IT support. Northern Beaches businesses are required to have reliable connectivity and networks in order to collaborate effectively with clients and with other partners. Our network services include processes such as: printer monitoring, network monitoring (early detection of any suspicious activity or network issues), switch monitoring, and network optimisation (to ensure your network is operating at the best capacity for your business).
3. Backup and Disaster Recovery
Don't let backups be the thing you neglect until you need it. By the time you need it, it's already too late. We'll set you up with regular systematic backups to a secure location as well as performing periodic testing to ensure data is recoverable. 

Your backup and disaster recovery protocol will be included with your business continuity plan and management; an often overlooked yet essential component of IT support in small businesses. 
4. Project Services and Management
If your in-house team is flooded with internal work and projects, then it can be ideal to outsource your IT projects to an IT support business on the Northern Beaches. While your team focuses on issues that directly affect your business growth; a team like Stanfield IT can manage your bigger or more long-term IT projects, such as migrating your system to Office 365 or G Suite, management for system migrations and business relocation, upgrading your network or workplace stations.
These type of projects can be tedious and overwhelming for a local business. Where do you start? What hardware do you need? What plan is best suited for the business? Using an IT support business to handle these projects takes the stress out of it, since you can be assured it's in the hands of someone experienced, with the understanding of a fellow local business.
5. Managed Devices
We are in the golden age of BYOD (bring your own devices) and flexible work arrangements. How do you keep abreast of every device? Ensuring data security, industry compliance and user management? An IT support team on the Northern Beaches can take you through this project: from setting up work-related devices (from PCs to mobiles and tablets), to implementing mobile device management and mobile application management, and ongoing device monitoring.
This enables your team to work effectively across all devices, and provides you with the security of knowing your company's data is secure and the ability to monitor what employees have access to within those devices.
6. Servers
Your servers are part of the backbone of your business. If a server goes down, what happens? All work comes to a grinding halt. Don't let that be a part of your company's story. An IT support partner will perform server updates, server optimisation including performance monitoring of CPU and RAM, and threat maintenance.
We can even offer server upgrades, and discuss the benefits of a local, physical server, versus utilising a cloud solution. Without an IT partner, however, those choices can seem unclear and confusing! That's what your IT partner is there for.
This is just a sample of the IT support we can provide across the Northern Beaches. What makes us different from other IT support Northern Beaches? What sets Stanfield IT apart from the herd? Read on!
8 Reasons to Choose Stanfield IT As Your IT Support
We understand small, local business. Because that's what we are.
We are a small, cohesive team that understands the priorities and pressures of small business. Our team has a wealth of experience working in and supporting businesses and get where you're coming from.
We can provide obligation-free quotes for projects and services.
It can be difficult to know exactly what you need doing, and you don't want to waste your hard-earned money. We'll give you an idea of project scope, cost and turn-around, so you'll know from the start if it's going to be the right fit for you and your business.
Remote support over the phone means that many issues can be resolved on the spot.
In the case of many issues, work will come to a grinding halt until it can be fixed. That means you don't have the luxury of waiting for a tech to come and see you during some vague four hour window. We can talk you through resolving many issues over the phone as soon as you call, so you get everything back on track with minimal downtime.
Reasonable costs, and flexible month-to-month payment plans.
It can be daunting to hand over large amounts of money on what might seem like an inconsequential service, but we can offer a month-to-month support arrangement for your business that gives you the most value at a cost-effective rate.
We can provide employee education seminars on cyber security.
We won't leave you and your team to flounder in the dark. One of the most important tenets of cyber security, is to have a well-informed team who understands the importance of cyber security and knows how to proceed online. We can arrange an employee education seminar for your team to get them informed.
We are happy to arrange an on-site visit to assist you if required.
Sometimes phone calls and emails are not enough. Sometimes it helps to have someone visit you in person to lay it all out, so you can get the full picture of what you need. Because we are local to Sydney, we are happy to come out to you and assist you in person.
Friendly, local expertise from a diverse team.
Having a diverse team is so valuable for a business, and at Stanfield IT, we are pleased to have one. Each team members brings something unique and valuable to the table. With such a variety of backgrounds, we have a wealth of knowledge to share.
We take pride in being early adopters of new technologies and keep abreast of cyber security news.
Cyber security is an ever-evolving domain, and we do our best to keep up with the newest and latest. As cyber attacks become more sophisticated, new technologies are constantly being developed to keep up with protecting data. We take pride in being one of the rare businesses who will inform you about new anti-malware and security technologies, which will give you the best protection possible.
Latest IT Support Articles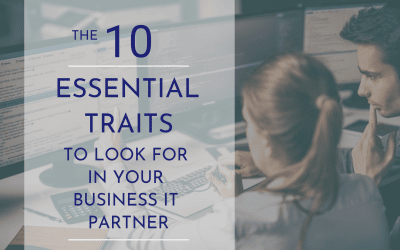 Choosing your business IT partner can be a stressful decision. How do you know when you've made the right choice? Do they have the relevant skills and experience to fully support you? How much do they charge? Is that a reasonable cost? How do you know? So many...