G Suite is a suite of productivity tools that every business needs to communicate and collaborate effectively as a team. G Suite works as one unified system that scales to match the size and scope of your business.
G Suite was formerly known as "Google Apps for Work", G Suite is your new best friend at work.
G Suite is the whole package Google has to offer in terms of cloud computing, productivity and collaboration tools delivered in one cost-effective bundle. Consolidate all your contacts, emails, calendar, documents and task management in one simple solution.
G Suite is a subscription model service that offers a fixed monthly cost, depending on which package you choose that aligns to your needs. With as little as $5 per month, this service is accessible to even the smallest of budgets.
Any subscription to G Suite provides you with a business email address with your company name in the domain, voice and video conferencing up to 25 people. Direct or group secure messaging for collaborating with your team, and shareable calendars that seamlessly integrate with your Gmail, Hangouts and Drive, so you can respond to an event directly from an email and your calendar will schedule it in for you.
All G Suite plans also give you the capacity to create and edit documents, spreadsheets and presentations across any of your devices. You can share your files with colleagues, and all work on the same file at the same time, saving you the hassle of coordinating who can use the file at what time.
With higher level plans, you can also access unlimited cloud storage, low-code app development tools, Google's Smart Search and eDiscovery which is an invaluable tool for auditing purposes.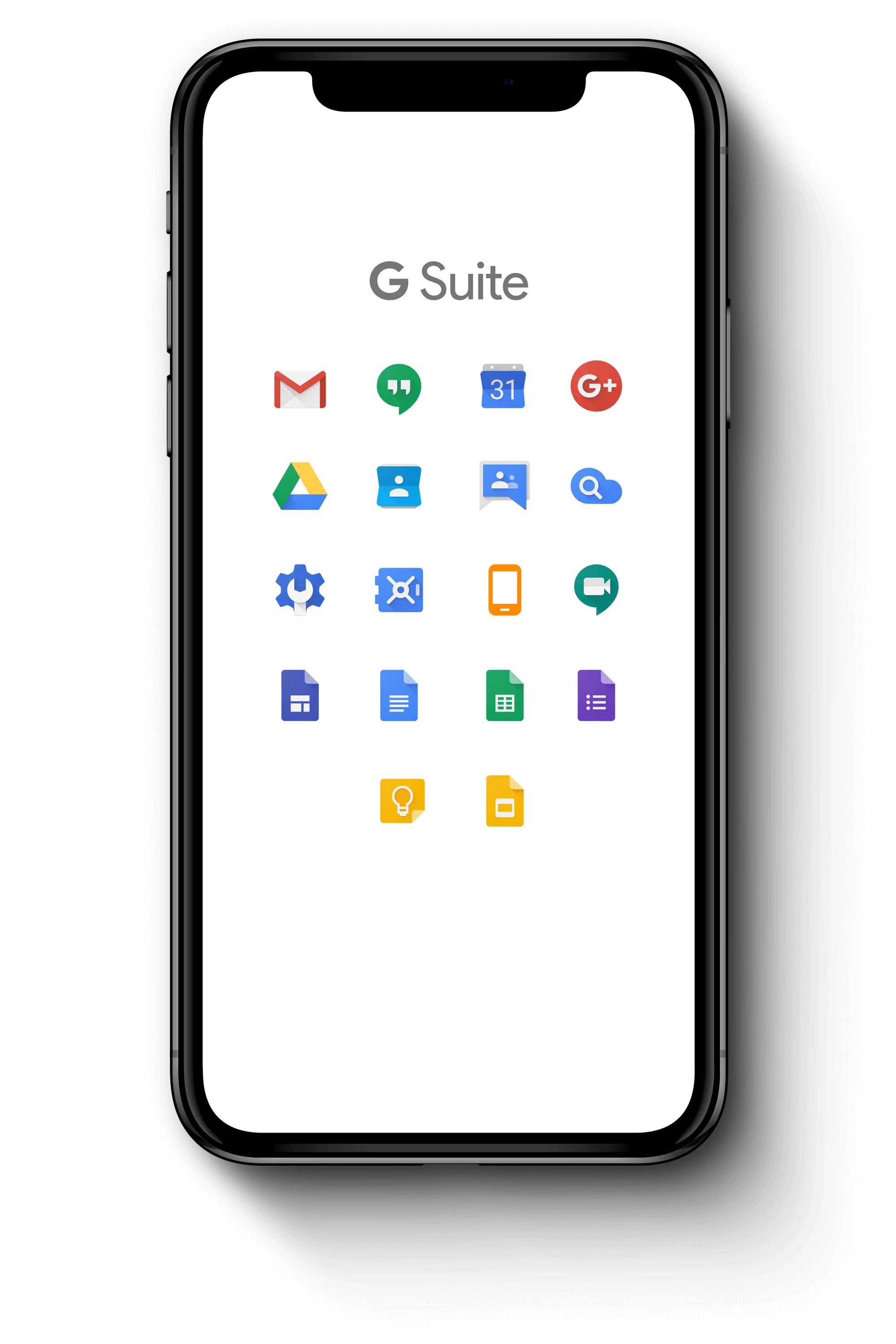 Low Cost Entry Point
G Suite Plans start from as low as $5 per user, per month, meaning cost is no barrier to entry.
Cloud Based
Cloud based system means you can access and share your files from anywhere, as long as you have Internet access. Work on the go, or from the beach, whatever works.
24/7 Support
Google provides full 24/7 support to assist you with any issues or queries you have regarding G Suite.
Unlimited Storage
Your G Drive comes with unlimited storage if you have more than 5 users on the Business or Enterprise plan. If you're on the 30GB plan, rest easy knowing that Google Docs and spreadsheets created in G Suite don't count towards your limit!
Low-Code App Development
This tool allows you to easily create apps for your business with built-in templates, drag-and-drop UI and declarative data modelling. This feature comes with the Business and Enterprise plans.
Centralised Security Controls
G Suite administrative and security functions are easily configured from one place, where you can add/remove users, manage devices, and more.
eDiscovery
eDiscovery is the process of searching and retrieving information in electronic format. It is useful for legal matters and prevents data loss from employee turnover.
Easier to Collaborate
With shared calendars that sync to every device, files you can simultaneously edit with coworkers and built in chat functions, it has never been easier to collaborate with your chosen team.
Continuity For You
Chances are you've been using Gmail for years. Upgrading to G Suite means you get to stay with the same email interface you're used to.
Smart Search Function
Powered by Google, this search function is really worth a special mention as it will anticipate what you really want. It can even pull results from the body text of your file, instead of just the file name.
99.9% SLA
Google offers a 99.9% service level agreement for covered services. G Suite has no scheduled downtime or maintenance windows, and all of their data centres are built with redundant infrastructure.
Security
G Suite is built on top of Goog