It's easy to be sceptical about a website bragging about their services being better than all the rest. Rightly so, we're all just tooting our own horns here. But, we've reviewed what our existing clients love about our IT managed services. What is it that made them choose us to provide those services to their business?
There are a myriad of IT managed services providers out there, all jostling to be your number one. Consequently, it can be hard to choose between them! Whoever you go with, we advise that you don't just hand the whole job to your wife's nephew because he did that one IT course 3 years ago.
First, let's delve into what a managed services provider is exactly, the history of IT managed services, and why your business could benefit immensely from using their services.
What is a Managed Service Provider?
We're going to start at the very beginning, just in case you're not too sure what a managed services provider (MSP) is, no matter how many times you've heard the term thrown around. Companies engage an external, expert IT company for the end-to-end management of their IT systems—whether on-premises or on the Cloud. Such a company is called a managed services provider. The services of a successful IT managed services provider will result in an improvement in IT operations and spending for their clients. As the IT managed services provider takes on the responsibilities and resources on behalf of the business, the client and their employees should be left with more time to focus on their business and workload.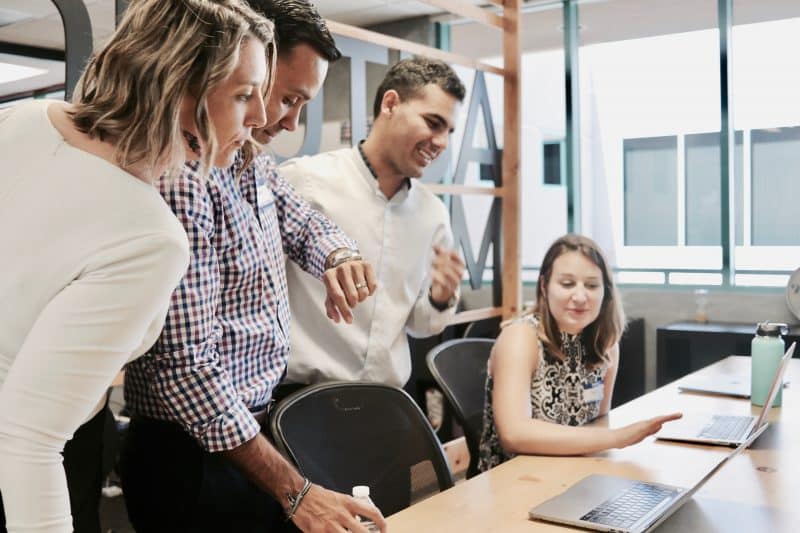 The History of Managed Service Providers
Managed services came as an alternative (or maybe even as a solution to!) to the break/fix model, which became popular in the early 1990s. This model, which was widely criticised, involved solutions to be put in place to FIX a problem that has already occurred, as opposed to PREVENTING the problem from happening in the first place. As you could imagine, the break/fix model really affected a business's ability to function efficiently—with excessive downtime, costly repairs on infrastructure, lost data, and the expense related to hiring additional IT staff members post-incident to get the business back on track really weighed on small-to-medium businesses in Australia and globally.
With IT managed services, which became popular in the late 1900s and early 2000s, many of these issues are counteracted from the get-go, with prevention of any downtime/data loss/costly repairs being at the forefront of the business plan. Managed IT services means you have a dedicated team of IT professionals at your fingertips at all times to manage your IT systems and provide ongoing support. Ultimately, with IT managed services you can expect increased productivity and decreased downtime in the workplace.
We're seeing technology move forward rapidly, making it all the more important for you to manage and protect you IT assets with a team of IT professionals. It's estimated that that managed services market could grow to 356.24 billion dollars by 2025 (it was valued at 185.98 in 2019).
As technology gets more advanced, as does the viruses, malware, and ransomware attacks that threaten your business. Engaging a managed IT service provider with secure your online and on-premise environments, as well as ensure you have a disaster-response plan in place. The break/fix model only provides reactive IT, resulting in more loss than taking the proactive approach offered by IT managed services.
Why Should I Use Managed IT Services?
Having managed IT services, especially when it's in the right hands, will boost your business productivity and output. An ideal IT services team will keep things running so smoothly that you forget they're there at all. Your IT team is there as an extension of your business — handling things without getting in the way.
Maybe you're thinking it's better (and more cost effective) to just use someone if/when any technological issues arise. But having managed IT services is not like insurance where you're paying for something you may never end up using.
Your IT services should always be ongoing, not intermittent.
Rolling out security updates and software patches are an essential part of maintaining the security of your business. Keeping your system regularly backed up in case of any incidents and network monitoring in order to identify any incidents. These are things your managed services provider will do on an ongoing basis.
Question: is it cheaper to keep your car regularly serviced, oiled, cleaned and checked? Or wait until the engine explodes on the highway so you need to frantically put out the flames and then find out you need to replace about two hundred other parts that would have been fine with preventative servicing? I think you see where we're going with this! An extreme example, but not inaccurate.
To put it in relevant terms for your business, without IT managed services, you may fall behind on security updates. This could leave you exposed to cyber attacks and data breaches. Your IT managed services provider can optimise your network to make everything run faster and smoother for you. There are a hundred benefits to using a reputable IT managed services provider for your business.
IT Managed Service Provider Myths Debunked
Here are three common reasons that small-to-medium businesses believe they don't need an IT managed service provider, when really it could benefit them immensely.
1. My business isn't big enough
Do your employees use computers? Does your business use a network? Then there is your answer—your business isn't too small to benefit from an IT managed service provider. No matter the size of your business, your data is priceless. A managed service provider gives you the peace of mind that your data is safe, your network is kept up and running, and that you have procedures in place in case a data breach or network downtime occurs, plus ongoing support so that you're never left panicking. You'll also have access to fantastic technologies that may have been otherwise unavailable to your business. A point solely directed at small business and IT managed services is that many aren't large enough to employ someone full-time to manage your network and computers. Managed IT providers, in this case, are the perfect solution.
2. My data is already secure
You're underestimating how versatile and clever the hackers of 2020 are if you believe your firewall and password make your business safe from a data breach. Today, your data is susceptible from an attack from all angles—we have BYOD in many workplaces, rises in ransomware and malware, and clever phishing scams that are increasingly looking like the real thing. Plus, human error is the leading cause of breaches in this first place, where education and training, not just software, is required to sharpen your defenses. It's not just inconvenient for your data to be lost, network out, or information held hostage—it can be the end of your business as you know it. Even if your business recovers from the attack, it can be extremely difficult to win back the trust of customers and clients if their information has been jeopardised or the event made public.
3. My business has an in-house IT professional
As opposed to believing your business is too small to benefit from IT managed services, larger companies who already have an IT professional managing their networks and computers may believe this means managed services are not for them. While your in-house IT staff member is able to handle day-to-day troubleshooting of computers and networks (ultimately, this is probably what they were hired to do), they don't have the tools, resources, and extended IT team to effectively provide your business with the monitoring, maintenance, support, and disaster prevention and recovery that a managed IT services provider can offer.
For example, if you engage a managed service provider, you're able to have your data regularly backed up in an off-site, secure location. Therefore, if your business undergoes a ransomware attack, you have the backup files in this external location, unaffected. A managed service provider is able to provide hardware to you at a lower price-point than what your IT person can.
Why our Clients Choose Stanfield IT for their IT Managed Services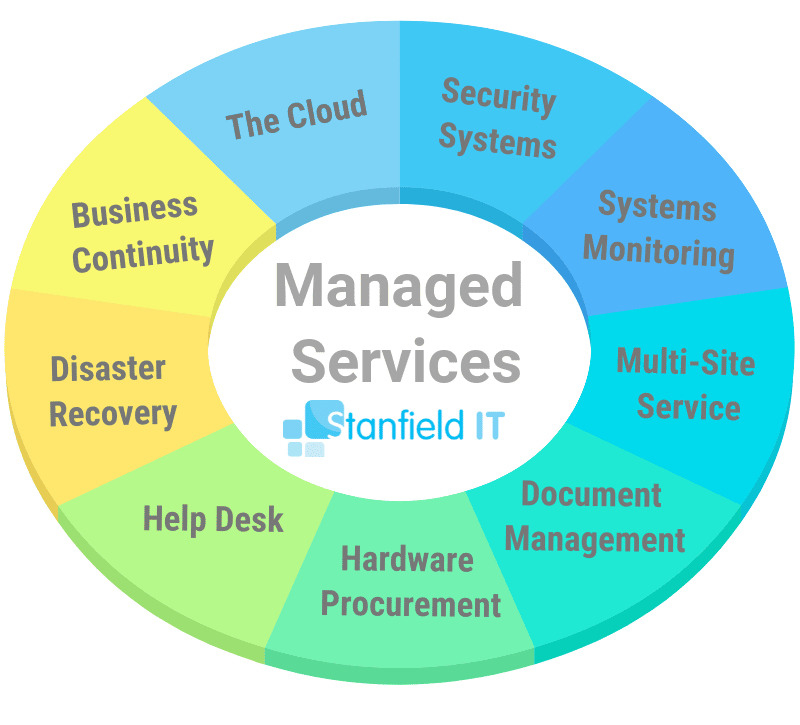 1. Remote, instant support from a like-minded business
We are a local business that understands small business needs, and can provide those needs to you remotely. This means we can provide support for your 'help desk' issues instantly over the phone, so you don't need to rely on a company that happens to be closer to you physically. We are not some faceless corporate overlords, outsourcing our support overseas. And because we are local, just like you, we respect and understand your business needs.
2. We take your issues seriously 
Your business needs are a priority. You won't go to the bottom of an endless ticket list and wait days or weeks for resolution. We provide immediate responses, and quick solutions. Much of the time we can talk you through issues over the phone instantly. The smallest issue at the wrong time could bring your business to a halt, so we'll endeavour to always address your issues in a timely manner.
3. You'll always speak to an IT tech
When you contact us, you don't go through a tedious customer service process — you speak to one of our IT techs. Every time. You're always on the phone with someone who has the knowledge to help you. There is nothing worse than calling a service line and being put on hold for an hour, having your call transferred three times and needing to explain your issue from the start each time. If you've ever had the pleasure of calling your phone or internet service provider, then you know exactly what we mean. Having someone who can actually help on the other end of the phone is always a huge relief. When you call Stanfield IT, you'll get one of our fantastic team members ready to roll and assist.
4. We have the knowledge and experience to help you
To follow on from the previous point, you'll talk to someone who actually knows what they're talking about. No scripts asking you if you tried switching it off and on again.  We have the knowledge, the certifications and extensive background to help you. We all have a long history in IT services and have experience with almost any issue you can think of. As an IT managed services provider, we know the steps to take as preventative, security measures to keep your business safe. We are about maintenance and management, though if it comes to it, we can totally manage any incidents. Ultimately, we'd just rather help you prevent them altogether!
5. We won't confuse you with techno-babble
It's one thing to have the knowledge, to know how to fix the problems, how to optimise networks and operating efficiencies—but it's not so good if we can't help you understand it too. We feel that we are able to impart that knowledge to you in a way that makes sense, even if technical IT jargon isn't in your wheelhouse. Much the same way a mechanic will try and take advantage of someone clueless, you might find some businesses will spook you with complicated technological jargon, leading you to spend a lot on things you may not need. If you understand the problem, you can also understand the solution.
6. We're always on the cutting edge of IT and security technology
We keep ourselves up to date with the latest technology and security advances—and then use that knowledge to improve your business. With cyber criminals forever evolving their angles and methods of attack, technology has to try and keep pace. From next-gen firewalls to AI-driven anti-malware, we're always interested in the latest advances in IT technology so your business can also be on the forefront of cyber security and IT management.
7. Our team has the resources to handle any scope of project
We have a full-size flexible team and resources with the capacity to meet your needs for any small or large, short-term or long-term projects. Your business is not too small for us, nor too big. We have all the facilities and resources to manage your IT services regardless of your business type or project needs. We've done small scope jobs like switching a small business over to G Suite, and we've done big scope projects like overhaul the entire cyber security framework for a larger business. In any instance, with Stanfield IT as your IT managed services provider, you can be assured that we can handle your needs.
8. We provide round-the-clock monitoring for your business
Even if you've got your own dedicated IT department, you can benefit from our IT managed services. Generally, internal IT can focus on business-driven projects that help grow your output and revenue. Using our IT managed services, we do all the tedious network monitoring to keep your business safe. Round-the-clock monitoring of your system means that we are immediately aware of any unusual activity or data usage that could be a red flag for an infiltration or data breach. With our monitoring services, nothing malicious can sneak up on your business.
9. We provide a support arrangement that suits you financially
We understand that finances are a delicate topic, and everyone wants to cut costs. Above, we discussed why IT managed services works out as a more cost-effective solution versus a 'break-fix' service. To add to that, we can offer a flexible financial arrangement to suit your business. We don't request an outrageous retainer fee—we will offer you a monthly support arrangement that doesn't bust the budget, and matches your financial requirements.
10. We will tailor a service plan to meet your needs
Every business has different needs that are determined by any number of factors. If you're in healthcare, do we need to focus on protecting patient confidentiality and data security? If you're in retail, do we need to assist you with a secure CMS? Do you need to bring your business in line with cyber security guidelines and comply with the NDBS? Are you just looking for a simple help-desk service to provide basic IT support? We will tailor an IT service plan for your business. We'll help you to evaluate your needs, your strengths and weaknesses and then customise an ongoing management plan for your business to keep you at your peak.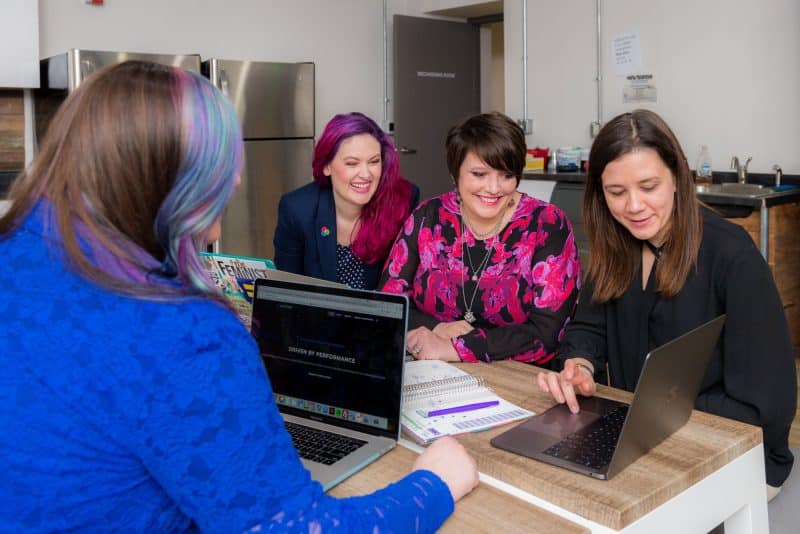 In Summary
In the end, it's all about reducing your risk of incident and keeping your business running smoothly. You shouldn't even notice a good IT managed services team, that's how smooth they are. We are exceptionally good at tooting our own horn, but with that aside, you should absolutely consider utilising an IT company that is able to meet your needs and take your business to the next level.
Whether you're a small home-run business, or a specialised healthcare practice — we have the experience and knowledge to help you. And more importantly, we have the desire. Have a look at our case studies and see how we've directly helped our clients get their business on top and decide for yourself. Alternatively, contact our team for a consultation and quote on how we can assist you.