An MDM solution is software. Software that provides centralised control over all the mobile devices within an organisation. Above all, an MDM solution gives your organisation a single platform of bundled apps and functionality. As a result, you can easily manage all your MDM efforts. Rather than using twenty-something different tools, everything is grouped together and contained within an intuitive interface or dashboard.
G Suite MDM, Microsoft Intune MDM, and IBM MaaS360 MDM are just a few of many MDM solutions on the market that are sold as a service. Certainly, all MDM solutions vary in their approach, but have several features in common. Most MDM tools will enable network administrators to manage features across multiple mobile devices. Admin can control features such as: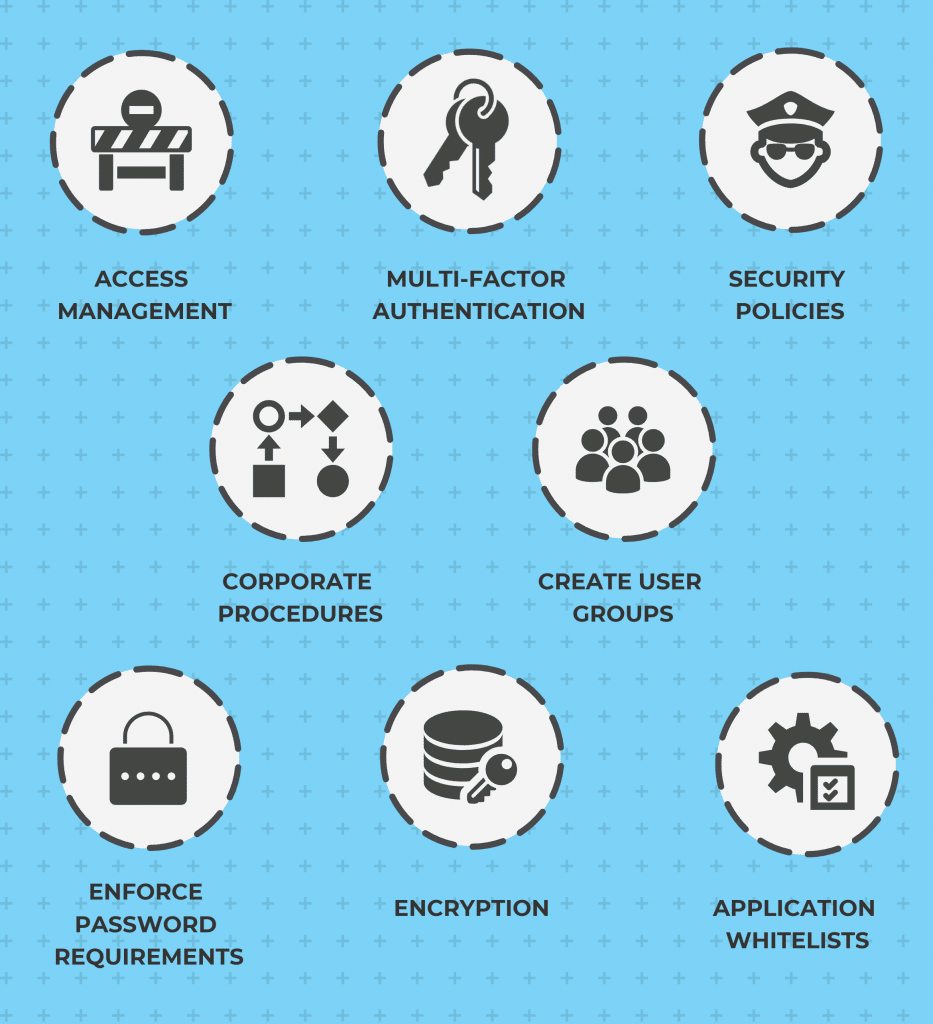 The Advantages Of BYOD
It is hard to talk about MDM without also discussing BYOD (Bring Your Own Device). That is to say, it is now fairly common practice to check work emails on the train or bring a device across town to assist with a presentation. Moreover, a business has no real reason to resist BYOD. It saves money on hardware, improves workplace culture, extends contactable hours, and increases flexibility.
In short, mobile devices have cut the cords that were tying us down to our desktop workstations. It only behooves a business to utilise MDM when you consider the above advantages. Furthermore, most of the MDM tools available have cross-platform support, remote configuration and endpoint management. So, you can even tie it in with local office devices.
The Security Risks of Mobile Devices and The Case for an MDM Solution
Left unchecked, external devices present a real security risk. It means anyone could potentially bring security problems inside an organisation.
For example, imagine if Karen's kids got hold of her work laptop and torrented a movie. Or a logged-in phone was misplaced in a coffee shop. Are there precautions in place to protect company data in such a situation? Cybersecurity isn't something you want to leave to chance.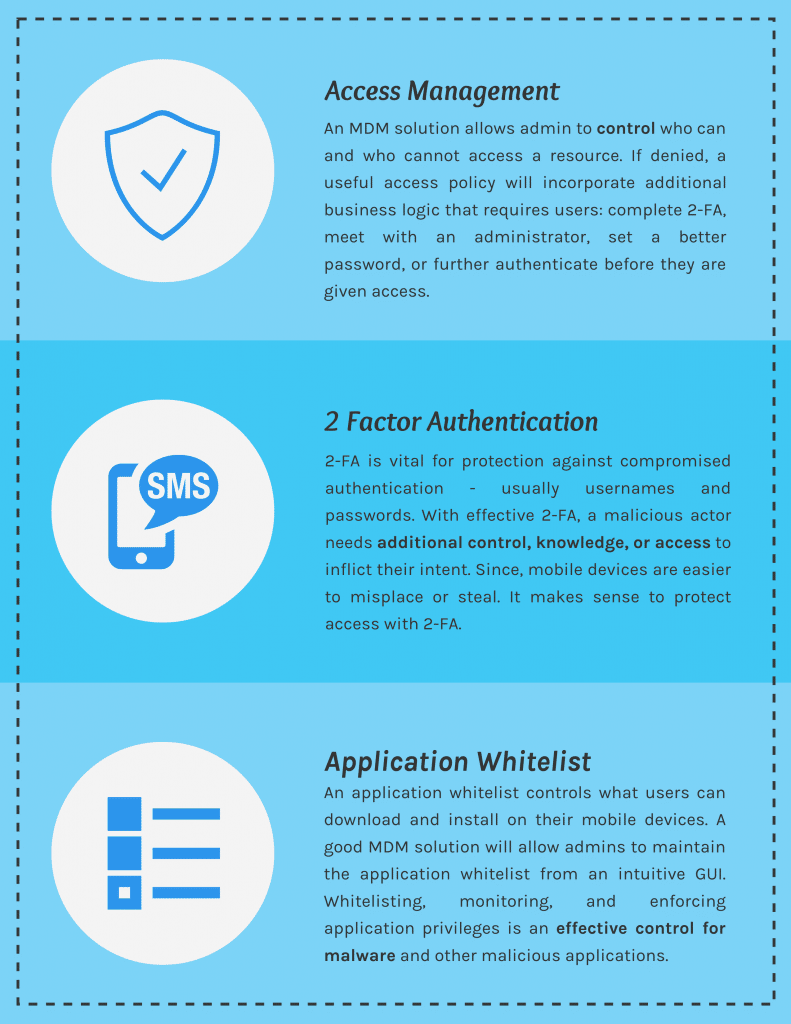 The Top 10 MDM Solutions for Business
1. Google Mobile Device Management
Both G Suite and the Google Cloud Identity platform include Google's MDM solution. Since both these platforms are prolific across all manner of business, you'd be correct in assuming this is a popular MDM solution.
From the simple admin console, you can set policies that will manage all the devices in your organisation. Furthermore, in addition to MDM features, Google's MDM has application management tools. Additionally, its integration with cloud identity makes it possible to use existing identity and roles on the platform and enable features like single sign-on.
G Suite MDM is affordable. Most MDM features are included in the G Suite Basic plan. For more advanced MDM features, you will need to step up to a Business or Enterprise plan.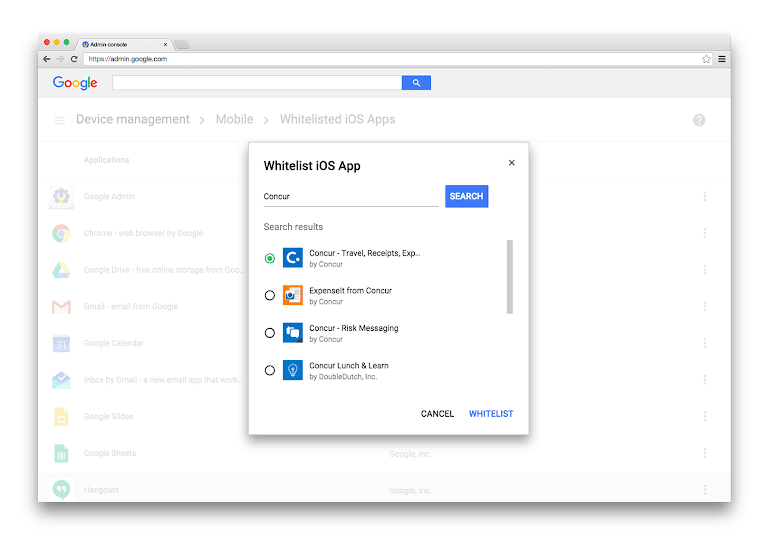 The Pros of G Suite MDM
Firstly, Google's G Suite MDM solution is agentless for newer devices on all operating systems. With agentless MDM, enrolling a device doesn't require installing additional software. If you have configured MDM software before, you'll know first-hand how tedious it can be to walk employees through the enrolment process.
Secondly, Google's MDM integrates with common Google Apps. They have really taken advantage of this integration. One example of many is that businesses can create private channels on the Google Play Store to distribute their corporate apps directly to Android devices.
Google hasn't limited app distribution to the Play Store. You can also distribute corporate iOS apps through the Apple app store. However, there are limits to what even Google can do, and this feature is not agentless with iOS devices. Overall, the standout features of G Suite's MDM includes: app distribution, geo-fencing, policy configuration, custom policies, multi-factor authentication, analytics, control over G Suite-specific data and the ability to block non-compliant devices.
Is Google's MDM Solution Right For Your Business?
If you are a loyal Google-user, already using G Suite apps, then it makes a lot of sense to click a slider in the Google Admin Console and activate Google's MDM. Stick with what you've got, right?
Not using G Suite? This is still a leading MDM solution, and it isn't hard to see why. Agentless across devices, tied into the existing Google ecosystem and managed from a simplistic user interface.
Google's MDM is straightforward, user-friendly and will let you do things like define custom policies from dropdowns, and gather analytics with Google Trends. All in all, this is not a bad option for your MDM solution.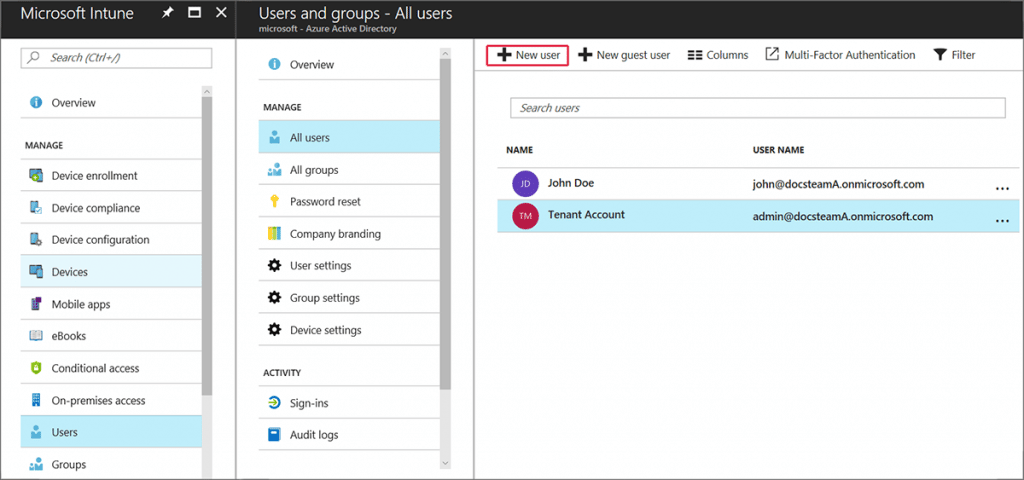 Microsoft Intune is a cloud-based, enterprise mobility management (EMM) platform. The MDM side of Intune is simply extending all its functionality to mobile devices and presenting it neatly. Therefore, admins and users don't need to worry about the underlying implementation.
The Pros of Intune MDM
Previously, identity management, mobile device management, app management, and all other types of management were sold as separate products. Now companies are bundling them together. To differentiate this service from what came before, a new term was coined – EMM.
Intune MDM comes bundled with Microsoft's Enterprise Mobility + Security subscription. So while it's no longer a stand-alone product, instead you end up with a whole lot more. Furthermore, on its own Intune gives you the ability to define your own protection policies, remotely manage devices, view system reports and logs, deploy software and updates, manage Office apps and also comes with Microsoft's Malware Protection Engine.
In addition, check here for a complete rundown of Intune's features.
Is Microsoft's Intune MDM Solution Right for your Business?
Intune MDM used to be available as a stand-alone product or Office 365 add-on. However, now it's bundled into Microsoft's Enterprise Mobility suite. The pricing for core features starts at $8.74 USD per device/per month. Remember that Intune isn't limited to MDM features but is packaged as an EMM.
As an MDM solution, Microsoft's Intune is compatible across all devices, manages access to business apps and centralises control for managing access and security policies.
It has other novel features like requiring device updates and a secure web browser that can guarantee tighter control.
3. Cisco's Meraki MDM Solution
Meraki Systems Manager is Cisco's answer to MDM. A notable feature of this MDM is the condensed designed that allows everything to be controlled from a single dashboard-style interface.
From the dashboard, admins can enrol user devices, set policies, monitor activity and whitelist applications. At first glance, Meraki doesn't look as complicated as other MDM solutions but don't mistake this to mean it's lacking features. Device enrolment requires some initial configuration depending on the OS. For example, you need to get an Apple Push certificate, to use Meraki with an Apple device. There is plenty of documentation and all that's required to get a Push Certificate is an Apple ID and following some prompts. With Android and windows, there are several methods for enrolling devices.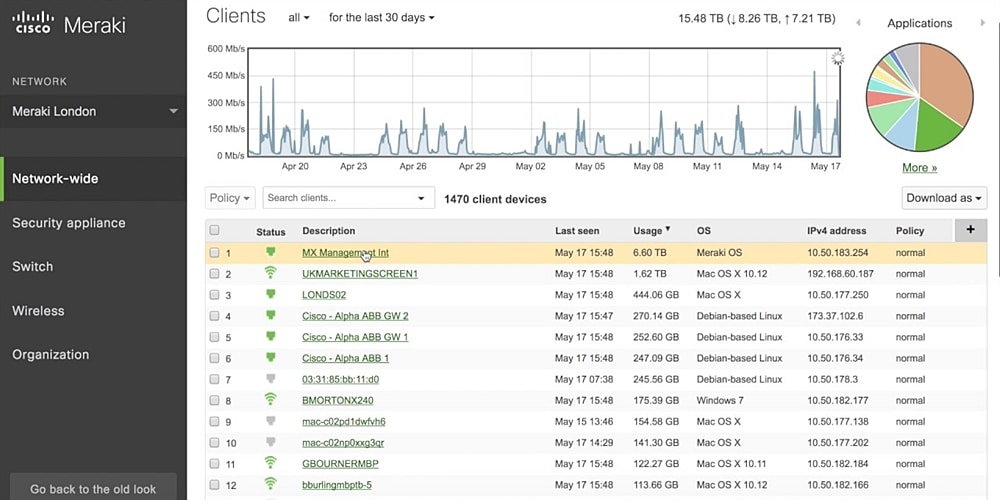 The Pros of Cisco Meraki MDM
Devices are enrolled from a central dashboard. Meraki will work with iOS, Android, macOS Windows and ChromeOS devices. Once the initial configuration is out of the way, enrolling devices is as simple as an emailed link, QR code, or network ID. For Apple devices, there is software that you can download called Apple Configurator that will help to enrol a large number of Apple devices.
Meraki has all the features you need to use it as a complete MDM solution for your business. From the dashboard, it is possible to restrict device functionality, monitor locations of devices, control privileges access, require minimum password complexity, and do everything else you would expect from an MDM.
It also comes equipped with all the standard functions of any decent MDM solution: data and access restrictions, privacy configuration, password requirements, application whitelisting, geo-fencing, disabling of cameras and other functionalities, multi-factor authentication and remote wiping.
Is Cisco's Meraki MDM Solution Right For Your Business?
If you're looking for something completely different, this is a decent option. The dashboard interface is intuitive, and can easily be navigated, configured, and updated (without requiring an IT background). This ease of use makes Cisco's MDM a great option for SMBs who don't necessarily have the resources or the need for a larger IT team but still want to control their mobile devices.
Overall, the Meraki MDM solution is just a small part of the Meraki product family. The goal of Meraki is to be a complete cloud-managed IT solution that operates from a dashboard. Therefore, with only Meraki, it can be possible to manage endpoints, security and devices. The complete systems manager is one of the fastest-growing product in the Cisco portfolio. Cisco is a huge company, so as you can imagine, this is a very popular suite of products.
4. IBM MaaS360 MDM Solution
IBMs MDM solution is bundled together with MaaS360. This is an all-encompassing enterprise management tool that will handle identity, endpoints, application distribution and security. If it exists as a corporate solution, then chances are that IBM's MaaS360 has an app for it.
MaaS360 also differentiates itself by including Watson: an artificial intelligence who has dedicated his genius to endpoint management and keeping IBM enterprises secure.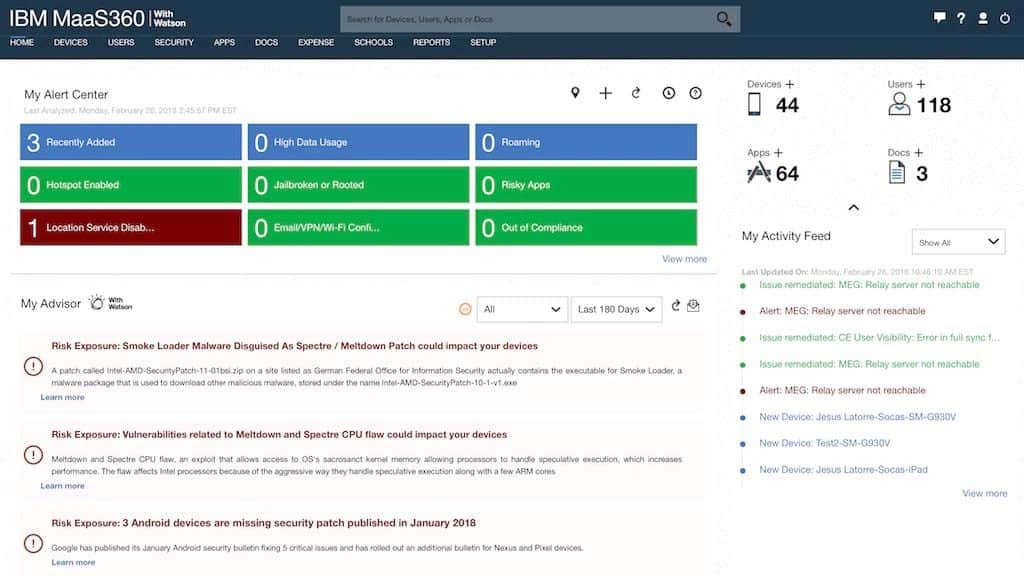 The Pros of IBM MaaS360
The standout feature of this MDM solution by far, has to be Watson. The Watson advisor is front and centre with MaaS360. A grid-like layout will point out the algorithm's finding's and break them down into actionable categories: risk exposure, opportunities and information.
By searching structured and unstructured data, Watson can identify Endpoint vulnerabilities, malware, suspicious activity and compliance issues.
However, IBM's MDM solution isn't just about Watson. It includes many other great features such as: app cataloguing, single sign-on, policy enforcement, restrict and locking devices, additional security software, segment business data from personal. And in addition, Watson is used to find any issues with enrolled devices.
Is IBM's MaaS360 MDM Solution Right For Your Business?
IBM's MaaS360 is available in four subscription plans starting at $4/client device per month. MDM is just a fraction of this platform's capability, but if you are only looking for an MDM solution it will definitely do the job. The built-in AI Watson, can save a lot of time identifying vulnerabilities and makes worthwhile suggestions for improving your cybersecurity.
5. AirWatch MDM Solution
AirWatch has included EMM capabilities as part of Workspace One. Workspace One is a suite of applications that together make for a pretty convincing enterprise management tool.
Above all, AirWatch simplifies the enrolment process. With AirWatch's MDM solution employees can quickly enrol their own devices by entering their credentials into an on-boarding workflow. Alternatively, the admin can add and manage devices through various device enrolment programs, such as Apple DEP, Knox Mobile Enrollment and Android Zero-Touch Enrolment.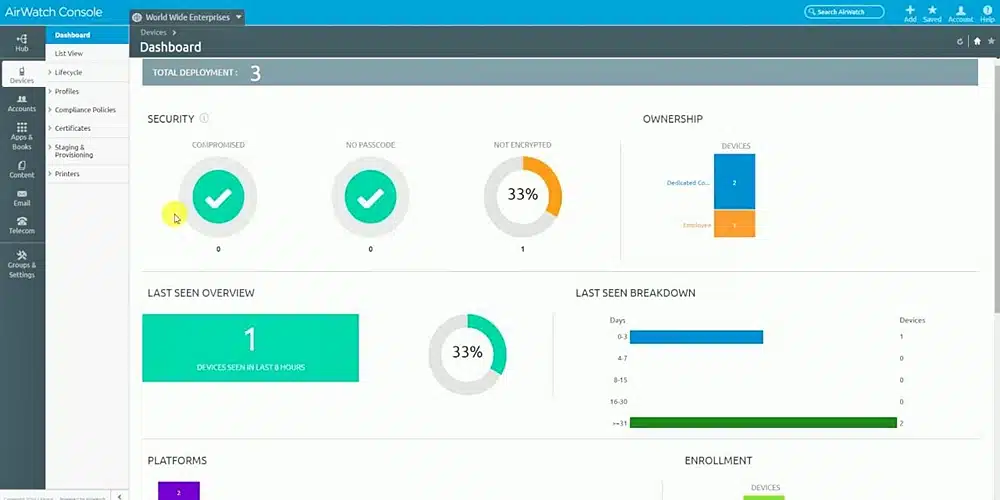 The Pros of AirWatch MDM
Once enrolled, AirWatch behaves like your typical MDM solution. On the back end, admins are able to configure MDM policies for device restrictions, access, notifications and more. These policies can be configured according to employee roles and other groups in an organisation.
Admins are supported in enabling device-level encryption, hardware security policies, password complexity requirements, application blacklists, WiFi security, sharing permissions, geo-fencing and remote locking.
From the user's perspective, AirWatch MDM won't get in the way. Their device might behave a little differently at times and occasionally ask for an extra password, but AirWatch isn't going to slow employees down or interfere with their personal apps. Like all MDM solutions, AirWatch understands the importance of not restricting employee productivity.
Is AirWatch's MDM Solution Right For Your Business?
AirWatch's MDM solution is affordable costing only $5.43 AUD per device/month for basic features. To use the app catalogue and access EMM features will cost you around $8 AUD. AirWatch's MDM solution is an affordable way to realise your MDM goals.
6. XenMobile Citrix Cloud MDM Solution
The Citrix Cloud XenMobile Service offers a feature-rich enterprise mobility management (EMM) solution.
Driven by concerns that the IT department could see personal data, or erase everything on an employee's phone without warning, XenMobile has taken steps to separate corporate and personal apps. XenMobile has launched several enterprise apps for secure note-taking, emails, and web browsing. All these applications are sandboxed inside of the Citrix receiver application.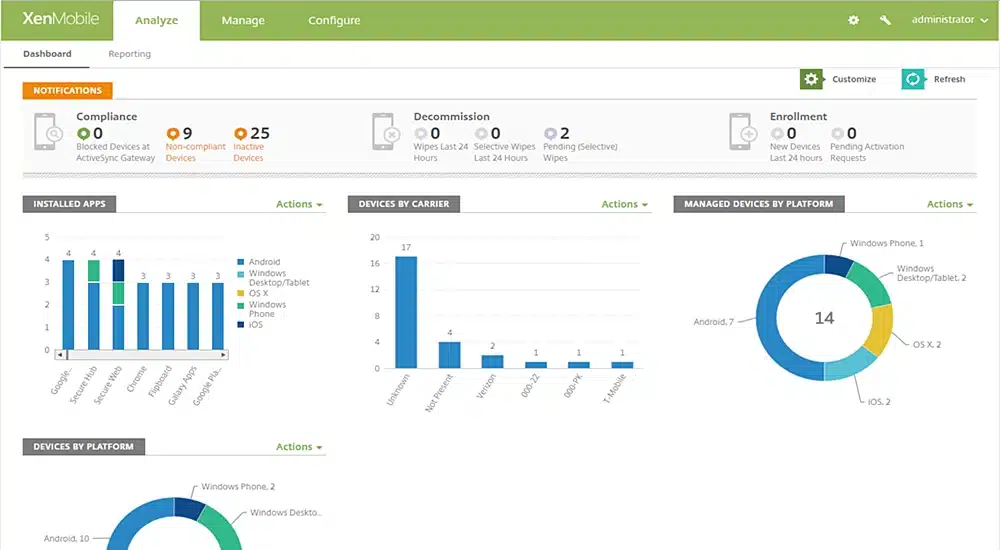 The Pros of XenMobile
Employees can self-serve enrol their mobile devices through an MDM onboarding procedure. Firstly, they can download the XenMobile enrol app from the Apple App store or Google Play store. Secondly, after enrolment is completed, all the apps included in the policy specific to the user and device can be downloaded and installed directly on that mobile device.
Once the user is enrolled, the admin can push policies to the device and perform other MDM admin tasks, wipe corporate data, lock the screen, etc. There are also hundreds of pre-defined policies that can be pushed to the device. These include: malware protection, security policies, password requirements, application blacklists, WiFi security, role-based policies and access, geo-fencing and remote locking.
Is XenMobile's MDM Solution Right For Your Business?
The MDM console provides analytics about all the enrolled mobile device. At a glance, it's possible to see what percentage of devices have a policy applied to them or better understand which corporate apps are being used where.
XenMobile's MDM solution is one of the best on the market. The sandboxed work environment that separates work applications from personal apps and data, will bring peace of mind to your employees. It is also much easier to enrol new devices, irrespective of their operating system with XenMobile's Citrix Cloud than it is with other MDM solutions.
7. SAP Mobile Secure MDM Solution
SAP Mobile Secure is an MDM solution that delivers. Admins can easily add, configure and update access and security policies. The MDM software takes back control of device functionality, so you can enable and disable permissions, secure devices and roll out apps, with nothing but a few clicks.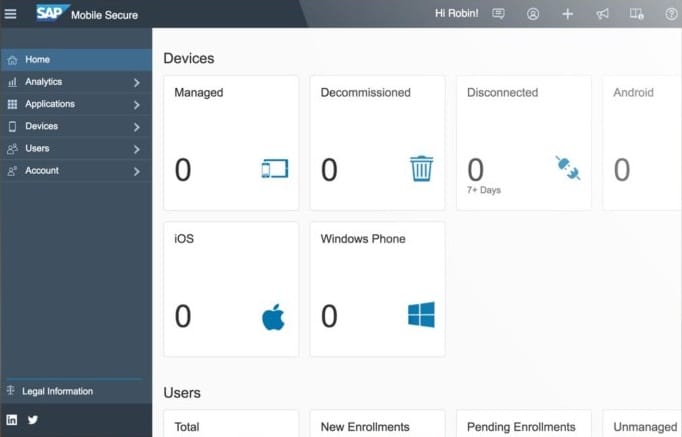 The Pros of SAP Mobile Secure
In addition to strictly MDM features, SAP Mobile Secure includes tools to handle MAM. For example, this includes an enterprise application store, which provides a familiar user experience for users to download and install the corporate applications that they need.
Furthermore, SAP Mobile uses app wrapping technology to control permissions and secure native and web apps. That is to say, you have the capability of mobile device management, mobile application management, policy compliance and enforcement, and a simple self-service experience.
SAP Mobile Secure is one of the more affordable MDM solutions on the market. It costs less than $2 AUD per month/device.
Is SAP Mobile Secure Right for Your Business?
While it's light on the wallet, it isn't light on features. SAP Mobile Secure is an effective MDM solution with a heavy focus on security and the end user's experience.
Likewise, SAP Mobile Secure can be integrated with the SAP Cloud Platform to provide app management and security for apps stored on the cloud. Enrolling new devices is simple enough. A link is sent to the user, which will guide them to a self-service portal where they can complete the on-boarding process.
8. Jamf Pro MDM Solution
Jamf Pro is another EMM with MDM tools. The difference with Jamf is the heavy focus on Apple devices. It's pretty impressive. With features like zero-touch device enrolment through Apple Business Manager or a simplistic user-initiated enrolment for BYOD devices, it's easy to overcome the limitations of Apple Push Certificates.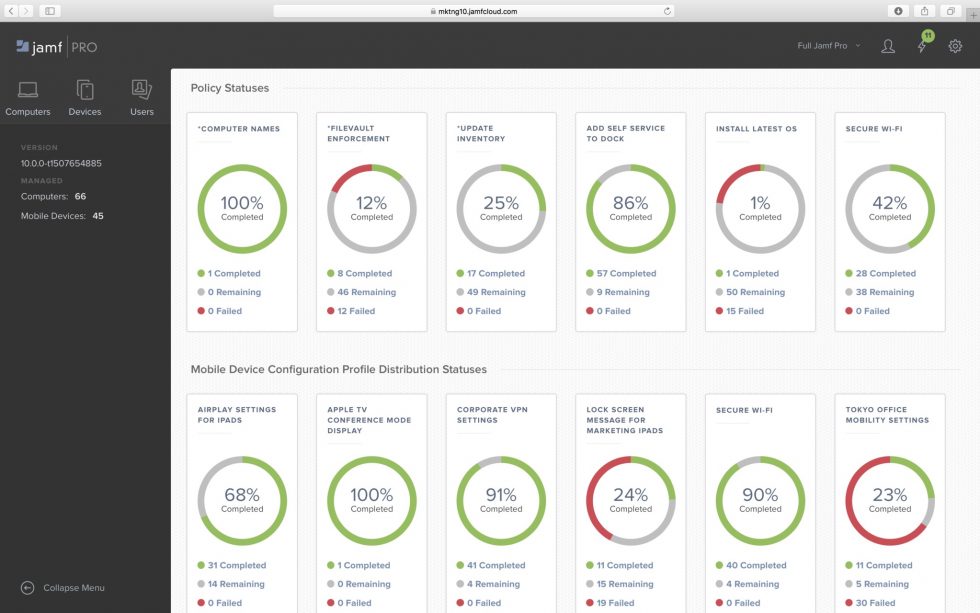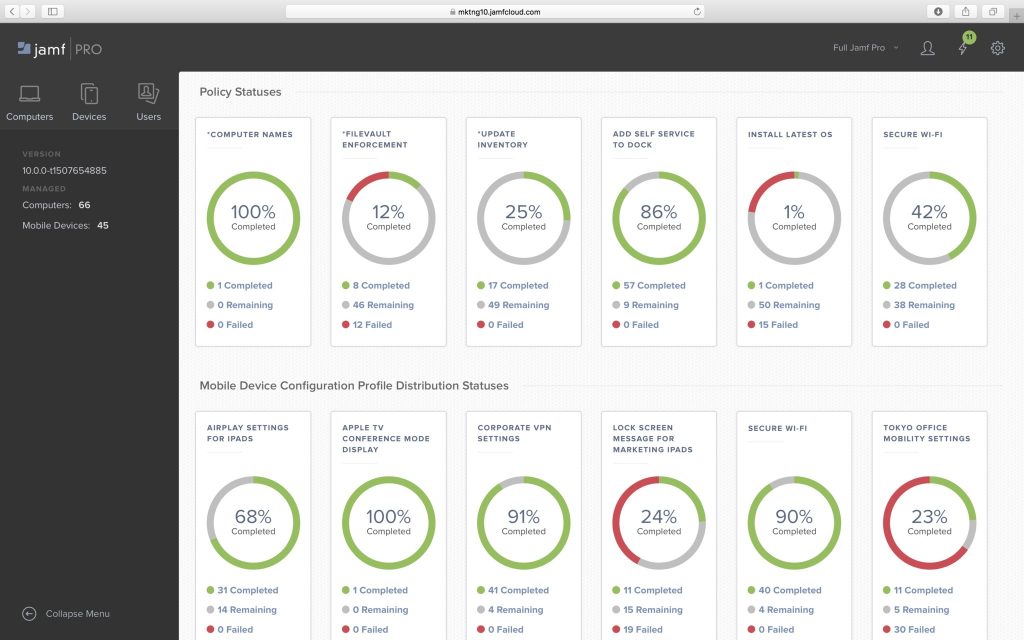 The Pros of Jamf MDM
Jamf Pro gets Apple devices up and running in no time. This MDM solution will also connect to Active Directory without any additional configuration so that employees can use their existing identities and login credentials on their Apple mobile devices.
Jamf boasts of single sign-on, the ability to remotely lock devices, a custom app catalogue, device sharing with profiles, manage and configure policies, as well as the ability to streamline inventory data.
MDM device policies typically install software and disable features, but Jamf Pro has taken it a step further. With only a few clicks, admins can set policies that automatically connect mobile devices to printers and scanners.
Is Jamf Pro MDM Right for Your Business?
The biggest draw of Jamf Pro MDM solution is obviously the Apple focus. If your business is utilising primarily Mac and iOS devices, you will benefit greatly from this. As a general rule, there tends to be less Apple-focused third-party programs, so this is a nice change of pace.
Since it is charged on a per device basis, only $2 per device/ month for basic features, there is no additional cost to only using Jamf Pro MDM for Apple devices and getting another MDM for Android and Windows devices. There is, however, an indirect cost for time spent managing two MDM solutions.
9. ManageEngine Mobile Device Manager Plus
Mobile Device Manager Plus is an MDM solution that simplifies managing the multitude of mobile devices in a BYOD organisation. Technically ManageEngine Mobile Device Manager is an EMM solution including App Management and identity tools. However, the platform has more than enough functionality to handle all MDM tasks, including on-boarding, managing device policies, disabling functionality on the device, remote screen locks and more.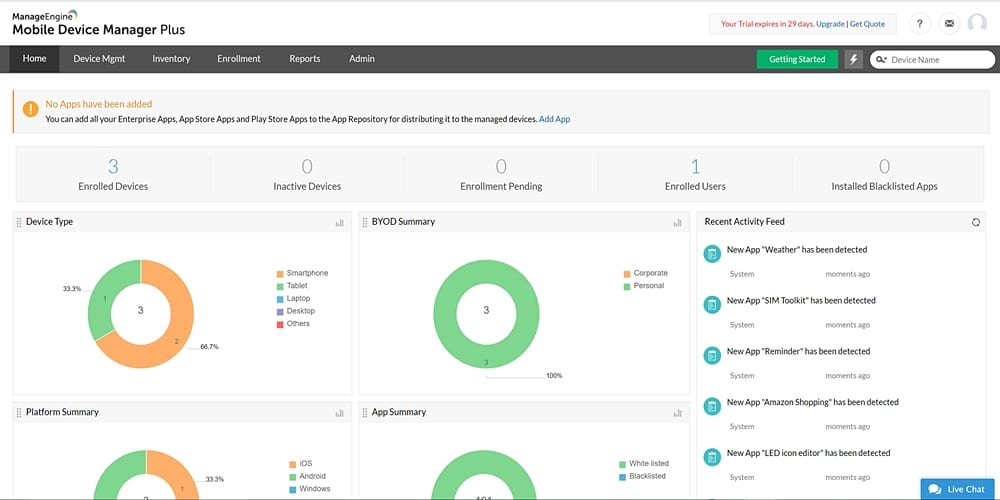 The Pros of ManageEngine Mobile Device Manager
Firstly, admins can initiate enrolment by creating a CSV file that includes the details of all employees. Then an email will be sent to all the employees on the list asking them to complete the on-boarding procedure.
In addition, users can self-enrol. To do this, they need to log into the server manually. This means typing the name of the server plus the port into the URL of the browser. Once there the enrolment process is the same for all operating systems.
Furthermore, this MDM solution is bundled with EMM features. Mobile Device Manager Plus separates personal and enterprise applications. Admins can create an enterprise app catalogue and fill it with the approved apps that belong to the organisation. For example, employees can only download the applications that they are approved to use, and these permissions can be assigned according to roles and departments.
Is ManageEngine Mobile Device Manager Right for Your Business?
Mobile Device Managers Plus' MDM solution is managed by admins from an intuitive dashboard. Therefore, there is a shallow learning curve, letting IT quickly come to grips with how to administer policies, group employees into roles, control security and, manage access.
In addition, if your business has 25 devices or less, then ManageEngine Mobile Device Manager Plus is free to use. It doesn't get better than free. With more than 25 devices, the standard edition is $10 per device a year. That's consistent with other MDM software.
This MDM solution has features comparable to other leading MDM solutions. The dashboard's layout is clean, intuitive and easy to get up and running.
10. Avalanche Mobility Center MDM Solution
The Avalanche MDM solution was designed for supply chains with retailers and manufacturers in mind. Leveraging their Wavelink technology, Avalanche can be used with barcode scanners, wearables and more. For business in the manufacturing industry, this keeps everything tidy and contained on a single platform.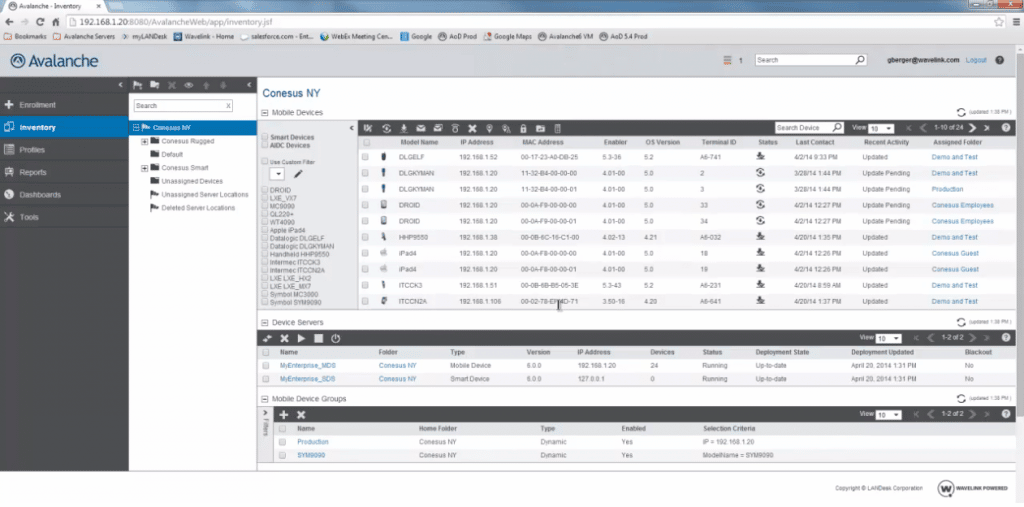 The Pros of Avalanche MDM
Firstly, device enrolment rules need to be created to manage device enrolment with Avalanche MDM. Within the enrolment rule, the enrolment requirements are specified. If a user needs a username and password, or if an Apple DEP token exists for that user, all this information is configured by the admin.
Above all, the centralised dashboard is headquarters for this MDM. From here, admins can schedule updates and handle all mobile policies for the organisation. Avalanche MDM will also collect data and analytics about how mobile devices are being used in the organisation. This is useful for optimizing employee workflow. Avalanche provides the ability to schedule and deploy device updates, push apps to devices, segment workgroups, and view analytics and reporting.
Is Avalanche Mobility Center MDM Right for Your Business?
Avalanche is designed for supply chain and retail mobility, with a focus on large-scale deployment. With that in mind, it's naturally suited to some industries over others.
The cost is also a one-off fee rather than an ongoing subscription. A single license costs $50. This is a lifetime license, so if you use this product for 10 years, it's clearly an economic solution. But who knows what might be available in 10 years?
Devices can be assigned profiles and the profiles groups for easier management and policy provisioning. Like other MDM solutions, applications can be distributed according to these profiles, ensuring that all employees have the tools they need to do their jobs.
Final Thoughts On Choosing an MDM Solution
When choosing the right MDM solution, it's often a case of stick with what you know. In your current workflow, you are probably already using Active Directory or a whole lot of Google Apps. If that is the case, then it makes the most sense to use the MDM solution offered by that company.
You need to consider the devices in your company. An MDM solution like Jamf Pro is great, but is best suited to Apple devices. What are you going to do with all your Windows phones and Android devices?
Once you have weighed up the features, consider the cost. There are two common pricing structures for MDM solutions. Per device pricing and per user pricing. Look into how many devices the average user has? Is it enough to make the more expensive per-user cost better value for money?
Hopefully, this post has helped you, and you are now in a position where you can choose the best MDM solution for your business.