Google Apps for Work is a cloud-based productivity suite that enables your team to access your information on-the-go and collaborate together. Anywhere. On any device.
Google Apps for Work and Your Business
Although you may now know it as G Suite (as of 2016), this tool started life as Google Apps for Work. Which really gets to the heart of what it is and what it does. Google Apps for Work is exactly that, a set of integrated and connected apps that seamlessly perform together to make your work easier.
Above all, Google Apps for Work is a software-as-a-service (SaaS) solution for work productivity and collaboration. You've probably noticed that with the growth of cloud computing, these subscription-based models of distribution are definitely more prevalent than previous buy-it-own-it models. For example, you see this in services like Spotify (as opposed to buying CDs), Netflix (no more excessive DVD collections) and Google Apps for Work (no need to purchase individual licences and expensive enterprise software solutions).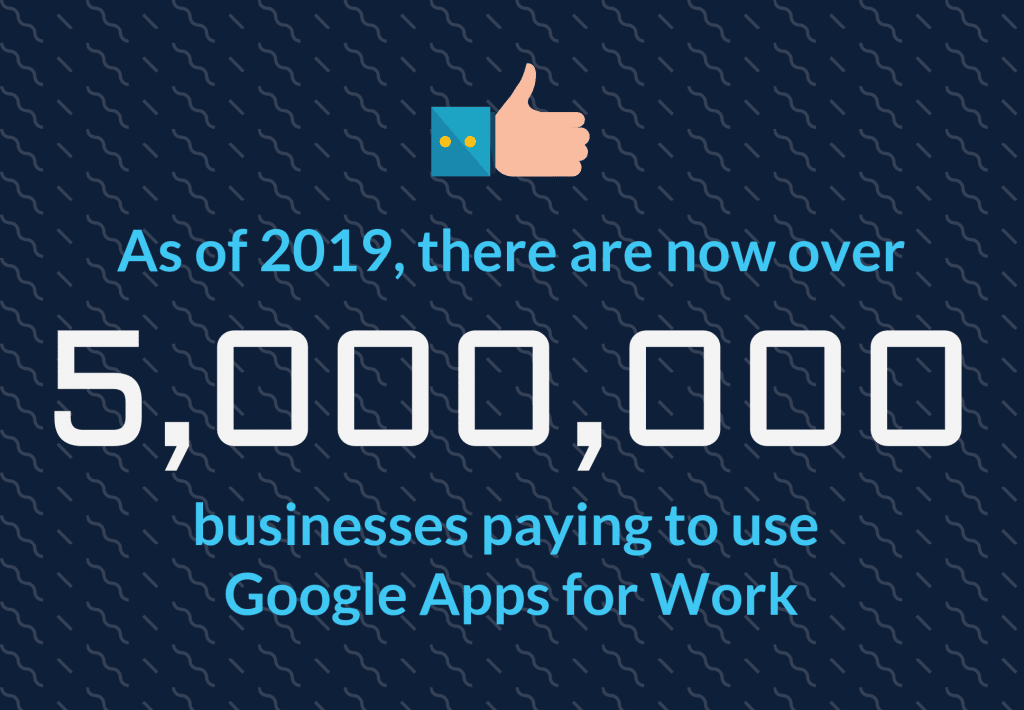 Consequently, Google Apps for Work is being adopted by more and more businesses around the world every day. The figure above is a whopping 25% increase from 2017. Business owners are quickly recognising the value and benefit of Google Apps for Work as an indispensable tool in the office. Power users like Colgate-Palmolive and Deliveroo are counted amongst the ranks of Google Apps for Work users. Most importantly though, the best thing about Google Apps for Work is that you don't need to be an enterprise giant to use it. In other words, Google Apps for Work arguably has more benefit for small to medium businesses who are in their growth stages and looking for a solution to bring it all together. 
In short, the sheer affordability and flexibility of Google Apps makes it an ideal solution for local businesses, whether you have 3 employees, 30, or 300.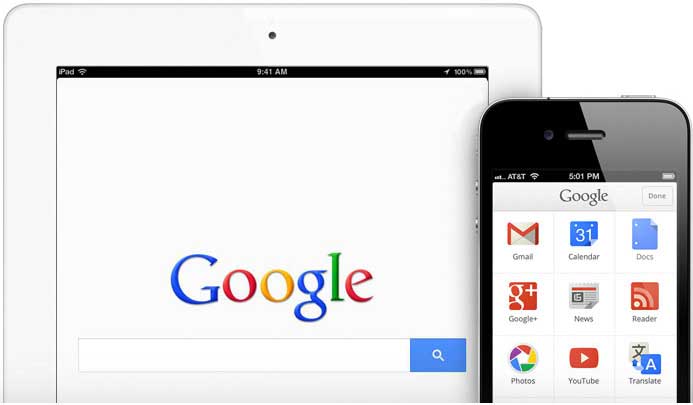 One system that enables employees to work seamlessly across an integrated environment.
The Height of Collaboration
Above all, Google Apps for Work has been designed with a very clear goal in mind. From the ground up, Google Apps for Work is a collaborative tool designed to bring your team together effortlessly. In other words, your team can easily share and access the data they need. Therefore, accessing information as a team and working together has never been easier. 
Firstly, you'll have simplified management of your emails, contacts, calendars and documents, with Google Apps for Work. Secondly, every tool integrates seamlessly, regardless of the size of your business. With Drive, Hangouts, and Calendar as a starting point, you'll quickly realise the full collaborative potential of Google Apps for Work. In addition, everyone can work on a document at the same time, thanks to simultaneous editing. No more conflicting file versions!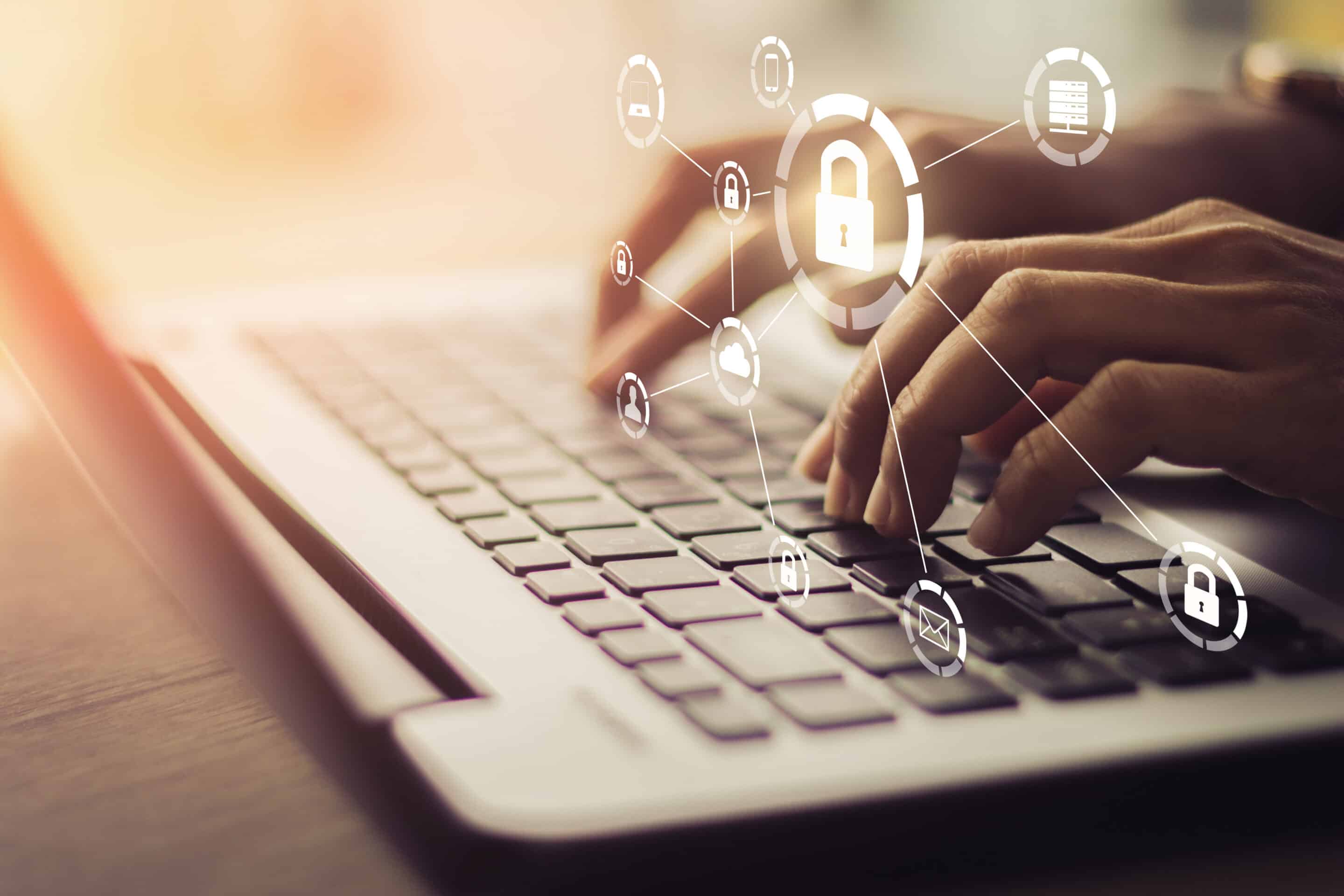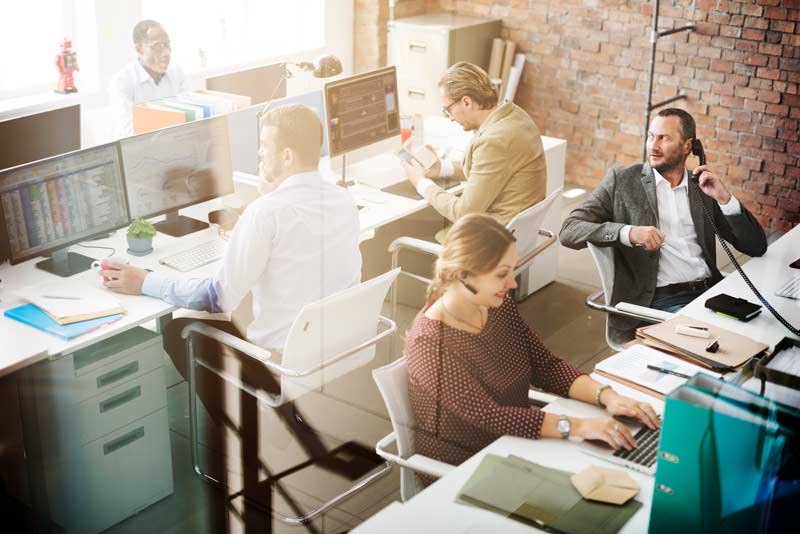 World-Class Cyber Security
Most importantly, cyber security is at the forefront of everything Google does. Your data is safely protected and monitored around the clock, with data encryption at every level, and a dedicated security-focused team at Google. Further, administrative control is in your hands. Google Apps provides you with full control over all system configuration and application settings; so you can streamline authentication, asset protection and user identities.
Enforce multi-factor authentication, and security keys, and take advantage of Google's clever login monitoring that utilises machine learning to detect suspicious activity. So, as the administrator, you can set custom rules about email correspondence too. Require them to be signed and encrypted using Secure/Multipurpose Internet Mail Extensions (S/MIME). With Google Apps, every barrier of security is at your fingertips. And if that's not enough, Google has the independent security certifications to back their claims to world-class security here.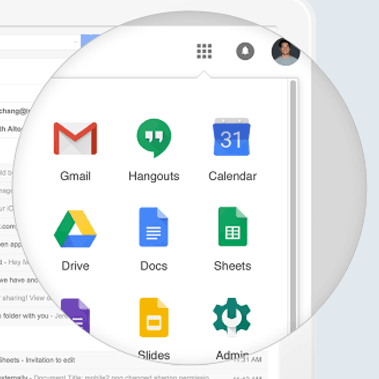 Google Apps for Work Features

Gmail
So, when is email more than just email? When it's Gmail! Google Apps for Work gives you a professional domain for your email, and you can even create group mailing lists like sales@yourcompany.com. You can even do more with just a right-click. You can move emails, snooze, mute, label, archive or search by sender.
Similarly, take advantage of smart email content suggestions with Google's powerful AI on hand. Above all, these suggestions ultimately adapt to the way you write.

Docs, Sheets & Slides
You and your team will get work done fast without the technology constraints put in place by fickle IT departments. Google Docs enables you to share information, and collaborate live on documents and spreadsheets. Simultaneous editing means greater collaboration without version conflicts and multiple copies floating around.
You and your colleagues can tag team members in comments for input or approval, and even customise your own autocorrections and substitutions for symbols or arrows while writing.

Drive
Google Drive gives you instant access to all your files. Anywhere, anytime, on any device. With every