Mobile device management software first emerged in the early 2000s as mobile devices started to become more common in the workplace. However, when 2007 saw the launch of the revolutionary iPhone, it fueled a huge trend of 'bring your own device' (BYOD) to work. Finally, a device that could comfortably handle work and personal functions. Therefore, it set off a real transformation in the way that business was handled in and out of the workplace.
But this evolution came with its own problems of course. How do you protect company data when your employees are carting it around in their pockets? Enter: Mobile device management. But, firstly…
What is Mobile Device Management?
It's all in the name, really. That is to say, mobile device management is the software used by a business to monitor, manage, and secure mobile devices that are being used within the business. This is not to be confused with mobile application management, which is related but definitely not the same.
Today, in 2020, we are seeing an era in small-to-medium businesses where mobile device management plays an extremely important role. It not only ensures security and compliance, but having a great MDM solution in places equals employee and stakeholder trust in your business. Many cloud-based apps are great for increasing efficiency and productivity, but, in security terms, working on a mobile device can leave your business assets as an easy target for hackers.
Purposefully made to address these security concerns, MDM software aims provides a single platform where all mobile devices used to access company data, files, emails, etc, can be monitored and managed. Additionally, users are authorised with some form of identity management (such as 2FA) so that no one can access the device if it gets in the wrong hands.
Mobile device management is ideal for any smartphones, tablets, laptops, or other endpoints. From Androids to iPhones to Chrome Books, for example. The devices are enrolled into the mobile device management software, and the administrator can configure and manage all devices from one central console.
Features of Mobile Device Management Tools
There are a number of features and controls included within most mobile device management tools, including:
Security Policies: Create your own security policies that can be enforced across all devices from one central location.
Cloud-Based: Cloud-based means you can manage all devices remotely, especially for employees out of office.
Remotely Wipe Devices: If a device is stolen, remotely wipe the data to prevent unauthorised access.
Remotely Disable Devices: Remotely disable devices to protect data for recovery.
Logging and Reporting: Keep track of all logs and reports for compliance purposes.
Alerts: Set up alerts for users attempting to bypass restrictions, or if the device is being used in an unauthorised manner.
Scale-able: Add, remove, and customise accounts to accommodate new users and devices.
Monitor Usage: Keep an eye on app usage, file access, and data usage across all users.
Deploy Apps: Easily deploy business apps to all devices.
Deploy Updates: Roll out device and OS updates to all users remotely. Patch all security vulnerabilities.
Hardware and App Inventory: Review hardware capabilities and applications installed across devices to monitor for malware.
Access Control: Specify rules about which users can perform operations and access certain data.
VPN Configuration: Configure VPN settings on user devices for additional security.
OS Configuration: Configure OS settings for all devices according to required permissions.
Why is Mobile Device Management Important?
So, with the growing trend of BYOD (bring your own device), there also came the need to manage and secure these devices in order to protect company data. Out of this need, mobile device management tools grew.
The importance of a specific mobile device management tool arose when it became clear that managing all remote devices required within the business would take quite the toll on the IT department. To sum up, previous methods required IT to manually handle each and every device, to implement security settings and ensure that all devices were protected. As you can imagine, this process was extremely tedious and time-consuming. Consequently, a centralised, cloud-based management tool completely erased the need for this manual work.
However, there were also a number of other issues that makes mobile device management so important, as it was able to solve these problems:
Cyber Security
We mentioned cyber security, of course, but to get more specific, mobile device management tools allow businesses to remotely secure devices instantly, and roll out security updates as soon as possible, rather than taking hours or days to do so. Most importantly, this provides greater protection to company data―reducing the risk of any malware or phishing attacks.
Dynamic Work Environments
Secondly, mobile device management was able to remove the obstacle of working remotely and travelling for work. Devices can be made secure and access company data regardless of where they are working from.
Staff Turnover
Unfortunately, staff terminations are rarely amicable. This often led to a risk of an ex-employee keeping mobile devices that often contained confidential company information, like financial data or client lists. Mobile device management tools mean that, even in such an instance, the device can be wiped remotely.
Overburdened IT
IT departments lost precious time working on these devices. This takes away their time working on bigger or more important company projects. Mobile device management reduces the burden on the IT department and therefore lowers overall IT costs.
User Monitoring
Mobile devices were obviously being used in business before mobile device management software took off. People travelling for business regularly used laptops or phones. However, there was no easy or convenient way to monitor these mobile environments. Mobile device management software allows you to check on device status, log-in attempts, and password compliance.
How To Choose the Right Mobile Device Management for Your Business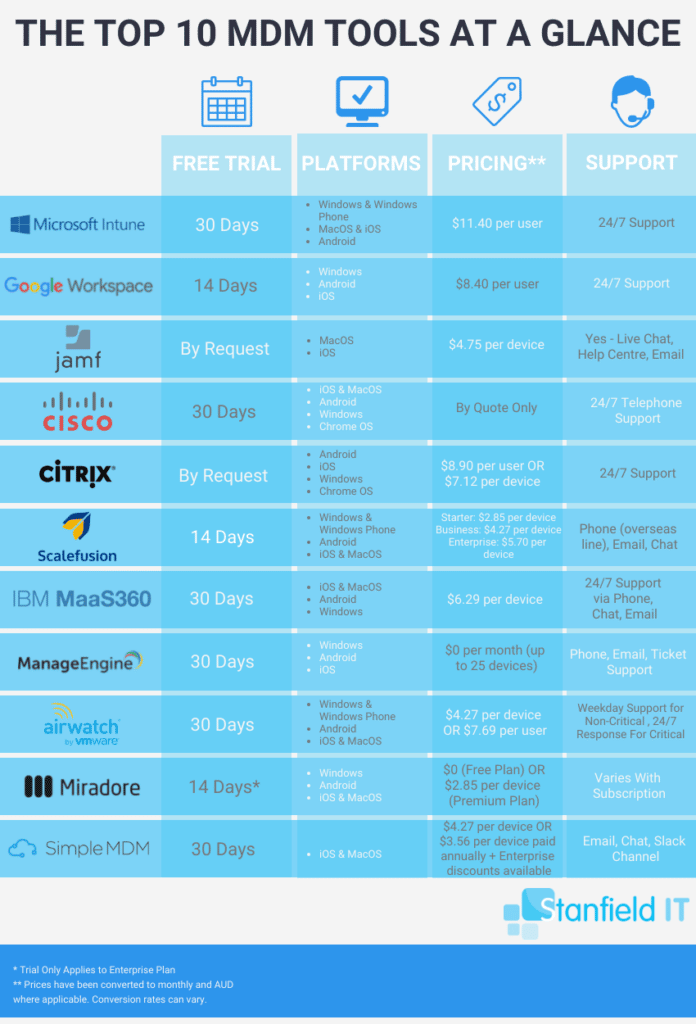 Since there are so many mobile device management software tools available, it's likely to feel overwhelming when trying to choose what's right for you. Firstly, you will need to determine what factors to look at so you know what you're comparing. Overall, you will need to consider the following factors when considering different mobile device management solutions:
Platform Compatibility: Will you be using a uniform platform across all devices (for example, iOS) or will you have a variety of devices?
What's the scale of your business? Do you have multiple sites and a great number of mobile devices to manage? Or are you a smaller business with no separate IT department?
Trial period: What sort of trial period does the software include? Would you like to test out the software and see if it works for you before committing?
App Management: Do you require specific business apps or third-party apps? Check if the MDM software includes app management as well.
Device Monitoring: What level of monitoring and control are you looking for? MDM capabilities vary from simple location tracking to full geofencing features.
Software Support: Review what sort of support the provider offers until you're comfortable enough to proceed without it. You may just want to purchase something and be on your way, or you may prefer a brand that will take you by the hand until you're ready.
Cost: Evaluate the cost of the products, and determine what fits within your budget requirements.
Cyber Security: Furthermore, make sure to identify what cyber security assurances are included with the software.
12 MDM Solutions to Choose From
There are probably a hundred different mobile device management solutions to choose from, and if we had the time, we'd write about them all. But, unfortunately, this is entirely impractical. Instead we'll opt to review the 12 most popular MDM solutions and help you get the gist of what each one offers. Firstly:
1. Microsoft Intune
Microsoft Intune forms part of the Enterprise Mobility + Security suite, meaning it is backed by Microsoft Azure security. Above all, it integrates best with Office 365. It offers the following features: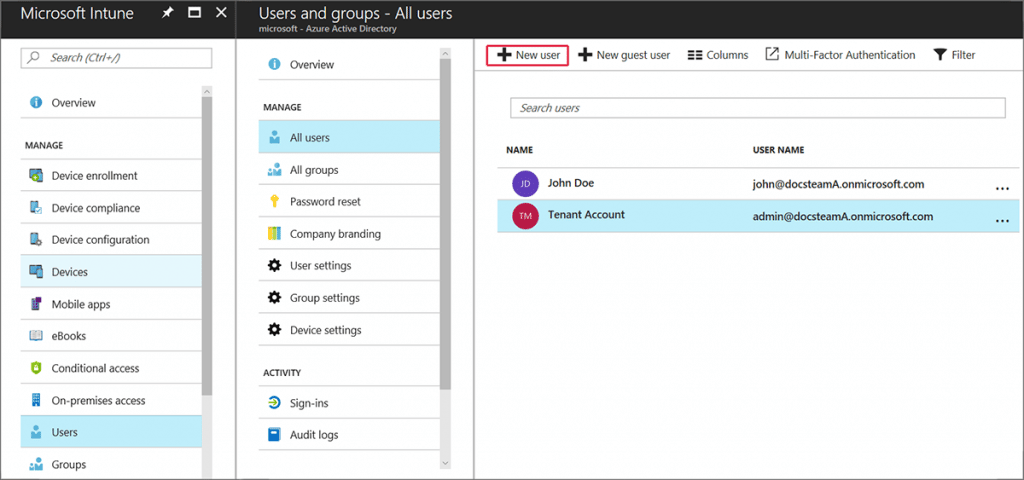 Device licences can be purchased based on your estimated usage. If you wish to purchase the full Enterprise Mobility + Security Suite then pricing starts at $11.40 per user, per month.
Mobile application management
Integrated PC management (PCs, laptops and mobile devices all controlled from a single console)
Detailed hardware and software configuration reporting
Integrated on-premises management
Advanced Office 365 data protection
Integrates with Office 365
Compatible with iOS, Android, Windows, and Mac OS devices
2. Google Workspace
If your business has Google Workspace (formerly known as G Suite), then the good news is that it comes with a mobile management tool included at no extra cost. However, it may not have the full functionality of a standalone tool.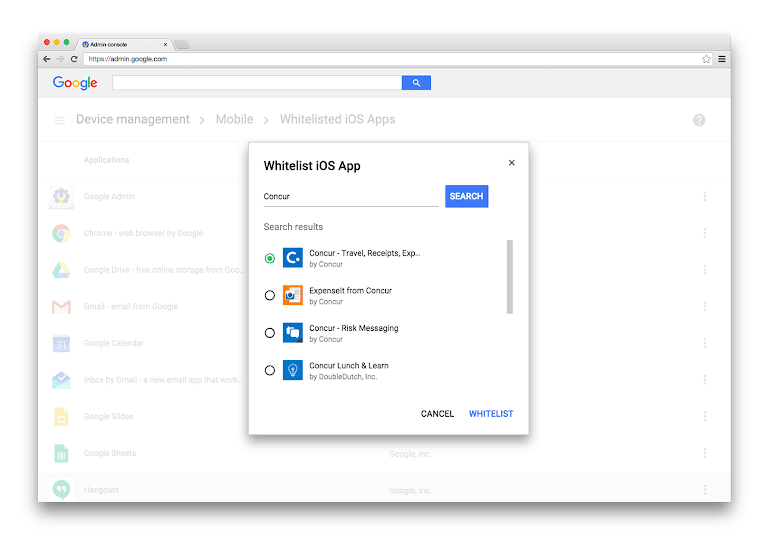 Enforce security policies
Compatible with Android and iOS
Centralised management console
Detailed reports on mobile usage and trends
Deploy apps to all users via Google Play or App Store
Remote account wiping and locking
Manage device inventory
G Suite subscriptions cost $16.80 per user, per month for the Business Standard edition, which covers all essential business needs and includes MDM.
3. Jamf
Jamf is the mobile device management tool for Apple loyalists. It's mobile management that focuses purely on Apple devices (Mac, iPad, iPhone and Apple TV). So if your business is wholly using Apple devices, then this may be for you: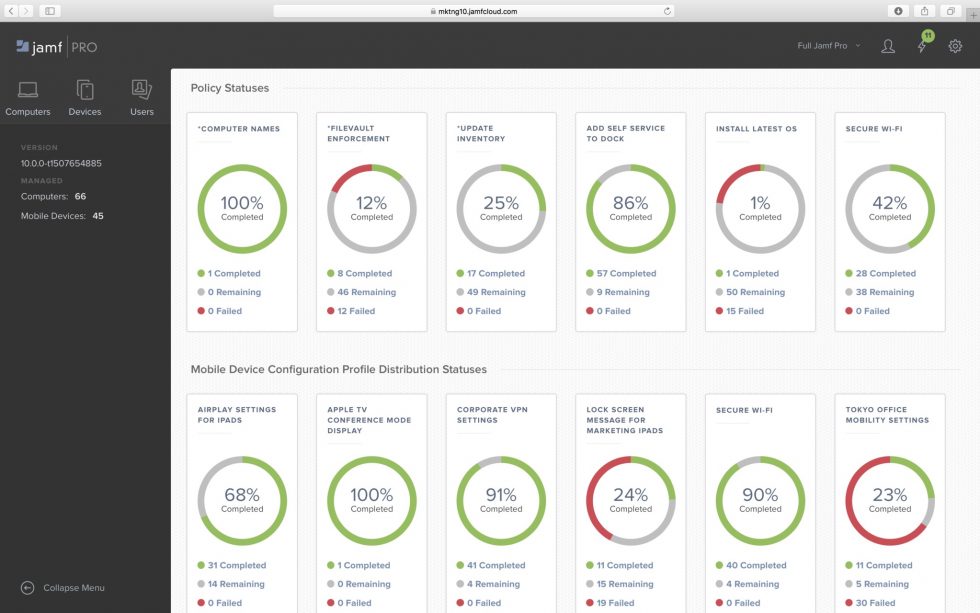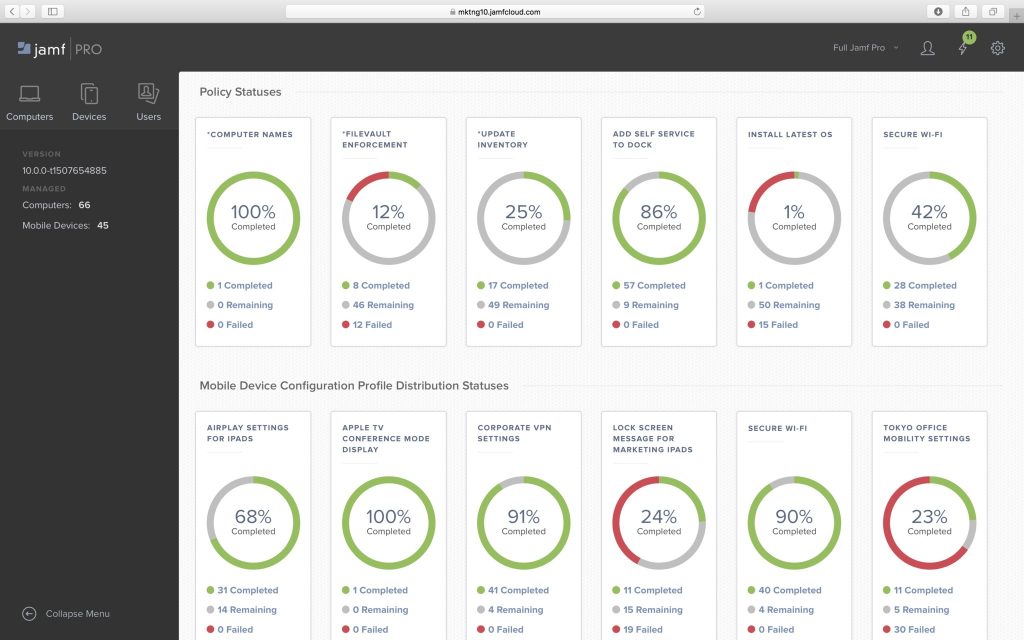 Separate work and personal iOS app data
MacOS and iOS restrictions enabled
Deploy apps from the App Store to all users
Device and app inventory reports
Enforce data encryption
Remote wiping, locking and unlocking
24/7 Support available
$4.75 AUD per device, per month for the basic edition.
4. Cisco Meraki
Alternately, this MDM solution from has the benefit of being part of the Cisco network of products, meaning it's got an excellent reputation and a big, resourceful range of support behind it.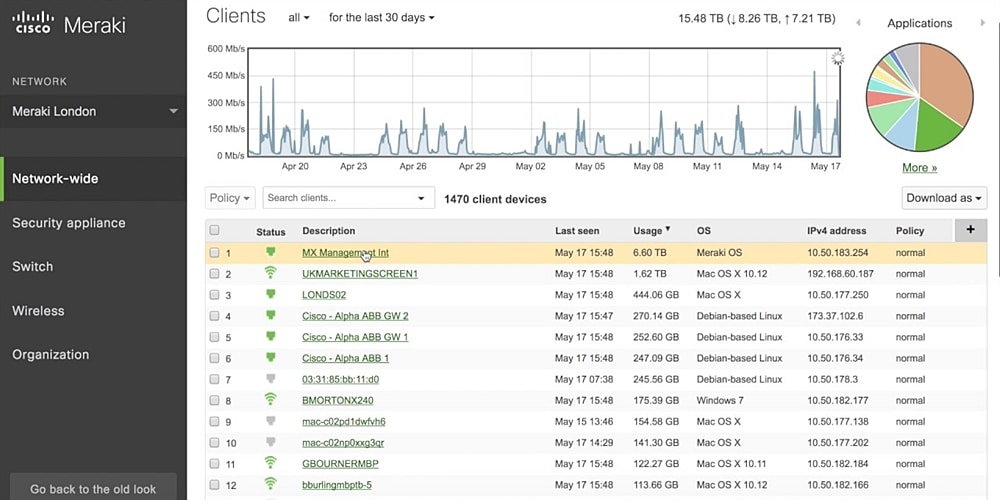 Pricing is on a quote-basis, so you'll have to contact Cisco directly.
Compatible with iOS, Android, Macs and PCs.
Deploy software and apps to all users
Create and enforce security policies
Apply network policies by device type
Automatic reporting enabling you to review network activity
Also restrict access to certain content
5. Citrix Endpoint Management
Citrix Endpoint Management (formerly known as XenMobile) is the mobile device management tool designed to manage all your endpoints through a complete enterprise mobility management solution. In addition, it has also partnered with Microsoft EMS Suite―something to consider.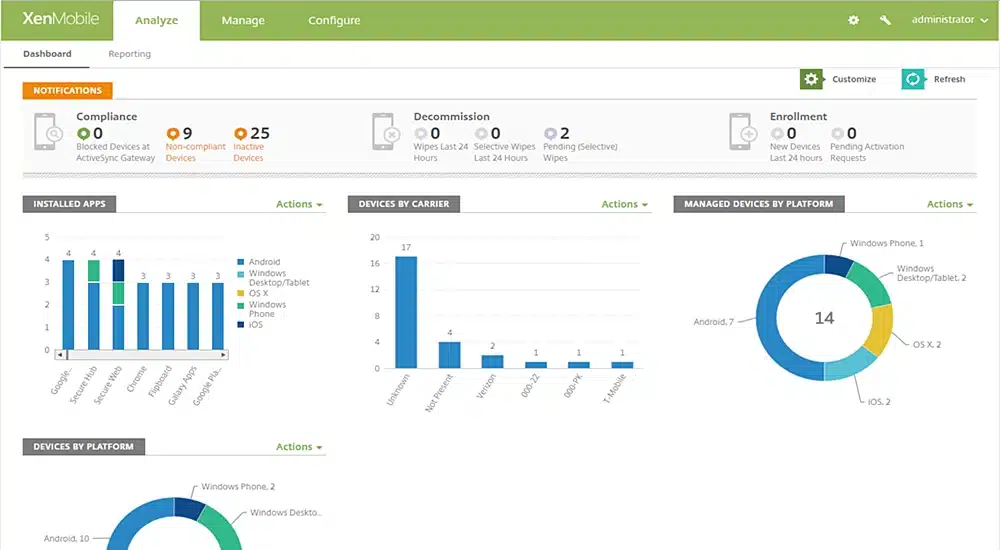 Enforce security policies and procedures
Integrates with Office 365
Mobile content and app management
Compatible with iOS, Android, Samsung KNOX, Windows and Mac OS
Pricing begins $8.90 per month per user).
Further manage full device inventory including corporate-owned and BYOD.
Create access restrictions to company data.
6. IBM MaaS360
MaaS360 with Watson is IBM's mobile device management solution for businesses. It's an AI-driven unified endpoint management tool. But take note that some reviewers advise this is not ideal for large businesses.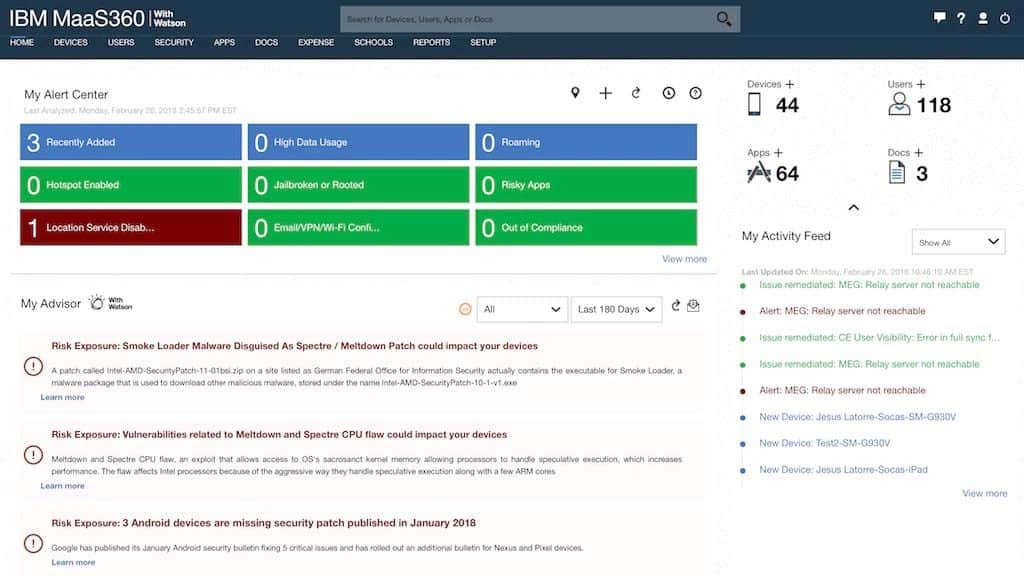 Powered by IBM's AI system called Watson
Compatible with Apple, Android and Windows devices
Supports Internet of Things devices
Pricing starts at $6.29 per device, per month for the basic plan.
Offers a 30-day free trial.
Identity management capabilities
Central management portal with intuitive use
7. ManageEngine
ManageEngine Mobile Device Management is a complete and comprehensive solution for controlling and managing devices. Above all, it's popular for its ease of use and intuitiveness.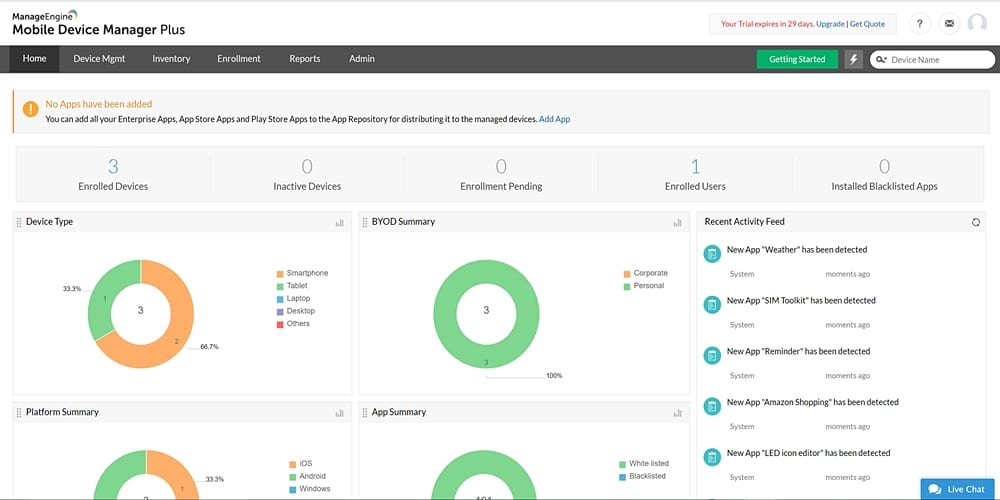 Compatible with iOS, Windows, Android, Mac OS and more.
Perform remote data wipes and device locking
Review mobile assets and tracking data
Create and enforce security policies and profiles
Troubleshoot devices in real-time, and remotely.
Pricing is free for up to 25 devices. The next bracket is up to 50 devices at $170 AUD per month.
8. VMware Workspace ONE
Some of the largest companies around the world trust VMware (formerly Airwatch). They help businesses focus on using mobile technology without the headache of managing it. It's a product of VMware, and as a result, you can trust the level of quality.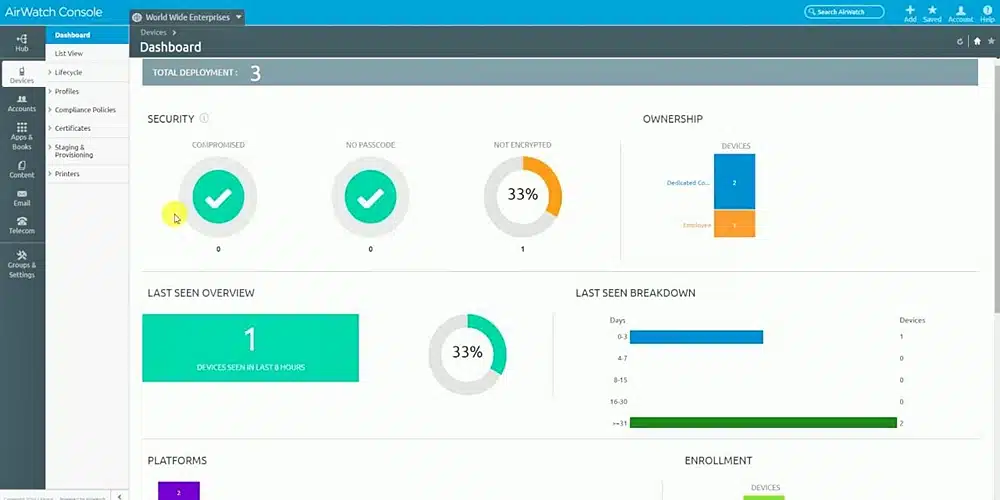 Protects company information with data loss policies
Open architecture and scalable system so the tool can grow with your business
Device-level data encryption so you can restrict access to files
Create app sharing permissions and copy/paste restrictions
Supports geofencing policies. That is to say, restrict access by location.
Enforce password policies with complexity requirements
Pricing begins at $4.27 AUD per device, or $7.69 AUD per user.
9. Miradore Online
Miradore Online is a cloud-based mobile device management solution that enables users to fully secure all mobile devices. While certainly popular for its price point, its functionality may be more limited compared to more expensive options.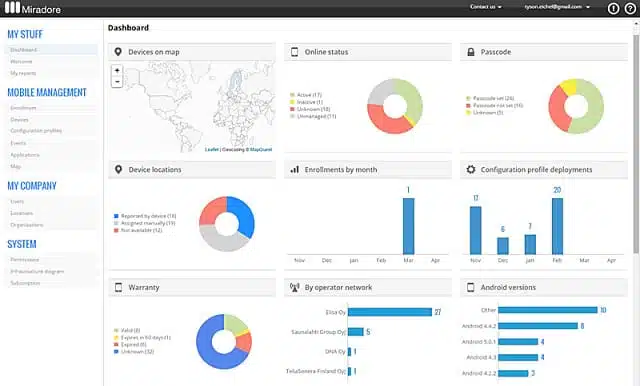 Remotely wipe data on devices, change password or initiate lockdown so any lost devices don't give away precious data
Reports on user activity, time logs, and IP addresses
Automate various tasks like configuration of email, WiFi and passwords
VPN service and configuration for iOS devices, therefore providing greater security
Miradore offers a free package for small businesses, or $2.85 AUD per device, per month for premium users.
Compatible with Android, iOS, Mac OS and Windows
10. Scalefusion
Scalefusion (formally Mobile Lock Pro) is a mobile device management solution that offers multi-OS management capabilities and comes integrated with Eva Communication Suite. This means it has your back for driving effective team conversations in your business. While initially launched for the Android business market, it now supports Apple devices, too.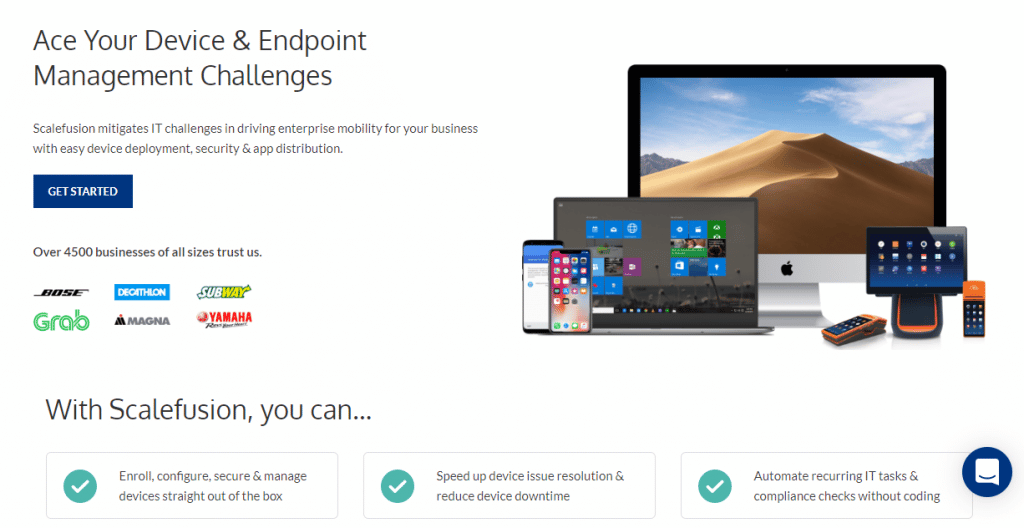 Easily enrol, configure, secure, and manage devices
Speedy device-issue resolution
Reduces device downtime
No coding is required to automate recurring IT tasks and compliance checks
Use for kiosks, mPOS, and digital signage
Upkeep workplace efficiency in harsh environments with rugged device management
Prices start at a monthly rate of $2.85 AUD per device
Compatible with Android, iOS, Mac OS, and Windows
11. Simple MDM
Simple MDM is mobile device management for Apple―made simple! As it's specifically catered to Apple, and only uses Apple protocols, it is really easy to use, works quickly, and has got simple deployment down to a tee. This is largely due to new devices using SimpleMDM being able to be shipped out pre-configured for use―thanks to Simple MDM's support for DEP (Apple's Device Enrollment Program).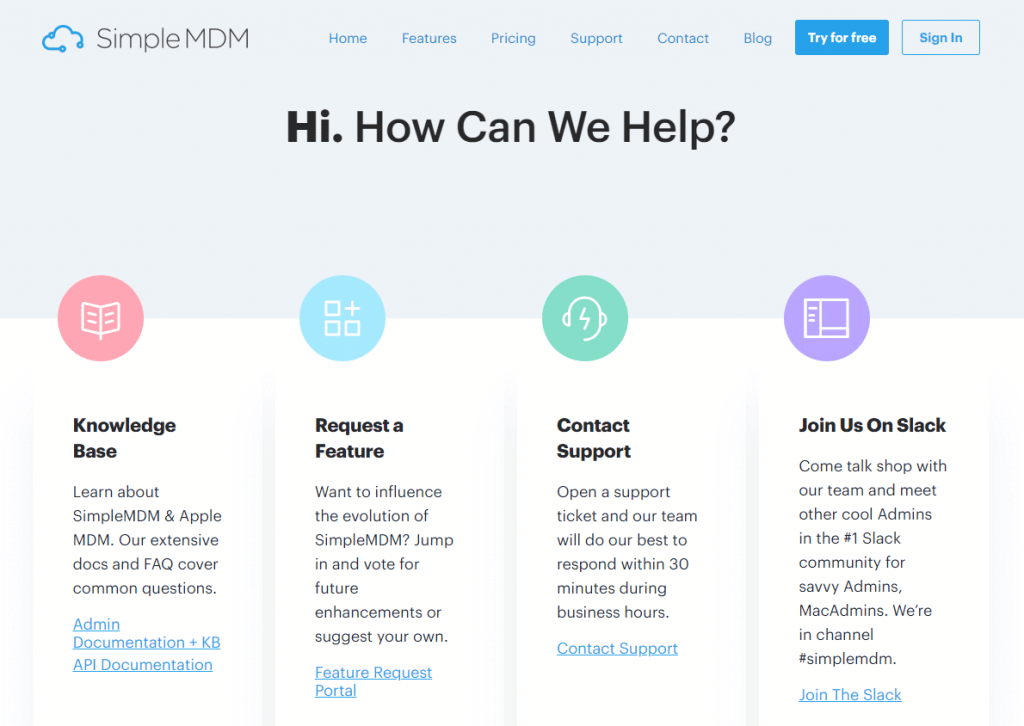 A great Apple MDM solution no matter whether you have 10 or 10,000 devices!
Keeps on top of the latest Apple updates so you don't have to
Support for Apple DEP
Never wait over 30 minutes for support
Only use native Apple protocols
No software client required
Enrol new devices in under 1 minute
Monthly pricing starts at $4.27 AUD per enrolled device
Conclusion
To sum up, there are many more mobile device management tools that you can choose from. While this list could easily be doubled in size, these are the most popular and commonly used tools that will fulfil your mobile device management need. However, if you're looking to expand your search, then you can also look at Soti MobiControl, Baramundi, Trend Micro Mobile Security, Hexnode, MobileIron, SureMDM, and more.
Further evaluate your priorities and delve into your own research to get a fuller understanding and appreciation of what each tool offers. However, if you have any questions on implementing a mobile device management tool within your business, then feel free to chat with our team at Stanfield IT.
Above all, ensure that you take the time to identify your needs, and likewise prioritise them so you don't get overwhelmed by all the choices facing you down! Moreover, don't forget that you can always just roll with a trial product, before committing to anything for sure.