Office 365 for small business is made up of "complete, integrated solutions designed for small business." It's the perfect answer to many business challenges small-to-medium business owners often encounter. Since the Internet entering the public sphere, small businesses have been able to finally compete with their larger counterparts. Just like these enterprises, small businesses can handle marketing, transactions, customer service, employee management, etc, online… opening up a realm of possibilities. Why not fully utilise this in one streamlined, efficient, always up-to-date platform with Office 365 and make sure you're doing everything you can to get ahead of the game?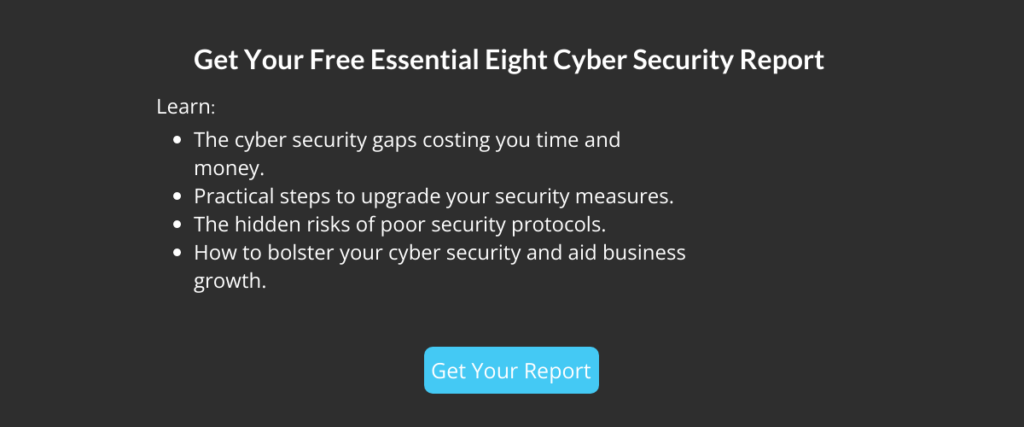 With Office 365, you can rest easy knowing that the latest updates and security measures will always be on hand (plus, Stanfield are here to guide you and your staff through using Office 365 for your small business). Companies are constantly looking for new and efficient tools with add-on systems and solutions to solve business needs. Best of all, they use the same Microsoft Office interface that practically anyone who has worked in business is used to. We've put together 10 reasons why you should use Office 365 for small business success in our blog. It also goes over the different subscription options available to you.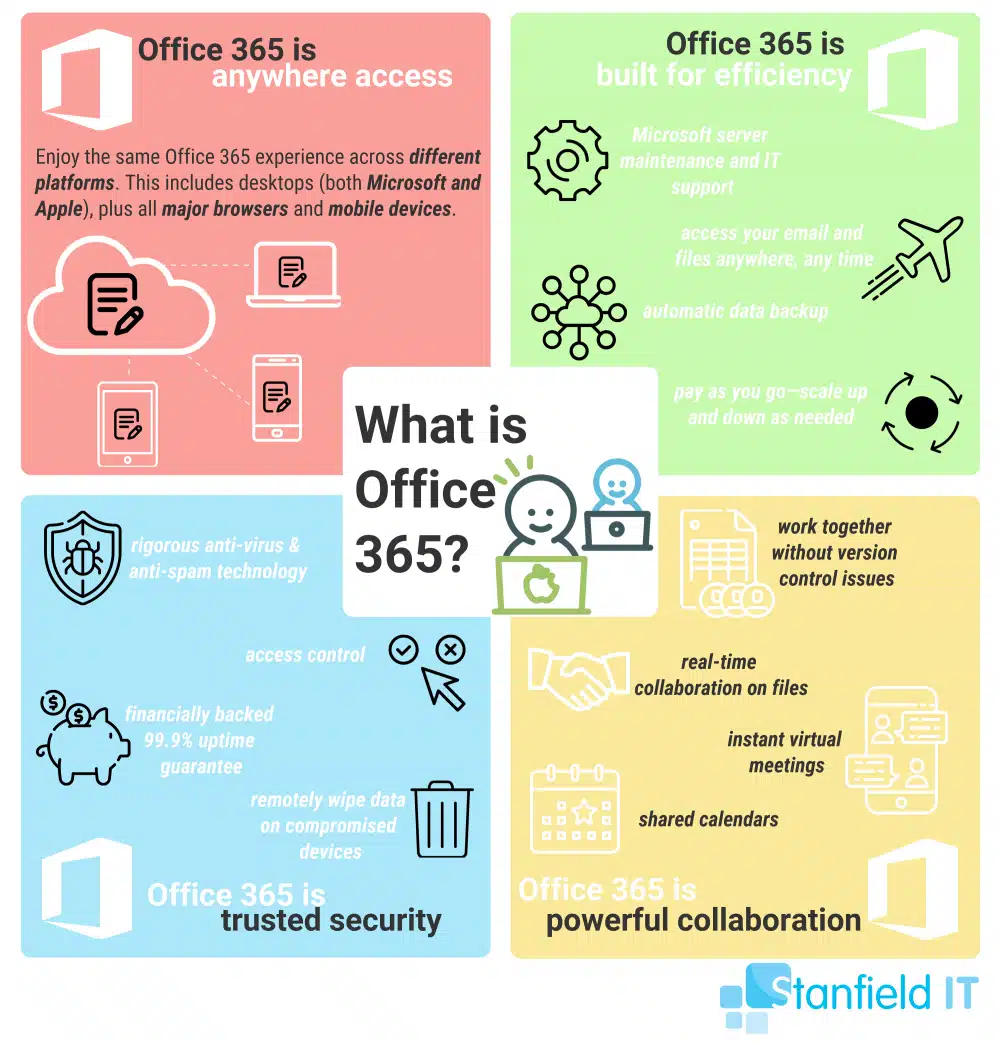 10 Reasons to use Office 365 for Small Business Success
1. Affordability
Many companies are already using some Microsoft Office product suite in one way or another. Office 365 for small business gives you the full suite you need to manage email, calendars, files and documents, collaboration and much, much more! The different subscription tiers, which you can change between to suit the growth and needs of your business, mean that small, medium, and large businesses have a cost-effective solution that provides the Office 365 essentials and benefits their company needs.
The different tiers
For this comparison, we will, of course, solely be focussing on Office 365 for business. Like many other SAAS subscriptions, Office 365 has an annual billing fee that's based on a monthly rate depending on which tier you choose. While there is a month-to-month option, you'll be billed more for this. It would be most cost-effective to consider a free trial to see if Office 365 is for you. Plus, since you can upgrade or downgrade your licensing as needed, there's no risk of being locked into a contract that you might outgrow. Here are what the three subscription tiers offer:
Office 365 Business Essentials:
As the name implies, Office 365 Business Essentials is the cheapest option. It's only $6.90 a month per user and this includes access to the popular applications: Exchange, OneDrive, SharePoint, Skype for Business, and Microsoft Teams. You also get access to browser versions of Outlook, Word, Excel, and PowerPoint. If you want to use the mobile app versions of these programs—allowing you to work offline—you'll want to consider one of the larger packages listed below.
Another limitation to essentials is that you can only install Office apps (Exchange, OneDrive, SharePoint, Skype for Business, and Microsoft Teams) to up to five mobiles and tablets. The other two tiers allow installation to up to five MacBooks and PCs at a time. This tier gives you 50GB of mailbox space and custom email domains. You can try Office 365 Business Essentials at no cost for a month. Currently, you can also get your first 6 months for free if you sign up to the annual commitment.
Office 365 Business:
At $12 per user per month, Office 365 Business is just under double the amount per user. This includes a lot of great features perfect for small-to-medium businesses. You get access to ALL Office applications and OneDrive. However, this doesn't the other Microsoft services: Exchange, SharePoint, Skype for Business and Microsoft Teams). In terms of email, this tier doesn't include business email, meaning no custom email address. This also means you won't get the large mailbox space that comes with the other tiers' custom emails.
Office 365 Business Premium:
As with the first two tiers, Office 365 Business Premium lets you add up to 100 users in your company. This top tier is $17.20 per user per month, and Microsoft offer a free month's trial. This tier includes everything offered in the previous two subscriptions, and you get Teams for easy remote working. Additional to what's included in the other tiers, you have access to Microsoft Connections, Microsoft Listings, Outlook Customer Manager, Microsoft Invoicing, Microsoft Bookings, MileIQ and Microsoft Business Centre. It's a great option if you're going to utilise these extra products, plus want Teams and business email.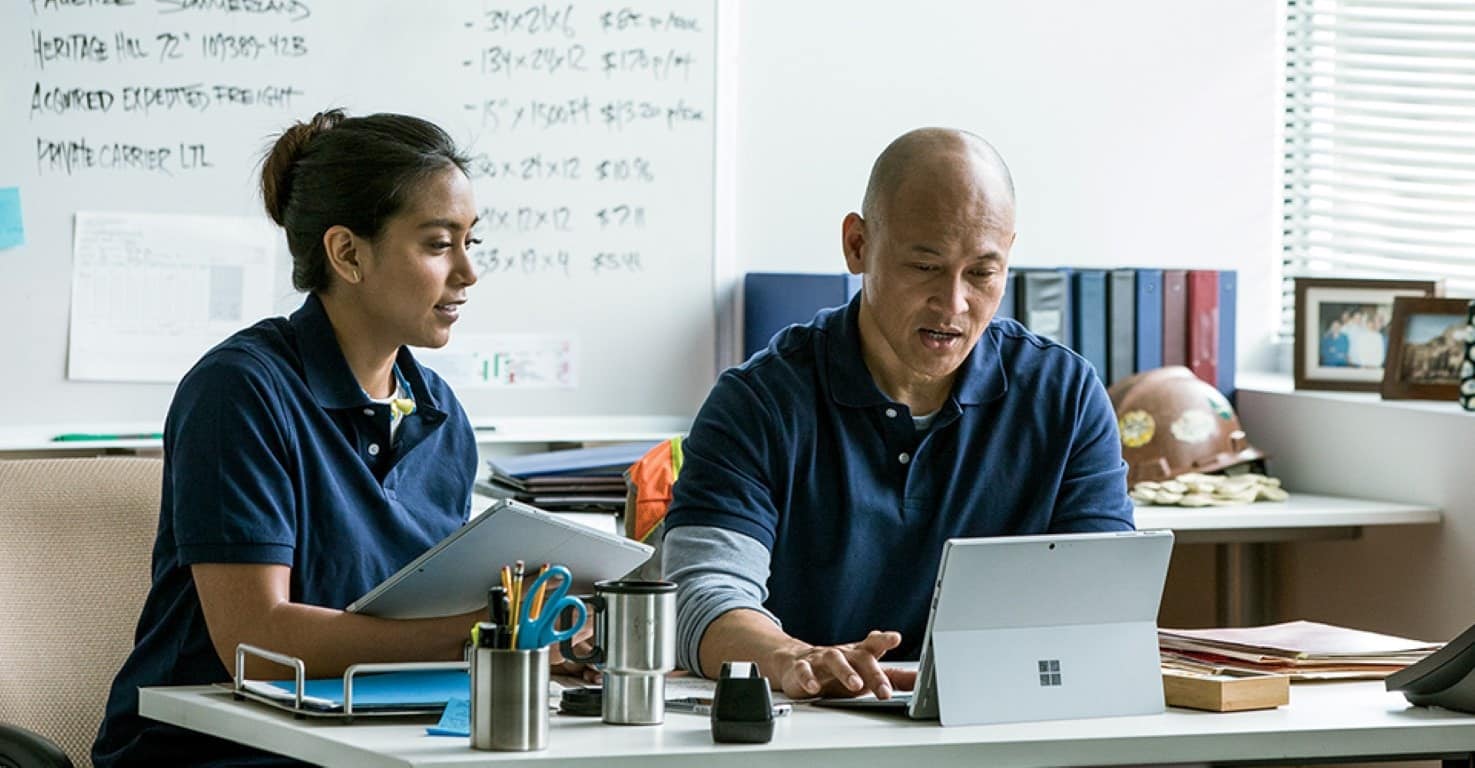 2. Exchange Online
Upfront costs to independently host and manage email for large amounts of data can be huge. Fortunately, Microsoft 365 with Exchange Online is already set-up with the easy to use Outlook interface and 50 GB of storage per user (if you have a Business Essentials or Business Premium account). You can also solely buy Exchange for $5.50 or $11 (50GB and unlimited storage respectively) per user, per month. With corporate staff email accounts being a popular target for cyber criminals operating phishing and ransomware attacks, it's comforting to know that Exchange Online has advanced anti-malware and anti-spam filtering to protect user mailboxes and thus protect company data.
3. Online Updates
In the old days, companies would have to wait forever for updates to their Microsoft products. Windows editions only came out every 3 or 4 years. Today it is different with constant updates and upgrades. When a security vulnerability is found, Microsoft will immediately update Office 365 across all systems cloud and desktop. Similarly, the company will introduce new features to products on a regular and consistent basis. The latest online updates, as of April 14, 2020, includes both security updates and minor bug fixes. This includes an Excel Remote Code Execution Vulnerability, a Word Remote Code Execution Vulnerability, and a site-wide Office Remote Code Execution Vulnerability. These are just a few examples of the kind of weaknesses that Microsoft are quick to fix. As a small business, you may not even realise some of the vulnerabilities were even there—Microsoft has it all covered for you.
4. Integration
Microsoft 365 for small business is compatible with the products that most businesses already know and love. This includes Word, Excel, PowerPoint, Internet Explorer, and Outlook. However, it also works with external Apple OS systems such as OSX as well as browsers like Firefox, Safari, and Chrome. This really opens up the potential of Office 365 for your small-to-medium business and makes for an easier rollout. Plus, new and popular apps are integrating with Office 365 all the time. For example, last year in April, Slack integrated with Office 365 services. This includes the already-existing access to OneDrive and Azure Active Directory, plus the deeper integration of Office apps and files such as the Outlook mail and calendar app, an updated OneDrive app, the the added function of previewing Officer files directly in Slack.
5. Office Web Apps
Changing a document on the go is almost impossible. However, Office Web Apps allows users to access their files with full functionality—this includes both viewing and editing documents—on mobile platforms. These web apps are browser-based versions of your most-used Office 365 applications, such as Microsoft Word, PowerPoint, Excel, and OneNote. Office Web Apps make it easy for a salesperson or executive to change their presentation just before they enter a meeting, which can make a huge difference.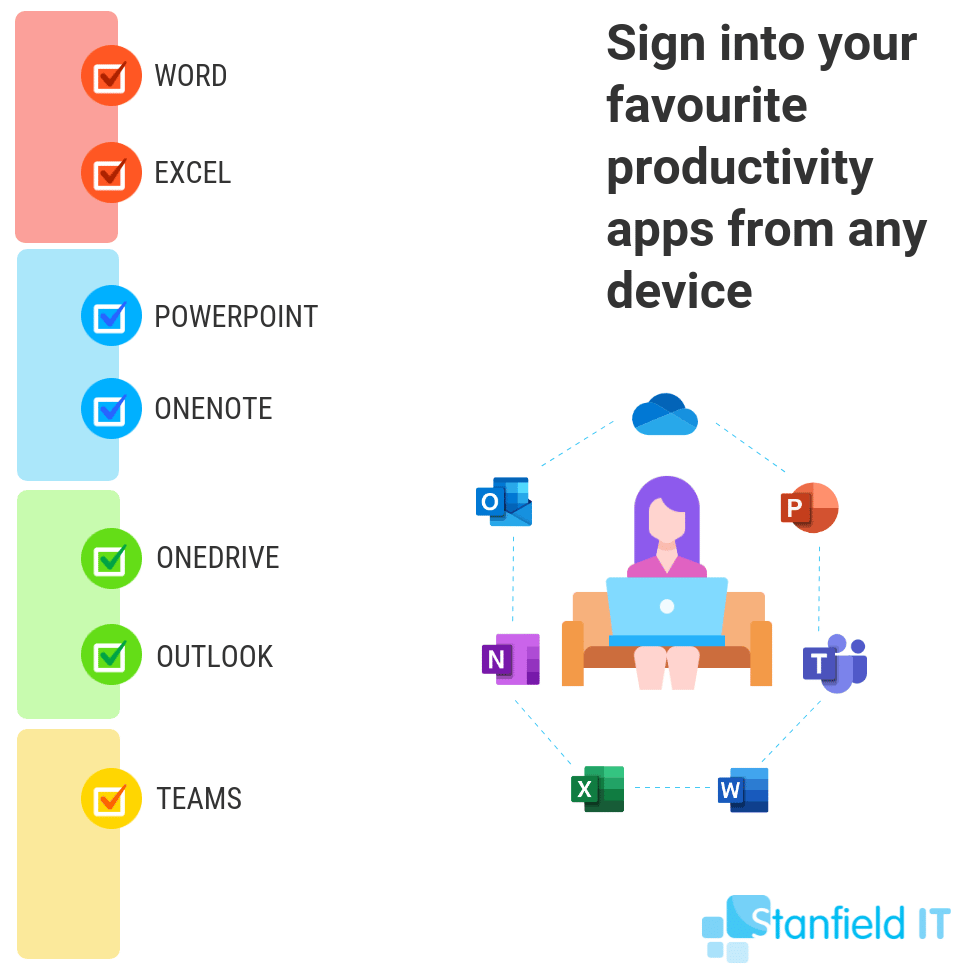 6. Compliance
Legal and HR will love the compliance features of the Office 365 for small business. These ensure that employees stay within bounds of federal, state, and local guidelines for a particular industry. For example, pharmaceutical companies will have features that prevent off-label marketing, which is a serious offence. Those who assigned with the global administrator role can use the Security and Compliance centre in Office 365. You can learn how to give users access to the Office 365 Security and Compliance Centre here.
7. New Apps
Over the last few years, Microsoft has gone on a buying spree to integrate some of the most incredible products and companies on the market into the firm. HR and sales personnel will love the integration with the LinkedIn network. When in Outlook, you can hover over a contact's name and information from their LinkedIn profile will come up. You're also able to send emails and share documents (from the web, OneDrive, SharePoint, Word, PowerPoint, and Excel Online) with your LinkedIn connections. IT admins can disable any features that business owners prefer employees not to use, or don't serve any purpose you're your particular company. Another great ad-on (that will make accounting and legal very happy) is Evernote—a note-taking app. Learn how to use Evernote with Outlook here.
8. SharePoint and Teams
Gone are the days of version control where documents are emailed back and forth. Today, there is a single online shared document that can be edited by multiple parties in real-time. SharePoint Online provides 500 MB of memory per user and is setting the standard for online document collaboration. Microsoft Teams has quickly become a hub for Teamwork and collaboration for many Office 365 users and is often a major selling point for businesses to make the switch to Office 365. With Teams, you can chat, video call, and work on projects at the same time from anywhere—no matter what time zones participants are in.
9. Lync
Lync is a professional communications tool that many companies have historically bought as a standalone product. It can be used for corporate conference calls, messaging, video calling, and communications. Today, it is integrated in the Microsoft 365 package at no extra cost. You can use link to have instant messaging, audio, and video conversations—including Lync Meetings. Additionally, it syncs well with all of the calling and calendar functions of Outlook and other products.
10. Cyber Security
Perhaps the top reason to choose Office 365 for small business is its stance on cyber security with SSL/TSL encryption, anti-spam tools and ISO 27001 certification. The security lets managers rest at ease as their emails and documents are kept safe. The Forefront Online Protection for Exchange (FOPE) also notifies users of attached viruses, spam, or spyware and sends those mail to junk immediately. Mobile device management is also an integrated option with extended add on featured through Microsoft Intune.
Microsoft are dedicated to being on top of, and even ahead of, cyber security trends. For example, in the current shifting online climate we are seeing due to the global pandemic, Microsoft has issued new security guidance and put n -place threat intelligence, as attackers are capitalising on this fear. Microsoft are seeing COVID-19 themed campaigns and Office 365 Advanced Threat Protection stopped a huge phishing campaign in it's tracks that was using a fake Office 365 sign-in page to steal credentials.
Stanfield IT is a leading IT consulting firm that helps firms increase their IT capacity, improve efficiency, reduce costs and increase revenue. The firm has helped small, medium and large companies to achieve their goals. For more information on our services, please contact us.
Considering Office 365 for Small Business?
Speak to the experienced team at Stanfield IT on 1300 910 333