What's so great about Google G Suite for business? For your business, specifically? G Suite is quickly climbing in terms of popularity among businesses and people and businesses are embracing it.
But, at first glance, you may just wonder what's in it for you; if it's really worth the cost. Make no mistake, Google built G Suite for business to make life easier and more efficient for business owners and employees alike.
G Suite can be an incredibly powerful tool for your business if you use it correctly. Why not take advantage of the best features Google has built into G Suite for business for workflows and projects?

Here's our hand-picked 40 favourite G Suite For Business features:
G Suite Admin Console
What is the G Suite Admin Console?
The G Suite Admin Console is where G Suite administrators can manage the business's Google services. This includes creating users, managing billing, and setting up mobile devices. You can become a certified G Suite admin via the Google Cloud certification course. This gives you benchmarks for your professional development and is of value to hiring managers.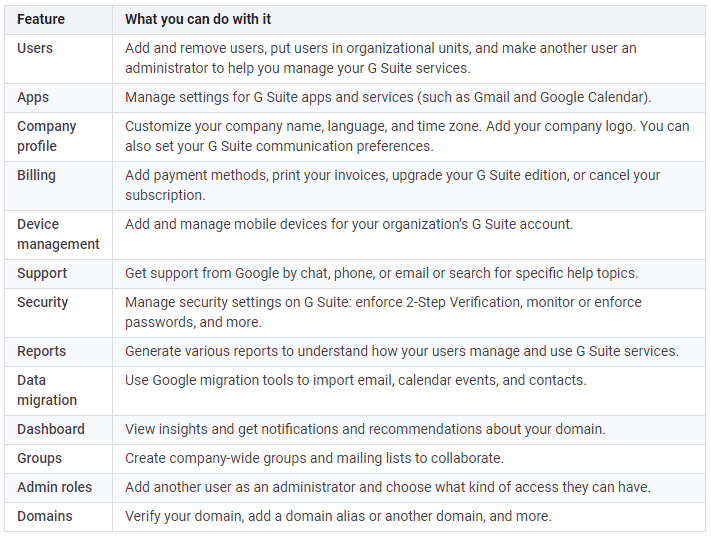 1. Centrally administer your domain security in G Suite for Business
You can easily and quickly configure your security and settings in G Suite admin so that your data stays safe. This centralised administration makes security setup and management fast and easy. Integrated Cloud Identity (a management platform that allows IT and security teams to increase end-user productivity, secure company data assets, and transition to a digital workplace) features make it really easy to manage users and set up security measures. These include things like 2-factor verification and security keys. Within the Security Centre, you can use security analytics to gain insights into your business and apply actionable, best-practice security recommendations to further protect your assets.
2. Manage your employees, passwords accounts, and groups in G Suite for Business
Managing employee's permissions and accounts is streamlined and easy to roll out in the G Suite Admin Console. You can create mailing lists and user groups to simplify communication, data access, plus more. With Groups for Business, you can opt to create and manage groups or let users create their own groups. Some advanced features that admins can set up within groups are web forums, collaborative inboxes, and member management settings. The G Suite Admin Console lets you specify the required length for users passwords, advancing security. Admins also have the ability to add and manage user accounts. This means that you can let certain employees use certain features or services, but not others. You can also change settings for different Chrome devices. These features protect company data and resources ― a data breach is less likely to occur with access restrictions.
3. Enjoy data visibility in G Suite for Business
As an administrator on G Suite Console, you can flag security risks, measure user collaboration, monitor who signs in and when, and even assess administrator activities. The ability to view domain-level data as graphs and tables make the data easy to digest and analyse. You can set up email alerts that notify you when something significant happens. This could be a suspicious sign-in attempt, a compromised mobile device, or when settings are changed by another admin.
There are different Admin Console Reports that make different sets of data visible and easy to navigate: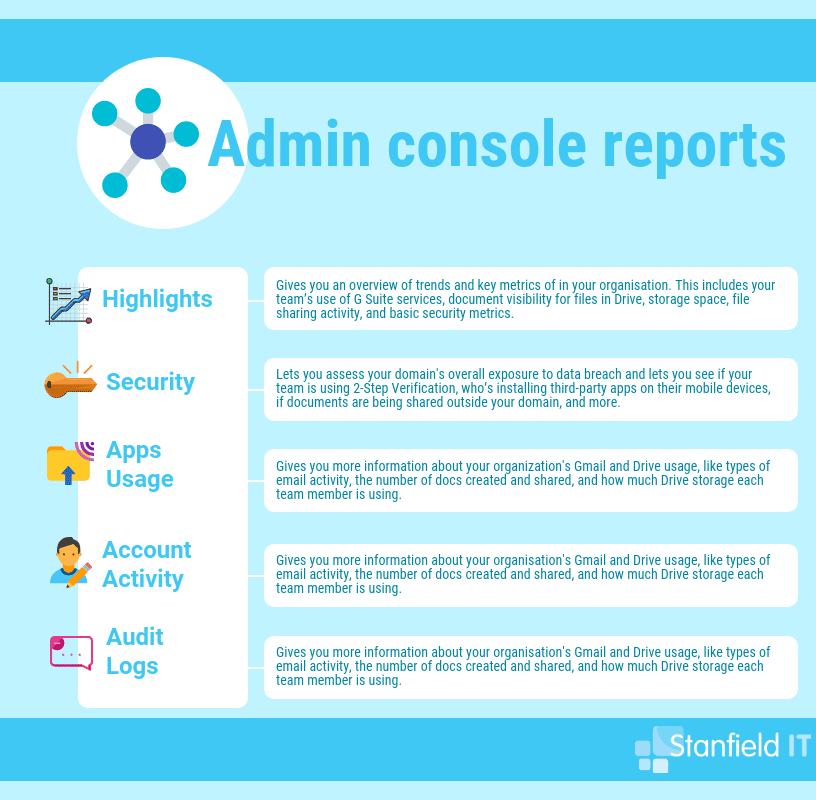 4. Control data with geo control
Administrators in G Suite can control the geographical location of your data at rest. You can store your covered data in specific geographical location ― the USA or EU ― by using a data region policy. You can ensure that users have the full functionality of features and that there's no downtime experienced. Even when they're on the move! When file ownership changes or users switch OUs (organisational units), your data is moved dynamically according to policy.
You can set the organisational structure of data by placing users in OUs or groups and then applying a data region policy. This only applies if you want to have different data regions for different users.
Choosing a specific region isn't a way to fine turn or improve your network or data access. Check out Google Support, which goes over the trade-offs when setting a data region policy.
Given PwC is a global network with operations in 158 countries, I am very happy to see Google investing in data regions for G Suite and thrilled by how easy and intuitive it will be to set up and manage multi-region policies for our domain.

Rob Tollerton, director of IT at PricewaterhouseCoopers International Limited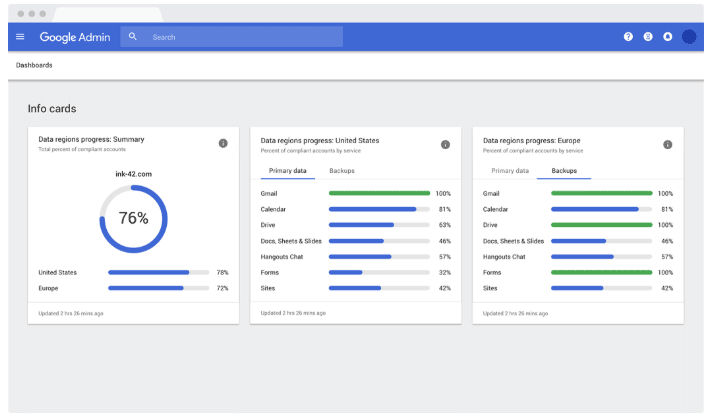 5. Add custom domains in G Suite for Business
It's easy for your users to access the core G Suite services they need by assigning a custom URL to each. With a custom address, for example, users can sign in to their Gmail account via a shorter, streamlined domain name. This makes it a lot easier for your employees to remember the Google Apps addresses, saving time during the login process. For services like Gmail, Calendar, and Sites, you can create custom addresses in your primary and secondary domains.
In the case where you bought your business domain from a Google partner when you signed up for G Suite, these addresses will be customised for you. Purchasing a domain through one of Google's host parties is easy. All you have to do is select the option to Buy a new domain during sign up. You'll be guided through the rest of the process.
Mobile device management
6. What is mobile device management?
Google understands the importance of mobile device management so you and your team can work on the go. Mobile device management, known as MDM, is security software that a company's internal or external IT department uses to monitor, manage, and secure mobile devices. This cover's any mobile device that employee's access work on. This may be laptops, smartphones, and tablets, etc. Google G Suite offers mobile device management (included in the price of the service) for Android, iOS, and other smartphones.
7. Keep data secure in G Suite for Business
It's almost not worth mentioning at this point, but G Suite ― of course ― enables single-sign on and 2-step verification for strong cyber security. With G Suite basic mobile device management, you can enforce passwords on employee's devices to secure your business's data, as well as manage apps (through mobile application management) on Android devices. You can also keep corporate data safe by requiring that the mobile devices have a lock screen or password.
If you want even more control, you can set up advanced mobile management. This means that you can apply policies to mobile devices, have enhanced password control, manage apps on iOS devices, and wipe all device data. One of the main security features is that you can remotely wipe company information if a device gets compromised ― no more worrying about previous employees having access to company data, or people in the public gaining access if a device is lost or stolen.
Advanced mobile management allows for optimal data security, with restrictions being put in place for devices accessing unsecured mobile and WiFi networks. Other features also provide an additional level of protection, such a preventing any screenshots of company sites being captured. Work and mobile apps will also be kept separate using an Android work profile, meaning that information cannot be filtered between the two.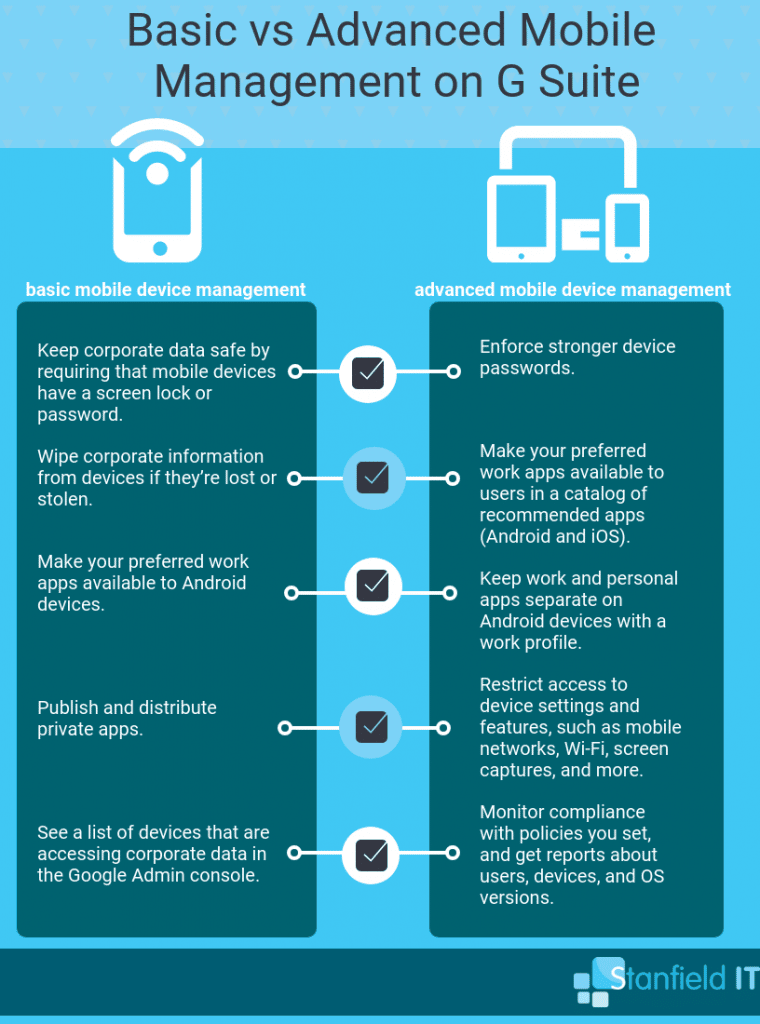 8. Remotely manage devices from one place in G Suite for Business
Mobile device management becomes simplified with G Suite, where you can manage devices from one place. From the one platform, you will be able to view and manage device management settings, device activation, managed devices, manage Apple Push Certificates, and Android for Work enabled for the Google Admin Console. Android for Work was launched back in 2015, and is made up of four key components to help diminish fears surrounding enterprise deployment of devices that run Google's open source OS. These components are: work profiles, Android for Work app, Google Play for Work, and built-in productivity tools.
G Suite's mobile device management lets you enforce passcodes and wipe specific accounts. You can perform these actions without having to install any software on a user's device. This feature is automatically turned on with advanced mobile management, and is called agentless mobile management.
Through G Suite mobile device management, you can see which mobile devices are assigned to a user. Information about these devices is also transparent: you can view the device type and model, the last time it synchronised corporate data, and the name of the user who accessed data on it. If you prefer visuals, you can opt for visualised data in the reporting section to see mobile usage and trends that way. From the list of mobile devices, you can perform actions like stop a device from syncing corporate data and wipe data from a lost device.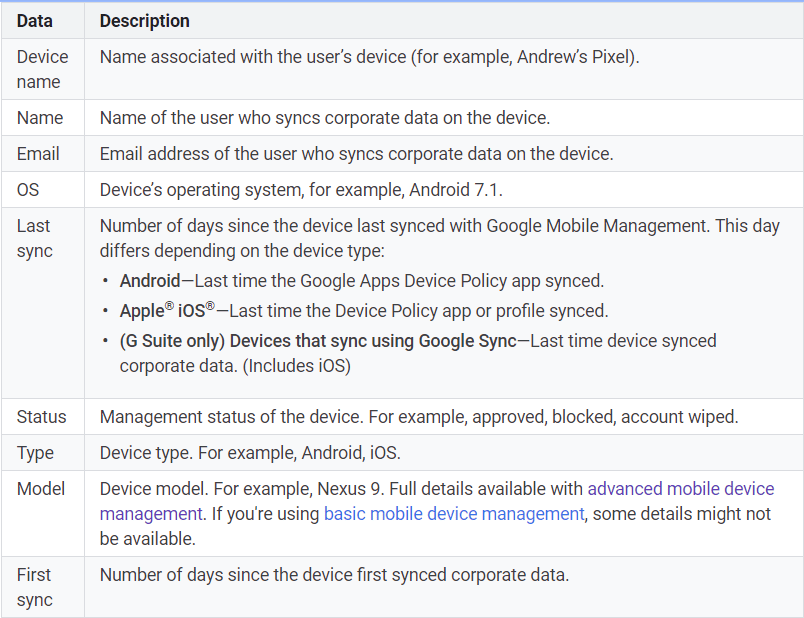 9. Distribute business apps to employees in G Suite for Business
Sometimes work priorities change abruptly and employees need to get new tasks done quickly and efficiently. Ensure the right people can get the job done, even if they're working out of the office, by distributing business applications from the Admin console on Google Play or Apple's App Store. You don't need to worry about viruses, etc, being downloaded with these business apps, with security checks like malware detection and user authentication being at the forefront of app distribution.
With G Suite's Centralised Admin Console, you can configure account and security settings without being required to attend to a hundred individual accounts or devices. The Google Admin app for Android or iOS allows administrators on-the-go account management. They are able to add users, reset passwords, view audit logs, contact support, and more. So, even if you're not in the office, you're able to make sure everyone has the right apps and permissions to get the job done.
10. Allow BYOD without compromising security in G Suite for Business
In the modern workspaces of today, employees are often able to work from their homes, on-the-go on transport, or even from overseas. But where does this leave company data security? G Suite's mobile device management tools let you safely allow employees to use their own mobile devices (phones, tablets, laptops, etc) to access company apps, email, and data. This is called BYOD, which stands for bring your own device.
With advanced mobile management, administrators are able to ensure personal and company apps are separated on BYOD devices. The benefits of offering BYOD in your company? Streamlined devices (people don't need to have a 'work phone' and a 'personal phone'), employees are more likely to work on the go, and increased morale as employees can access their work via their favourite personal devices that they really enjoy using.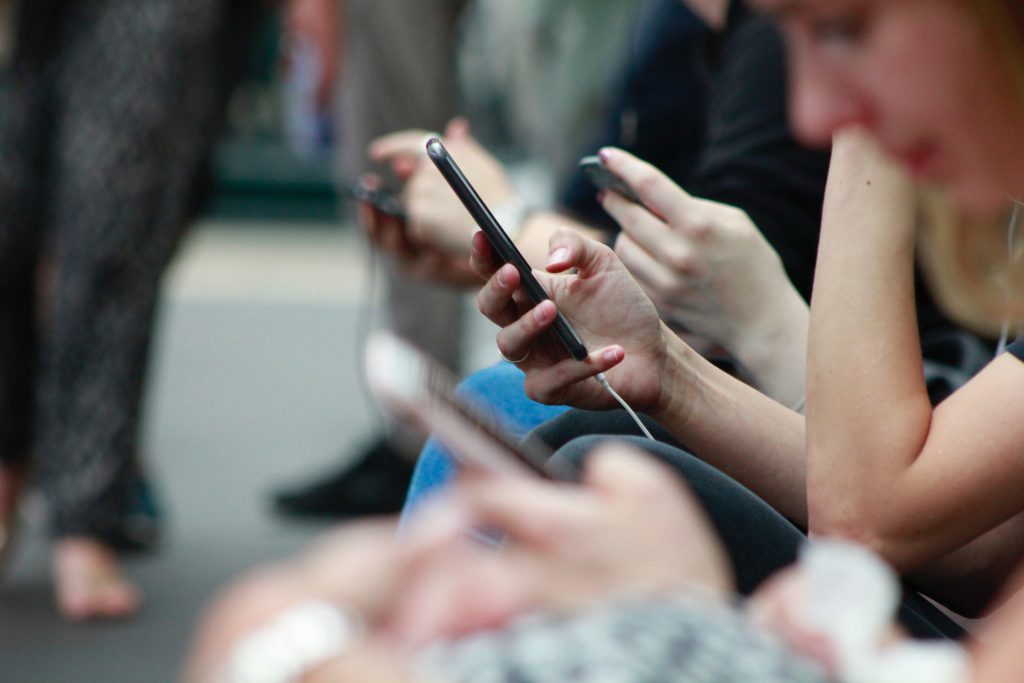 11. Monitor sign-ins with G Suite for Business
As people sign into G Suite on mobile apps and devices, the devices will be added to the list of connected devices. A G Suite admin can see all connected devices at G Suite admin console > Device management > Devices.
All sign-ins from web browsers are logged, too. When users sign in from a mail client or non-browser application, suspicious attempts are logged. Security is also paramount for mobile sign-ins. Through the admin console, you can see if your team is using 2FA, if anyone is installing third-party apps, and if documents are being shared externally from your domain.
Email with Gmail
What is Gmail
Most people would have used or know someone who has used Gmail before ― either for work or personal use. Gmail has now been an email client since 2014, and has 1.5 billion users (as of October, 2018).
12. Enjoy professional customised email addresses in G Suite for Business
With Gmail, your employees can have their own Gmail accounts that combine their name with your business domain name. Everyone having a professional email address at your domain (such as anna@yourcompany), builds client and customer trust. It also allows you to create group mailing lists (such as marketing@yourcompany). Once your small business reaches over three users, you'll need to upgrade to a paid Gmail subscription so that accounts can be managed separately.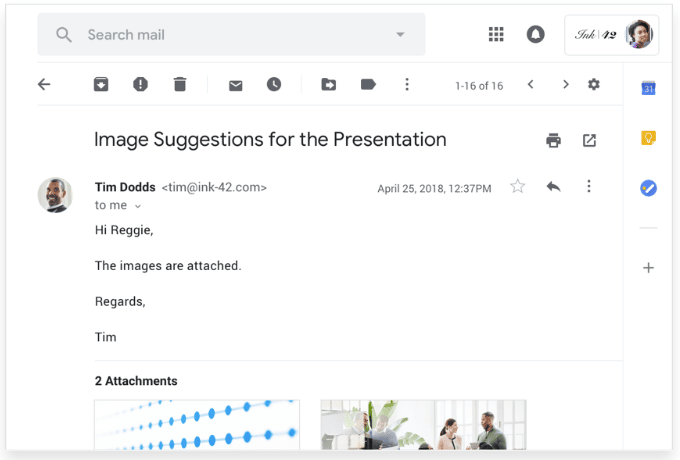 13. Work without an internet connection in G Suite for Business
When they have a Gmail account through your business, your employees will be able to work without interruption. How? Google has ingeniously made access to email anywhere, at any time, on any device really easy, even with no internet connection. You can read messages and draft replies even if you're offline ― they'll be waiting in your drafts folder for you to send when you have connectivity again.
14. Use Hangouts chat and video in G Suite for Business
All your methods of communication are in one spot, with Hangouts being a part of each user's Gmail interface. Easily join a Hangouts Meet video call or chat if you want to speak to someone verbally or face-to-face. During a video conference, G Suite allows you to share your screen so coworkers can provide feedback and suggestions.
Colleagues being able to talk to each other directly from their inboxes means they don't need to waste any time organising an external video call. They can easily make a call that hasn't been pre-planned, and teams/different groups of people can easily collaborate all from their email interface!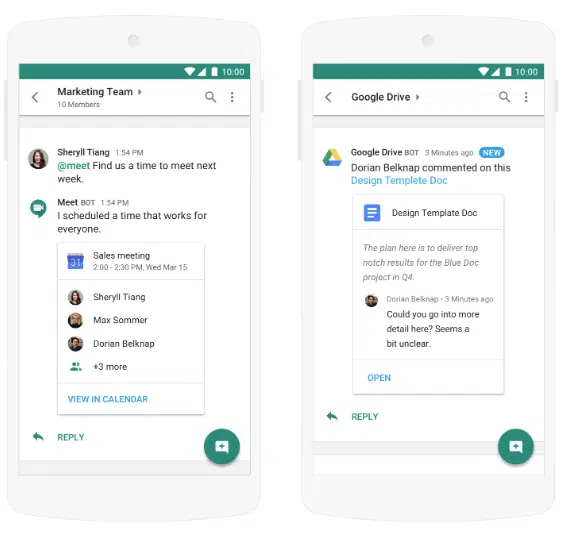 15. Get multiple email aliases in G Suite for Business
A user can have up to 30 email aliases when you have a paid Gmail subscription for your business. Create multiple aliases for yourself or staff and they can all flow to the same inbox as you require. For example, you could have support@company.com and john@company.com heading to the same inbox. This is assuming your name is John, and you work in support!
Calendars
What are G Suite Calendars?
G Suite Calendars let you organise scheduling, meetings, holidays, conferences, and office events all from the same platform. This can conveniently be done across multiple calendars that are accessible to everyone in the company or a specified group of users. Keep everyone in the loop for deadlines, events, and meetings with shared calendars that sync for everyone.
16. Enjoy easy scheduling and sharing in G Suite for Business
Google say that their Calendars allow for 'less time planning and more time doing,' which we are not going to argue with! Smart scheduling means that you can schedule events quickly by checking coworkers' availability or layering their calendars so you can see them in a single view. Calendars are also easily sharable, allowing people to see the full event details.
With G Suite Calendars you can convert meetings on the fly. With a simple click, you can easily convert a schedule team meeting into a video conference if you need to get everyone together quickly, regardless of where you are. Calandars integrate smoothly with Gmail, Drive, Contacts, Sites, and Hangouts. This means that, no matter which of these apps you're using, you're always on top of what's next.
The functionality of publishing calendars to your website, blog, etc, means that customers or clients can easily know what company events or milestones are coming up. It can also be used to show when your company services and/or staff are available. Calendars can also be directly integrated into Google Sites.
17. Get mobile-device access in G Suite for Business
Your employees won't have to be in the office to view, edit, and schedule items on their Calendar. This can also be done from a phone or tablet ― whether it's company-owned or BYOD. There is a choice between using G Suite's optimized mobile app, or the user can sync the calendar with their phone's built-in calendar.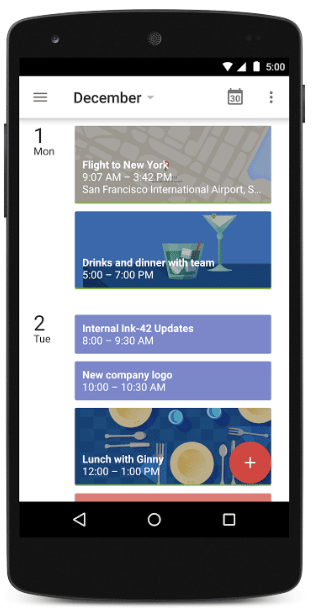 18. View room and resource availability in G Suite for Business
No more running around asking if anyone has already claimed the meeting room for 2pm ― you can view this all on the Calendar. Quickly and simply browse and reserve conference rooms and view detailed information about room capacity and the equipment it has available upon the reservation. It's also really easy to set up shared rooms and resources and add them to events on the Calendar!
19. Collaborate with Currents in G Suite for Business
Despite probably being less well known to you than the other G Suite apps we're going over, Currents is extremely useful to your workplace productivity and team collaboration. Currents (not to be confused with the old 'Google Currents' magazine app), is an enterprise replacement for Google+. A communications app, the aim of Currents is to enable employees to have meaningful discussions and interactions. This keeps everyone across an organisation on the same page and gives the higher-ups and team leaders an avenue to connect with employees from their own and other teams.
Currents has helped us connect ideas and employees across our company. The upcoming features that we are testing make it even easier to get information to those in other regions and functions, and engage in conversation at all levels of our company. We look forward to seeing these roll out.

Donna Chornawka, ATB Financial
20. Communicate ideas at scale in G Suite for Business
Let meaningful, relevant communication come easily by enabling leaders and employees to exchange ideas and gain relevant feedback without inboxes being flooded. Users are able to easily tag people in their posts, as well as attach relevant images or other files. Users can see and track the analytics of their posts and you, as an admin, can be given post priority so that your posts are displayed in the home screen and gain increased visibility. This drives alignment within the business and makes for across-the-board knowledge.
21. Curate custom streams in G Suite for Business
Admins can easily manage and curate custom streams so that specific content can be promoted across targeted groups or the whole company. You can also track engagement across the platform to see which posts are gaining traction amongst employees. This can provide great insights as to what content is resonating with employees and promoting conversation and useful interactions. Admins also have the ability to delegate content management tasks to others under the title of Content Administrator. That way, more users are able to create custom streams, manage tags, define leaders, moderate content, and view metrics.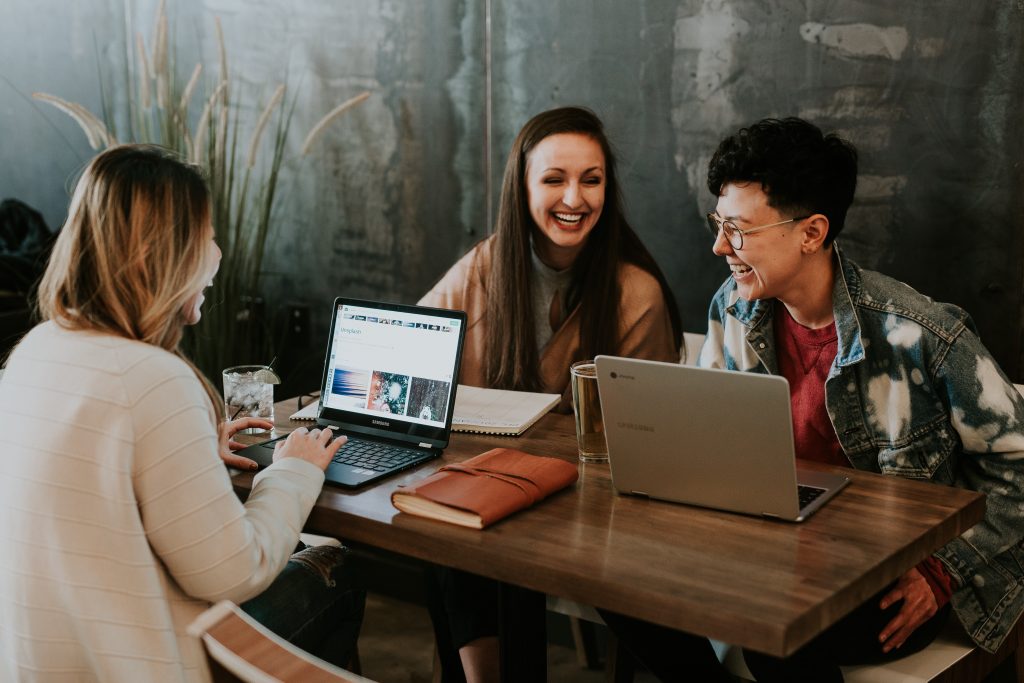 22. Give and receive instant feedback in G Suite for Business
Don't wait for feedback on your work and ideas, Current lets you communicate your ideas and receive instant feedback from the appropriate people. You can gather input easily and in a streamlined way via meaningful, focussed discussions on relevant topics. Currents can be a great way to learn from other's experiences and expertise. Posts and comments stay accessible on Currents, meaning that it's also a great resource you can refer back to.
23. See personalised content that's relevant to you in G Suite for Business
Your employees won't want to use an app where they feel like they're drowning in irrelevant content. With Currents, employees can work more efficiently with personalised content. The Current home stream is ranked by relevance for each user, meaning you'll see the most important content to you first. You can also follow topic tags and search for keywords around specific information or posts.
Drive
What is Google Drive?
Google Drive is a file storage and synchronisation service that allows employees to collaborate easily, as well as access their own files across multiple devices. G Suite enables you to collaborate in real-time with your colleagues, as you can easily share documents across your team and edit simultaneously through Google Drive.
24. Never worry about storage capacity again in G Suite for Business
Drive for Business and Enterprise are extremely generous with storage ― upgrading from the free version of Google Drive means you'll enjoy twice the amount of storage of your personal Drive and Gmail, 24-hour support, advanced reporting options, and sharing controls. Flexible storage options mean that they'll always be enough space for users' files. With centralised administration, the prevention of data loss, and Vault for Drive, you're able to meet data compliance needs by managing users and sharing files.
25. Get unbeatable search functionality in G Suite for Business
The search functionality of Google Drive is second to none (it should be, considering it's run by the world's biggest search engine!). Have you forgotten the name of a file you need to access? With Google Drive you won't be scrolling through folders and files all afternoon. Regardless of the name of the file you're looking for, you can search based on content. Google analytics are used to predict and surface what's important to you ― content, collaborators, and events ― so that you can access relevant information in real-time. This is done through features like Quick Access and ML-based search enhancements that flag files that may need attention to the relevant user.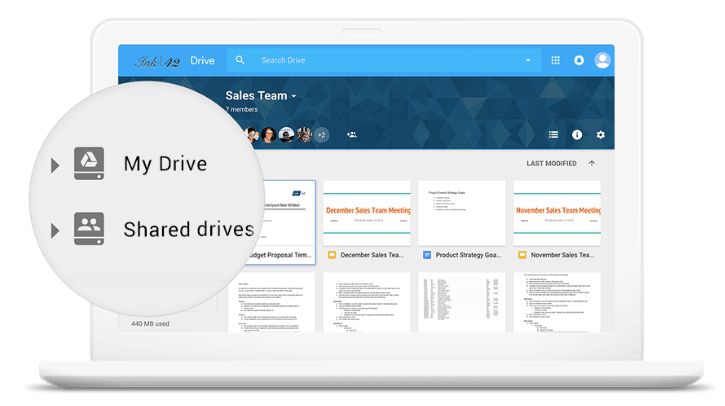 26. Stay updated with shared spaces in G Suite for Business
Everyone can stay up-to-date and on top of their work with Google Drive's file storage in shared spaces. These spaces are both secure and easy to manage. Files that are added to these shared drives being collectively owned by the team with access. This means that everyone can stay up to date, but still have their own files within their separate, personal Google Drive ― you can keep files private unless you decide to share them. Granting other team members the permission to download, edit, comment on, and view files means that there will be less chance of multiples versions of the same file emerging.
27. Directly stream with Cloud streaming in G Suite for Business
Google Drive's ability to stream directly from the Cloud is not only convenient, but means less of your PC/Mac disk space will be used. Through Drive File Stream, you can have access to files directly from your computer without impacting all your disc space. Your employees will spend more time being productive and less time twiddling their thumbs waiting for files to sync.
28. Manage your data with Vault in G Suite for Business
Vault is your hub for data management, retention and archiving. Here, you can search, access and control how your records are kept. Vault also allows you to retrieve information from suspended accounts.
A few of the top Vault features are as follows: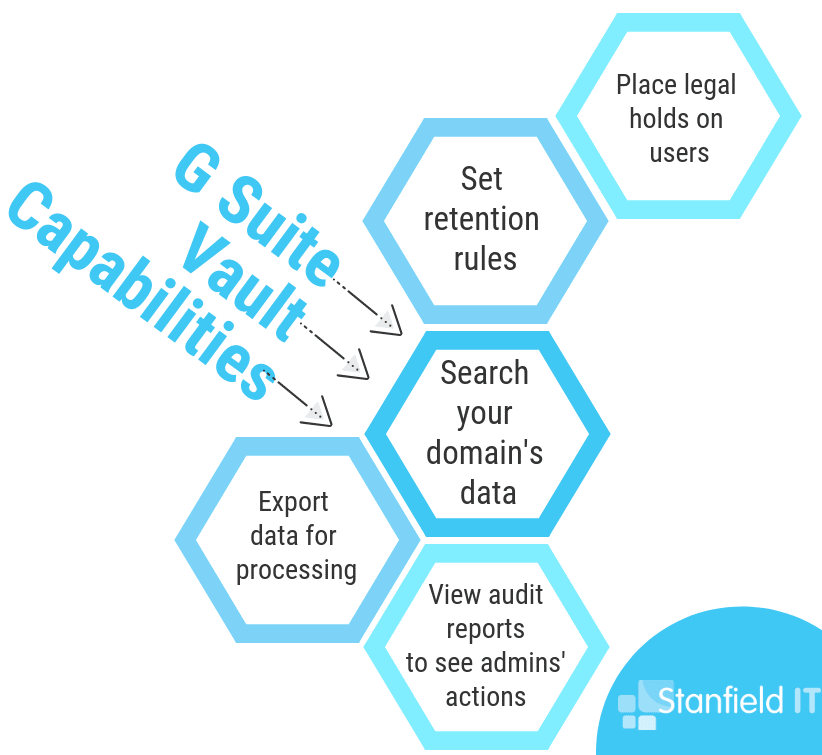 Google productivity: Sheets, Docs, Slides
29. Build collaborate spreadsheets with Sheets in G Suite for Business
Google Sheets has made it possible to make meaningful business decisions via spreadsheet collaboration with others that can occur anywhere, at any time. The friction that can be felt working across different data sources, such as Microsoft Office, is eliminated as Sheets is compatible with external systems. Sheets means that you don't need to send files backwards and forwards between team members ― teams can work together and members can see changes in real-time, receive notifications for edits, and chat with colleagues within the document.
Fast insights, powered by AI, allow everyone across the organisation to uncover intelligent insights from data. Relevant formulas are remembered and resurface as they're typed. Users can even navigate data through the Explore function, which lets them see trends and customisable visualisations. To make it even more simple, you can just type a question into Explore and Google Al will retrieve the answers you need. And don't worry ― Sheets has seamless compatibility with Microsoft files and you can use the keyboard shortcuts you're used to.
Sheets is protected by superior security infrastructures. Security features include managing permission through individual-level, group-level, or domain-level access. You can also set content expiration dates, prevent files being downloaded, printed, or copied, and use data-loss-prevention controls so that sensitive data is kept safe.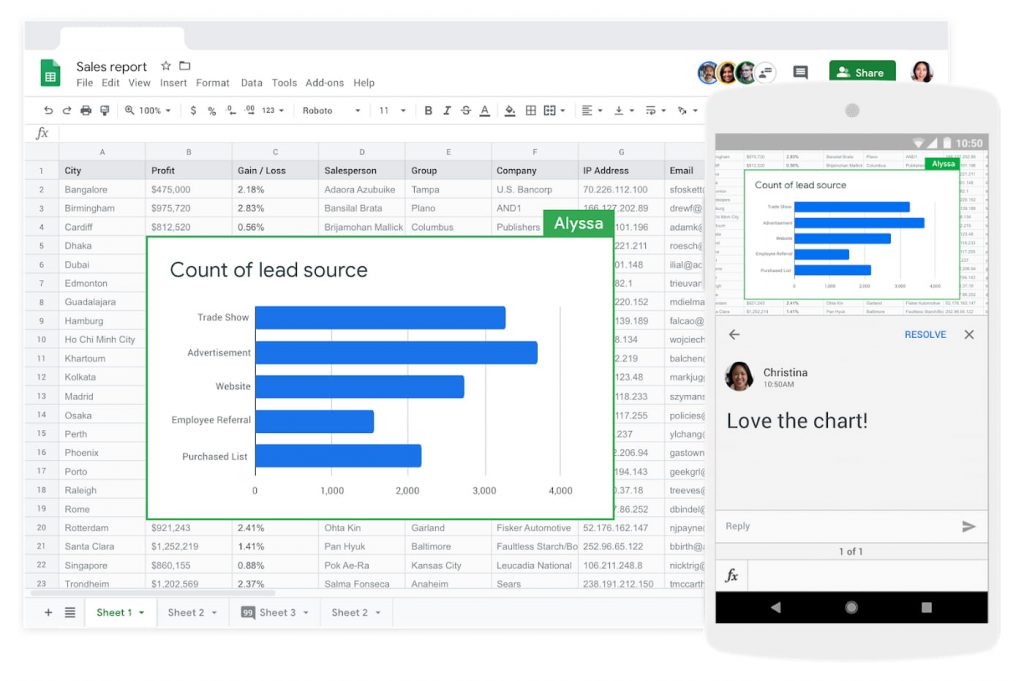 30. Work on files with your team with Docs in G Suite for Business
Think of Google Docs as word processing for teams. Docs let's multiple people work on a file at the same time ― even people outside your company ― with every change being saved automatically. This can be done by users right in their browsers. You can import popular file types, like those from Microsoft Word and PDF. You can then export your work in .docx, .pdf, .odt, .rtf, .txt or .html formats.
There's built-in chat where you can communicate with other users and comments can also be added to the document to flag certain pieces of text and ask questions. Changes you make to the document will be tracked and you can undo edits. The best bit? Previous versions are kept in case you ever need to access them and do not take up any storage!
Nearly half (49%) of our survey respondents have never used Google Docs. We expect that this number may decrease as G Suite's rapid growth continues, due in part to employee demands. Gmail is the number one app knowledge workers wish their company would adopt.

Okta, Buisness at Work – 2019
31. Create the perfect presentation with Slides in G Suite for Business
The perfect platform to create presentations for group meetings, pitches, events, etc, Slides lets employees work at the same time. Group presentations are meant to be collaborative, and slides allows this process to be easy ― you can easily assign permissions to allow people to view and edit slides. If you need, you can also convert your Slides into different, sharable formats. You can also convert many files types into Google Slides format ― the original file will remain intact.
On Google Slides, you can draw charts and diagrams, insert objects and shapes, format text and images, and even enable animations. You can start these slides from scratch or quicken the process by using a template ― the videos, images, drawings, and transitions on the slides are still up to you.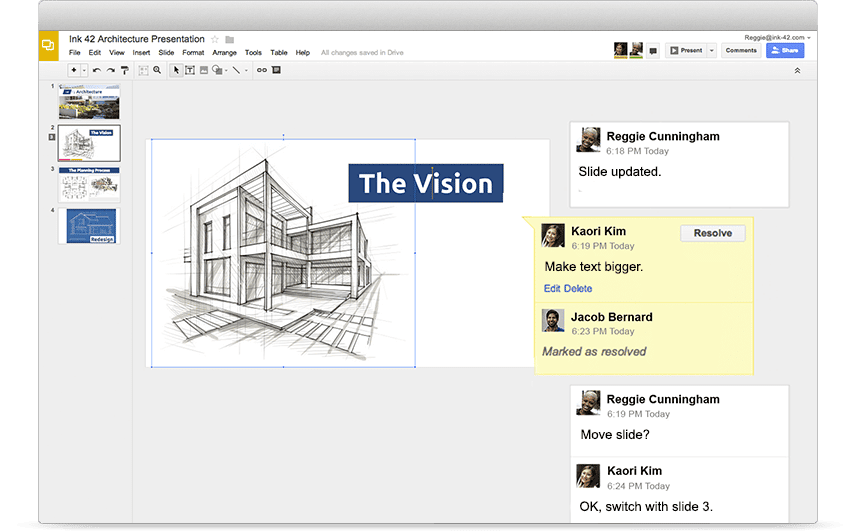 Keep
What is keep?
Google Keep is a note-taking service that you can use on the web or via Android and iOS. Keep offers lots of features that you can use in a corporate work environment, including tools for notetaking, like texts, lists, images, and audio.
32. Keep organisation fun with Keep
Keep is a fun way for employees to set to-do lists for themselves for work and personal use ― including colour codes and labels! Users can also set reminders for themselves, integrated by Google now. Users can even extract images using optical character recognition, and voice recordings can be transcribed.
Other great features across G Suite
33. Control Your Archives with G Suite for Business
Not only can you archive emails and chats, but you can easily customise and control how long those records are retained in your system.
34. Get creative with apps in G Suite for Business
Create an in-house app for your business using the low-code app maker, and deploy it to your employee's devices.
35. Enjoy compatibility with Office in G Suite for Business
You can take any of your Word, Excel or Powerpoint files and transform them into editable G Suite files directly from your browser or device without requiring any Microsoft licences.
36. Get 'round-the-clock support in G Suite for business
Google provides 24/7 support for your business, so if you happen to be working at odd hours, or perhaps travelling in different timezones, never fear that you'll be without online support.
37. Be assured of 99.9% SLA in G Suite for business
Google guarantees that their service has no downtime, there are no scheduled outages or waiting around for updates.
38. Access Marketplace in G Suite for Business
The G Suite Marketplace is open to you, and has hundreds of business apps that integrate beautifully with G Suite's native apps. Apps for CRM, administration and task management, for example.
39. Search directly from your document with the Research Pane in G Suite for Business
The Google research pane is perfect for when you are working with one screen, or always have 37 odd tabs open on your browser for research. The research pane enables you to Google search directly from your document. You can even drag and drop images directly from the pane.
40. Gather information with Google Forms with G Suite for Business
Google Forms is an easy-to-use feature of G Suite that lets you quickly and efficiently collect data. This may be from employees or others via a personalised survey or quiz. This data is then collated into a spreadsheet, which is automatically populated with the results. Data at your fingertips!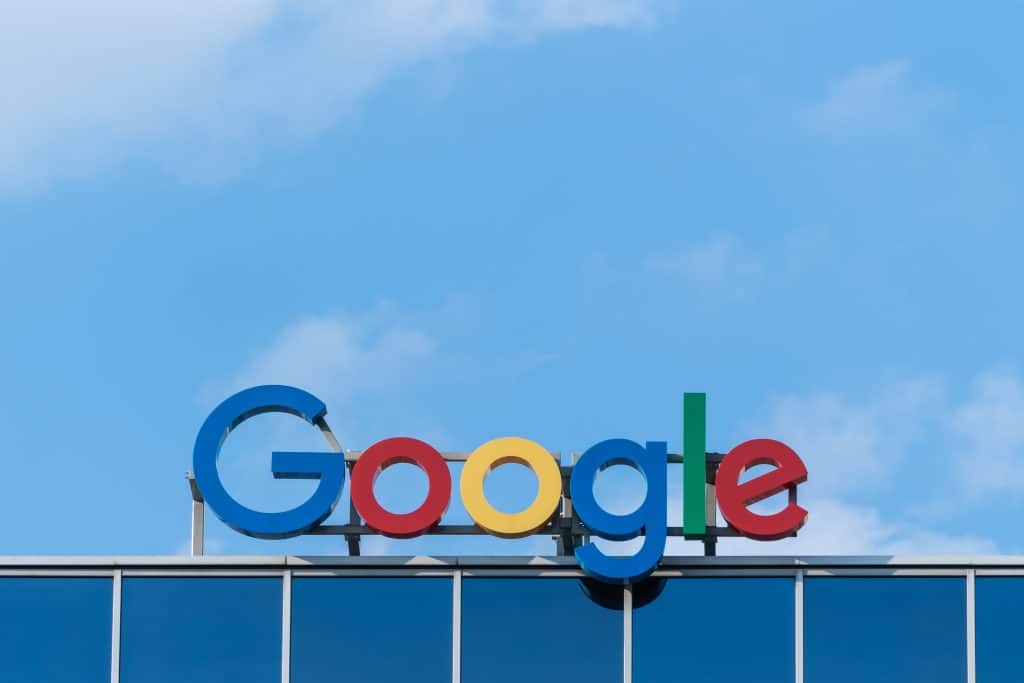 We could go on. Really, there are so many incredible features that Google has built into G Suite for business, so you can get on with working to maximise your output without having to sweat harder. If you need more convincing about why you should get G Suite for business purposes, then shoot us an email, or give us a call at Stanfield IT and we'll sing G Suite praises all day long.