Have you found yourself asking what is Office 365? Office 365 had had a lot of traction recently. This is for both small-to-medium businesses to enterprises. Many businesses have at least thought about or considered a move to Office 365. The move, however, can be a complex and time-consuming task. Before going down the path of an Office 365 migration, it's important to know exactly 'what is Office 365' and what benefits it can offer your organisation. We will also delve into what new features of Office 365 we will see in 2020.
What is Office 365 and how can it benefit my business?
Office 365 is Microsoft's cloud-based subscription service. It gives businesses access to features such as hosted email through Exchange Online, access to Office applications through the Microsoft Office suite, and other collaboration services such as Teams, SharePoint, OneDrive storage and more. All this with the added benefit of accessing these applications anywhere on any device. Let's take a look at a few of these applications and how they could benefit your business.
1. Exchange Online
The highlight of the Office 365 suite for many business owners is this hosted email service through Exchange Online. Historically, it has been the main reason most organizations will look to sign up to Office 365. It's essentially a cloud-based version of a Microsoft Exchange server, providing access to email, calendars, contacts, and tasks with up to 50GB of storage for each mailbox.
With Exchange Online, you get the features of a powerful email service built on the industry-leading Microsoft Exchange platform without all of the hassle of setting it up, keeping it updated and secure, and providing ongoing support and maintenance. Since it's hosted in the Cloud, Microsoft takes care of all of this for you. This can mean huge savings in time and money for you and your business. This is true for both the initial setup and ongoing maintenance.
Exchange Online provides a range of security services designed to keep your organisation's data and emails safe and secure. All Exchange Online subscriptions provide out-of-the-box spam and cyber security protection for all incoming and outgoing emails. Microsoft ensures that your data is safe and secure while located in their data centres through encryption. While in transit between you and Microsoft, emails are encrypted.
Exchange Online makes accessing your email, calendar, and contacts easy by providing access from virtually any device. If you're already using Microsoft Outlook through Windows or Apple computers, connecting to Exchange Online is quick and easy. If it's new to you, access is available via almost all smartphones supporting ActiveSync (iPhone, Android, Windows, and Blackberry) as well as through most web-enabled devices using a supported web browser to connect to Outlook Web Access.
See a few of the differences between Exchange subscriptions below, or check out the full list on the Microsoft site.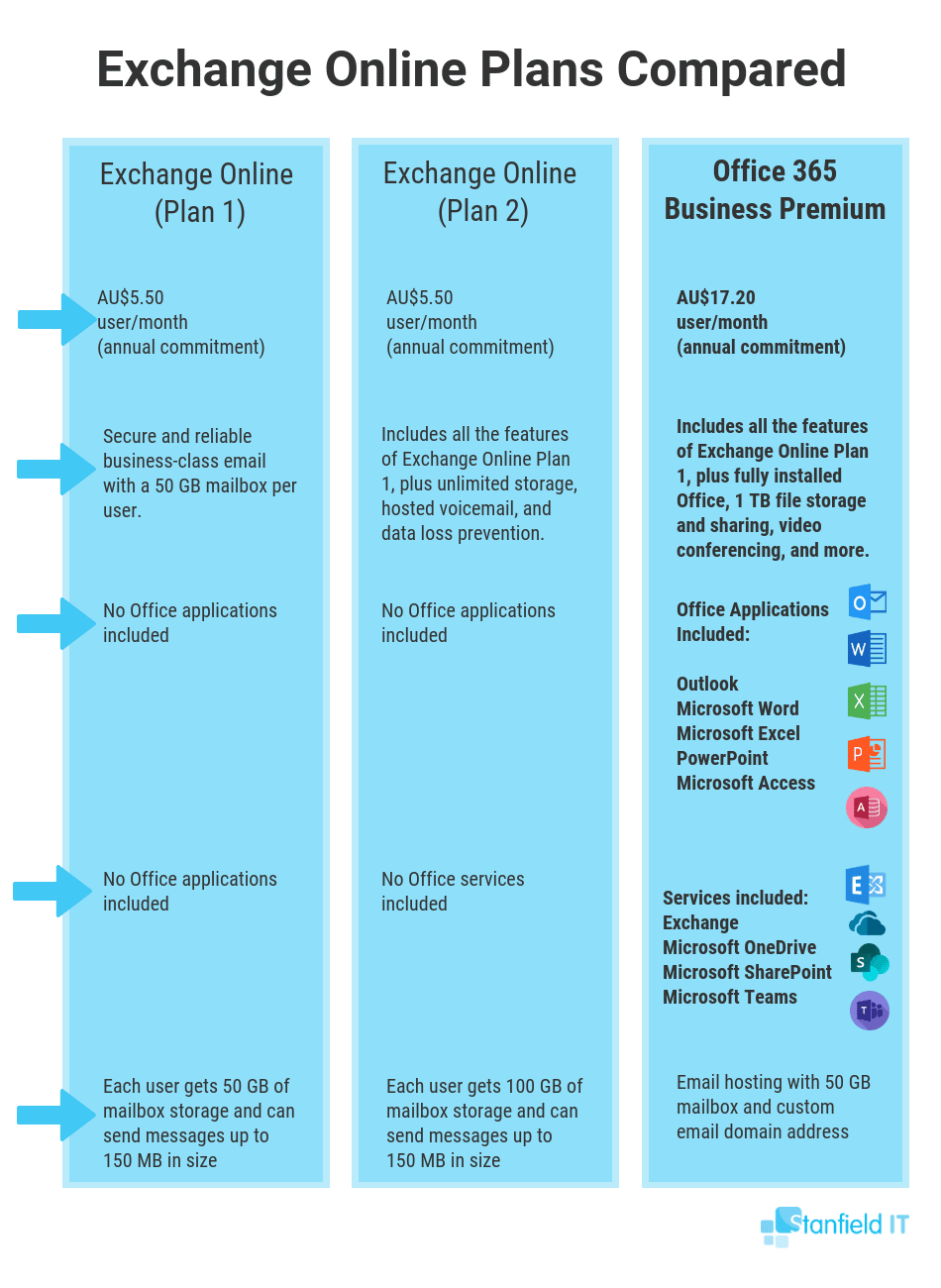 2. OneDrive for File Storage
OneDrive is a great place to store all your files and share folders with your colleagues. You can sync your data to your desktop and you can access it from your mobile devices and computer. OneDrive comes with 1TB of storage which is plenty for most people.
3. Teams for Collaboration
Microsoft Teams is the hub and spoke of collaboration for users who use Office 365. You can chat with your colleagues and collaborate with people both inside and outside of your business who are working on the same project. You can collect data in folders which are stored in SharePoint and communicate with colleagues easily with any of your devices.
4. Desktop Versions of the Microsoft Office Suite
With an Office 365 subscription, you also have the option to add access to the full Microsoft Office suite (Word, Excel, and Powerpoint). If you and your business are already familiar with (and using) these applications, this could be another huge benefit. You will always have access to the latest versions of the Office applications, as well as the benefit of being able to install up to five copies of Office per user. This is ideal for staff with multiple devices, or those who want to have access from all of their computers.
5. Microsoft Azure
Office 365 provides free access to Microsoft Azure Active Directory. This allows you to centralise business management through a directory structure. The result? Better control of your users and their devices. With Azure AD, you can manage (add, update, and delete) users and groups, register devices, enable single sign-on to certain apps and Windows 10 devices, and more. For larger organisations, paid versions of Azure AD are available for even more features and functionality, plus further integration with other Microsoft Azure services.
6. Microsoft Intune
Microsoft Intune provides your business with the ability to secure and control company data through rock-solid security policy's. There are both mobile device management features for devices owned by your business and mobile application control that forces cyber security control over applications and data in BYOD environments.
Microsoft Office 2020 updates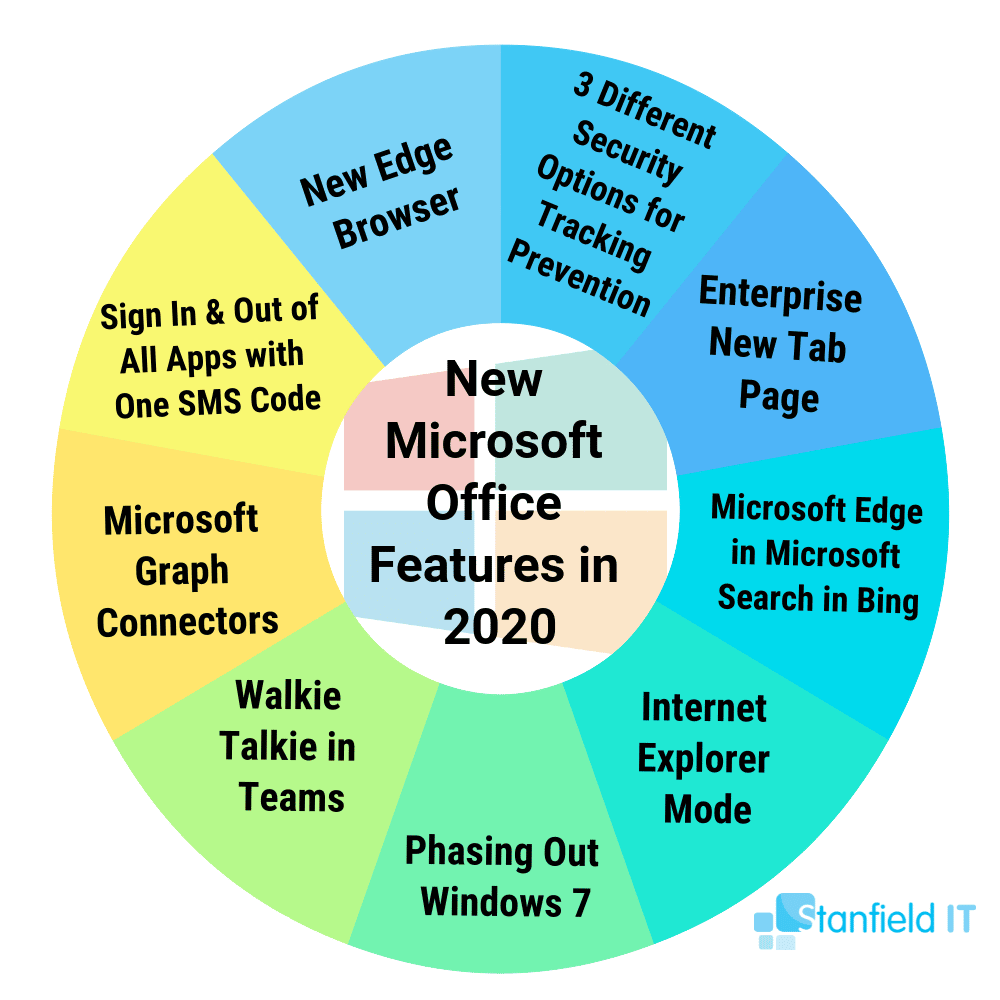 Office and Microsoft Edge are now compatible
Microsoft Edge has arrived, meaning a new Edge browser that's been built on open-source software in Chromium. The new Microsoft Edge features that have been introduced in 2020 are performance optimization, a lot of security by Microsoft simple management tools (Basic, Balanced, and Strict tracking prevention options), and new productivity tools for the web with an end-user focus. For example, there is the Enterprise new tab page that you can fully customize and connect to your Office 365 account. From here, you can view and access shared files, pinned sites, and sites frequented by your organisation.
Microsoft Search in Bing
Microsoft Office now offers 'searching the Internet next to the Internet,' which is the new Microsoft Edge in Microsoft Search in Bing. You can type in the Bing search bar on the Enterprise new tab page where you get access to your Internet's files, sites, and people within your business (even floor plans for larger businesses!).
Internet Explorer Mode
A huge new feature for Office 365 is Internet Explorer Mode, which is in response to customers wanting to be able to use two different browsers to do different things. An example of this is doing a web search at the same time as using an app from within your organisation. To cater to this, a new IE mode was created for Microsoft Edge, giving end-users the ability to use modern websites and apps in the same window. You can toggle between websites and person profiles to keep your browsing separate. Now THAT is streamlined! To deploy the browser, IT admin can download offline installers from Microsoft.com/edge/business.
Updated Online Services Terms
Microsoft Online Services Terms were updated at the beginning on January 2020. This outlined more transparent privacy elements for commercial cloud customers on data processing. While Terms have been added, another feature has been removed—support for Windows 7, which now came out ten years ago! This includes an end to software and security updates. If you haven't done so already, it's time for a transition to Windows 10.
Walkie Talkie in Teams
Although it is most useful for retail Teams users, the next new Office 365 feature is too cool not to mention. Walkie Talkie in Teams! This has a push-to-talk feature so that you can send clear, secure voice snippets over the Cloud. For anyone who needs to send a message on-the-go and while multitasking, this is a great little tool. Some of your mobile phones will integrate with Walkie Talkie in Teams directly, and it will be available for private preview within the first half of 2020.
Tools for Enterprises
New features are being added specifically for enterprises, like Microsoft Graph Connectors. This feature allows you to index third-party data so that it appears in your Microsoft Search results. These connectors expand the type of content sources that search your Microsoft 365 apps alongside the broader Microsoft ecosystem. Microsoft are also working on capabilities to set up custom verticals, add your own refiners, and use adaptive cards to create your own visualisation in office.com and SharePoint.
Developer capabilities
Lastly, also rolling out later in 2020, will be developers being able to use the SharePoint framework to customize the appearance—and develop applications—on top of Microsoft Search. Firstline workers in Teams are now able to use one-time SMS codes so that the team can sign in and access all Microsoft 365 apps (as well as custom apps) concurrently. On the back of this, a shared device sign out allows all of your team a one-click logout of all their Office 365 app on multiple devices. This protects customer and client data and also makes the sign in and out experiences quick and easy.
The third anniversary of Microsoft Teams
Mid March, 2020, saw the third anniversary of one of the most popular Microsoft 365 features—Teams! If you're not already utilising the amazing capabilities and space it creates for collaboration in your office, then there is no better time than now to get your workplace on board. With the current global pandemic making people who are usually working in the office work from home, Teams can be a vital tool for communicating, collaborating, and sharing with colleagues and stakeholders. As Microsoft states:
It's very clear that enabling remote work is more important than ever, and that it will continue to have lasting value beyond the COVID-19 outbreak. We are committed to building the tools that help organizations, teams, and individuals stay productive and connected even when they need to work apart.
Stay connected and engaged
Teams isn't just a practical—often essential—tool for enterprises, but also a hub of teamwork for small-to-medium businesses, too. For interest's sake, and to see the scope of Teams globally, below are some current statistics surrounding Teams and global enterprises.

Microsoft is continually investing in new, innovative ways to make it easier for teams to communicate and collaborate. Their aim is to make Teams the absolute best online meeting experience for workers. They also have the fantastic goal of bringing tech solutions to industries where workers may often miss out on such technologies, like in healthcare.
Some of the top new features are:
REAL-TIME NOISE SUPRESSION to minimize distracting background noise, like typing.
RAISE HAND feature that anyone in the meeting can use to show they have something to add, without talking over anyone.
HEADMOUNTED DEVICES for Teams and RealWear to that FirstLine workers can access information hands-free with remote experts who aren't on site with them.
BOOKING APP in Teams make scheduling, managing, and conducting B2C virtual appointments a breeze.
SEPARATE WINDOW FOR POP OUT CHATS (launching soon) means you can move easily between conversations and streamline your workflow.
OFFLINE and LOW-BANDWIDTH SUPPORT for reading chat messages and writing responses without an internet connection.
COLLABORATION BAR CERTIFIED FOR TEAMS, the Yealink VC210, is the first collaboration bar for Teams. It brings together speakers, microphones, a camera, and a native Teams experience.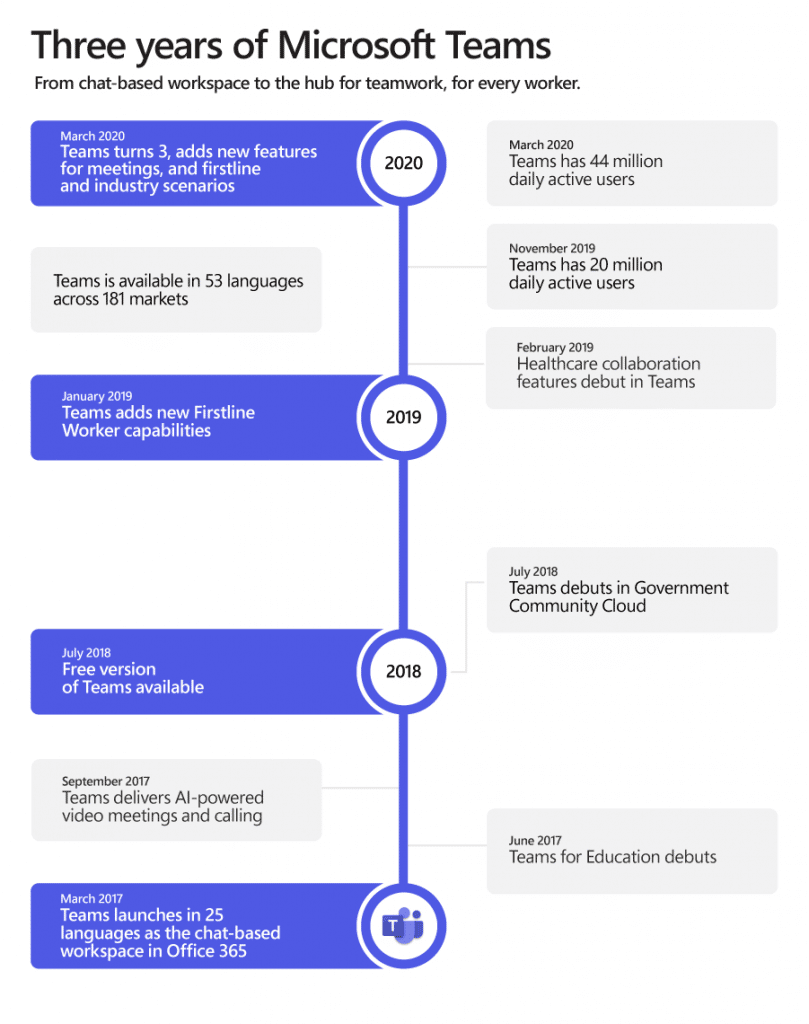 Want to learn how Office 365 could specifcally benefit your business? Speak to the experienced team at Stanfield IT and we can assess how you can use Office 365 better, or even set it up for your office.