Have you ever been stuck trying to manage your schedule from more than one place? Different smart devices managing different schedules, but not being the smart devices they are meant to be?
Google Calendar might be for you. It's an easy interface that allows you to manage your work schedule, see what your colleagues are up to and overlay your family life all in the once simple place. Best of all it's in sync across all of your devices and computers.
What is Google Calendar?
Google Calendar is a cloud based time management tool designed to help you get organised. Busy people have over-flowing schedules and can't keep their schedule under control without a calendar or in the olden days the dreaded diary.
Google Calendar allows you to have one or many calendars to manage different aspects of your schedule. You can overlay your colleagues calendars to see when they are free or busy without having to disturb them.  You can even enter events directly into their calendar and invite them to meetings all from within your own calendar depending on the level of permissions they give you.
Personal and executive assistants are the true enablers in businesses and can be given full control over schedules so they can fully manage someone's schedule by entering and updating events.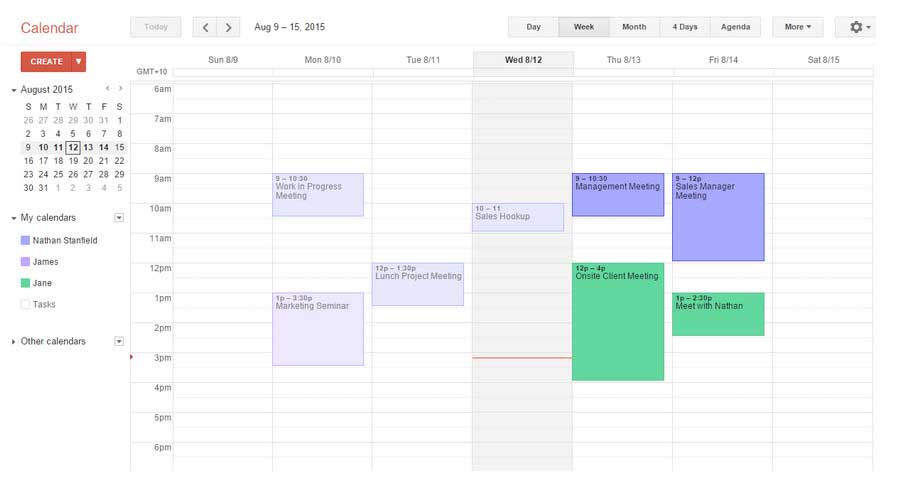 Who is Google Calendar for?
Google Calendar is for the ever busy employee and business person who needs to save time and not miss a meeting or an event they have planned to attend. Google Calendar gives you a sense of freedom and one less thing to think about or manage allowing you to get focused on the important things like heading to the beach or spending time with the family.
Google Calendar is flexible
Like all the other Google Apps for Work tools Google Calendar can be accessed from any of your devices. Again from any Windows, Mac or mobile device such as iOS and Android.
All your events and schedules are in sync across all of your devices and instantly up to date so you only need to do things once, there's no double entry. You see the same information on your laptop, tablet and phone.
Use Google Calendar to be efficient
When it comes to saving a business time and money a centrally managed cloud based productivity tool like Google Calendar are really the way to go. It's seamless integration with other systems and platforms saves every employee time, at the end of the day employees are usually the biggest overhead. The more time you can free up with productivity tools the more focused your team will be.
Google Calendar helps you manage your work and personal lives easily
One of the most underestimated features of Google Calendar is the ability to manage your work life balance. If you have a Google Apps for Work account you can share your calendar with your family and if they are using a free Google account they can share their calendar with you. This means in the one interface you can see your work colleagues schedule overlayed with your family schedule making it easier than ever to manage your work life balance without double booking again.
Google Calendar will tell you where to go!
Google Calendar has a neat feature that allows you to enter in the address of the meeting you are attending when the event is setup. When the address is in and you jump in the car to head there you can click on the event in your calendar and the address will open up in Google Maps and point you in the direction you need to go.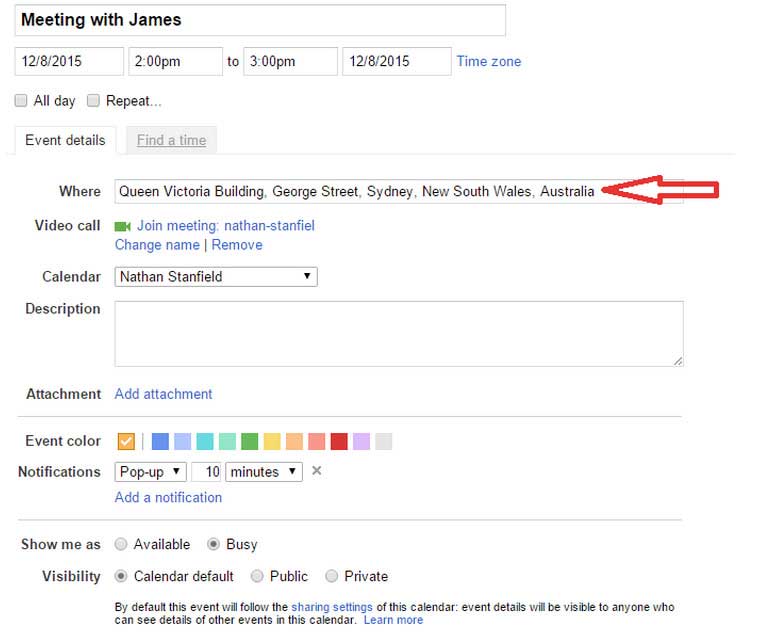 Google Calendar manages your attendees
When you are setting up a meeting or planning an event, use Google calendar to manage this for you. When you enter in the attendees they will receive and invitation asking them if they plan to attend. once they click on attend you will see this in your meeting event and know who is attending.
You can even attach important files or documentation required when attending the meeting so everyone is prepared and ready to go at the start of the meeting.
Overlay your Calendar with your workflow, project or CRM system
There are many cloud based tools popping up every day. Many of them allow you to connect your Gmail calendar into them and sync calendar entries between the two systems. This is very important as it allows you again to centrally manage your schedule from one location without having to think about multiple places and systems to remind you what you should be doing.
Need help with Google Apps for Work?
Speak to the experienced team at Stanfield IT on 1300 910 333