Don't underestimate the power that Office 365 Teams has to effectively transform the way you do business. Firstly, it's an integrated part of the Office 365 suite. So, you may struggle to find a better communication tool that works just as smoothly within your current environment. Office 365 Teams is built around enabling better teamwork, faster results and overall more effective communication. As a society, we are still more or less in the office five days a week. But it would be remiss not to acknowledge that the modern work environment has evolved. With the introduction of mobile devices, and a push for more flexibility in the workplace, many businesses want to accommodate flexibility and creativity far more than previously. Office 365 Teams is an excellent way to do so. It gives you the tools and support you need as a business to create that environment.
There's a good chance you are already using Office 365 for your business. However, you may be focusing primarily on document management, spreadsheets, emails and data storage. But Office 365 Teams is an integral part of the Office suite that your team can rely on to assist with collaboration and communication. Learning how to incorporate this tool into your daily work flow will make life easier for your team, and we've got a whole bunch of reasons why you should do just that.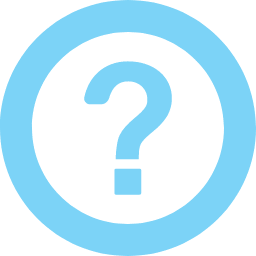 What is Office 365 Teams About?
Office 365 Teams is more than just a chat tool. It's not just about chatting to your coworkers online, though that is a convenient and core function. Office 365 Teams is primarily about collaboration. It's an integration of chat, online meetings, file sharing and editing all in one.
It takes full advantage of it's role within the Office 365 environment, meaning it doesn't function just as a stand-alone tool. Competing alternatives, such as Slack, while effective at their function, are exactly what we mean by 'stand-alone'. It's a separate tool that performs it's own function without talking to other apps within your environment. Teams is not about that life. Teams is heavily intertwined with all your Office 365 apps (Word, Excel, etc) and also SharePoint (an incredible teamwork tool designed to work hand-in-hand with Teams).
Office 365 Teams is designed to be your go-to tool for sending and receiving feedback from your coworkers. For sharing files, and editing together. It's an alternative to the cumbersome method of group email threads and sending files back and forth. You can use it to make voice and video calls, and video conferencing in lieu of Skype.
You can easily separate and distinguish channels, perhaps differentiated by project, or department. But everything is designed with the end user in mind, and the goal of making collaboration far simpler and more streamlined.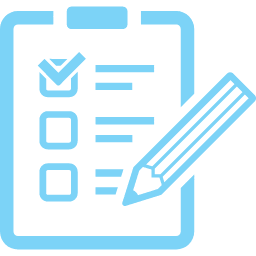 5 Awesome Features of Office 365 Teams
If you're still dubious about the benefits of using Office 365 Teams, that's okay, there's still time. Let's have a more detailed look at some of the specific features of Teams that make it a worthwhile choice for your collaborative efforts in the workplace.
1. Accessible Work Environment
As we mentioned, Office 365 Teams is a collaborative work environment. Therefore, Teams provides you with an open, digital environment. It works to make team work integrated, and accessible across the board. What exactly does that mean?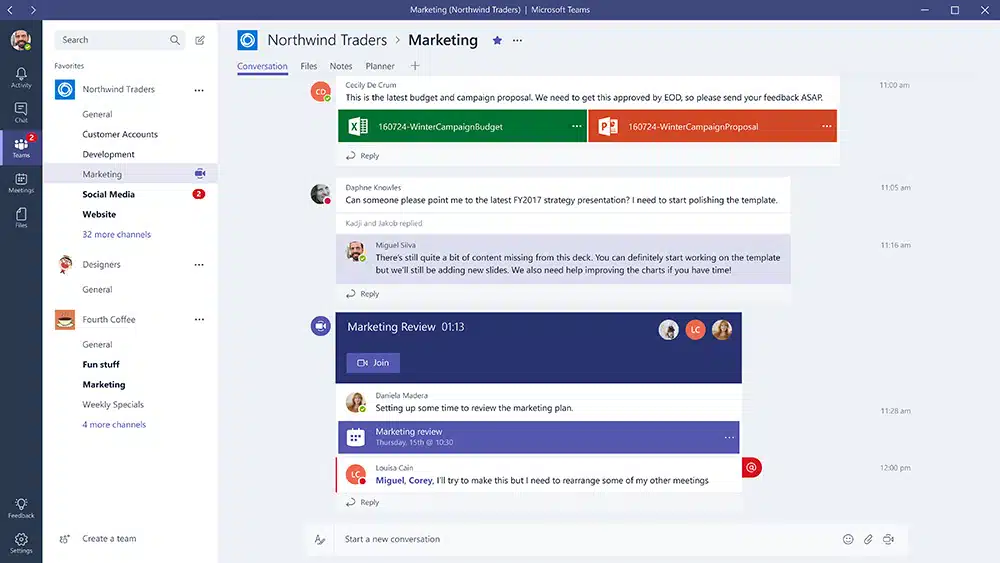 Everyone will always be in the know with Teams. In short, everything is instantly updated and integrated with the Office 365 suite. Remember those awful days when you'd have a group email thread circulating around and around? And you missed one of John's replies three days ago, so now you've totally lost the context of where he's at. Also, everyone has their own version of the document saved locally, and between you all, there's somehow about 43 versions. This is such an outdated and inefficient method of team collaboration that we thankfully don't need to rely on.
As it's already part of the Office 365 package, you can access all your data and communications through Office 365's centralised management console. It's not a stand-alone application, it's part of a comprehensive platform. So, all your conversations, chats, online meetings, shared files, tasks and more are all available within the singular interface. You can get it all done from the one app. This all has the end benefit of increased productivity and collaboration.
2. Integrate Additional Apps
In many corporate environments, you use specialised business tools within your organisation. These could be for sales, resource management, customer service or project management. Microsoft has made it easy to bring these apps together with Teams. You don't need to choose one or the other, or try to awkwardly convey data from one to the other. This is truly one of the most outstanding features of Office 365 Teams.
Much of the time, corporate apps want you to only work within their environment. They do this by making it increasingly difficult to integrate third-party apps. Microsoft, our generous overlord, has full support and integration for apps like Zendesk, Jira and Asana. Certainly, this is a rare treat these days!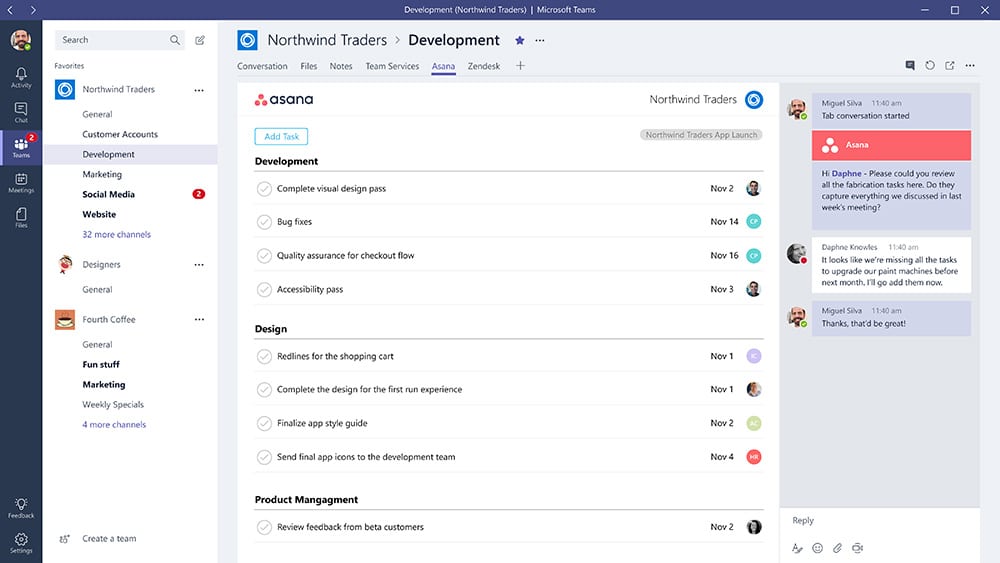 In short, this means you aren't in a position to choose between apps. Customer service team members can check in with one another without needing to navigate to and from Zendesk separately. This function ultimately works to optimise your work efficiency, work flows and customer relations. Be at the top of your customer service game by using these tools in conjunction with one another and set your business apart.
3. Third Party Collaboration
So, aside from just incorporating third-party apps, Office 365 Teams also supports collaboration with third-party participants. For the most part, you'll be working within your own organisation, or department. However, it can be extremely useful to collaborate with a third-party on an app that's built into your business.
When would this potentially occur? Perhaps you've decided to outsource a marketing or graphic design project. So, you need to consult and review files with the designer you've hired. You can see how beneficial it would be to have everything centralised within the Teams app. Perhaps you've got a vendor that you work with frequently, and need to discuss an upcoming event or project. Bingo.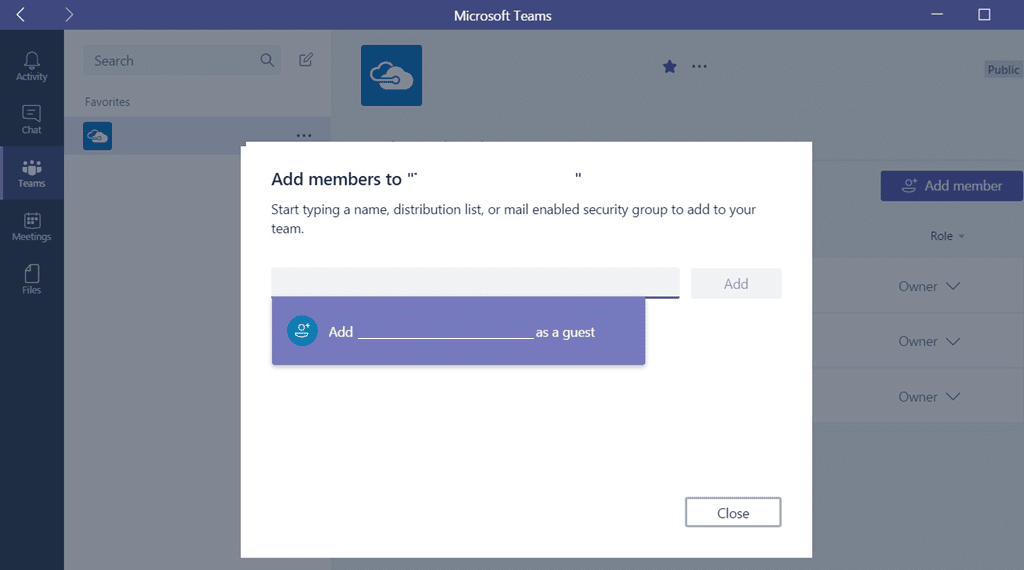 Overall, you can see how this is a very powerful feature of Office 365 Teams. Being able to bring in external guests and collaborators means that even outside the context of your local environment, you're not required to go back to the stone-age method of circular email threads and file versions. Furthermore, regardless of how centralised or spread out your team is, you can work together. This is an incredible function that brings your team together wherever they originate from.
4. Shared Virtual Workspace
So, naturally we've mentioned this a few times, as it's one of the collaborative features at the heart of Office 365 Teams. From the screenshots, you can see the row of tabs above your Team chat, so your files are always accessible. Really, Teams wouldn't be much of a collaborative tool if it didn't provide a shared workspace for your Team.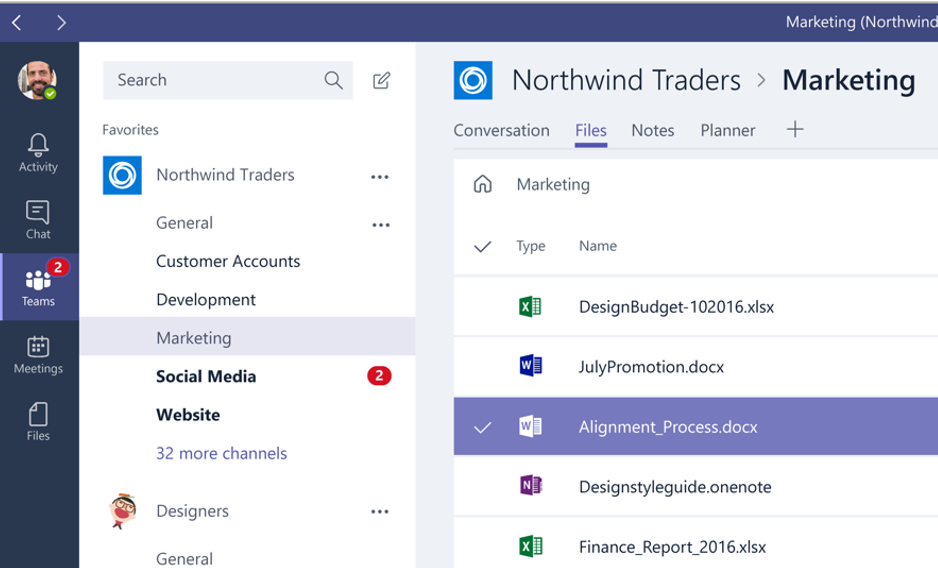 It collates all relevant files and documents in one location that everyone can easily access and edit as required. This feature allows your team to work on your project right there, without needing to constantly toggle between multiple applications. Furthermore, this means that everyone always has access to the latest and greatest version of any given file. In addition, Teams partners with SharePoint to create a Team site that hosts all your project files and relevant material.
5. Create Bots
Overall, we feel that this is a really cool and powerful feature of Office 365 Teams. To sum up, Teams gives you the power to create bots within private and team channels. This means you don't even need to rely on the availability of someone for simple questions. For example, you can create and use WhoBot to figure out who you should talk to about support, or HR, or security.
Type it in the same conversational manner you might ask a coworker, and WhoBot will retrieve members who mention that topic often, as well as ways to contact them. Use PollyBot allows you to conduct quick and easy polls amongst your team on the fly. This is an efficient and excellent way to collect feedback on files or discussion about deadlines, for example.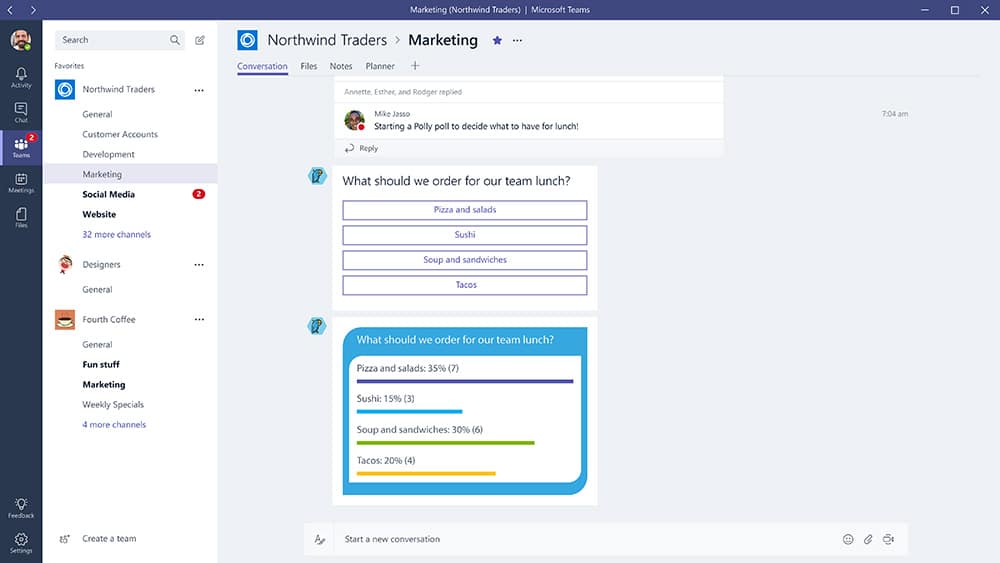 Bots within Teams are almost like a miniature Google, designed to make those little moments easier. If you're stuck on something, and realise you need some input from the Marketing team, but don't know who that is? You can literally ask "Who is on the Marketing team?" and WhoBot will return the contacts for you. From there, it's a simple click and you're connected. There are multiple bots to choose from and use, all of them intuitive and designed to streamline your work.
Summary
Overall, Office 365 Teams contains a host of powerful functions and capabilities not available in other stand-alone apps like Slack. As it's closest competitor, Slack definitely gives Teams a run for its money, however.
But at the end of the day, we believe you can't go past the fact that Teams is simply one part of a hugely integrated whole. As a part of the Office 365 suite, you better believe it utilises that integration to the maximum. With Teams at your disposal, you have more than just a instant messaging platform. It may seem like just a reskinned Skype at first glance, but every aspect of Teams is designed for bringing your employees together. This works within the Office Suite to enhance project management, progress and efficiency, all wrapped up with the world-class Microsoft security and an intuitive interface.