Take some of the pressure off your team and budget by taking up Stanfield IT on our selection of managed services. We offer a range of managed services to assist and complement your business, from the ever-crucial cyber security and disaster recovery, to G Suite and Office 365. Allow us to step in and take the reins on the technical IT stuff so that you can focus on building and running your business.
Outsourcing your IT is the ideal cost-effective option for small to medium businesses; leave the expensive in-house IT department to the rest. Employing a specialised IT company like Stanfield IT allows you to have your IT services wholly catered to by a team of specialised staff who are available to monitor, support and maintain your IT around the clock.
We can provide any of the following managed services to help your business flourish:
Centralised Services: Having all your managed services and IT support in one place provides cohesiveness for your team and efficiency for your business both in terms of productivity and financial costs.
Cyber Security: We can install and manage firewalls, intrusion detection, anti-virus, and content filtering. Our cyber security managed services also include cyber security audits, business continuity management, and cyber security policies and frameworks.
Managed Devices: We can manage your any or all of your devices to take off the stress of monitoring usage and security.
Workstations: performance monitoring, updates, patches, threat maintenance.
Network Devices: Printer monitoring, switch monitoring, UPS management.
Firewalls: monitoring bandwidth, intrusions, backup of configuration files, performance maintenance.
Wireless: Monitor and maintain wireless solutions, usage, patching.
Storage: Local, remote or cloud storage monitoring, maintenance and backups.
Servers: Performance monitoring of CPU, RAM, updates, server optimisation, threat maintenance, backups.
Cloud Infrastructure: Configure cloud services, monitoring and threat detection.
Backup and Disaster Recovery: Systematic backups, testing, business continuity management.
Office 365: Rollout and implement Office 365, educate employees, unlimited support.
InTune: Configuration, and monitoring of InTune cloud services.
G Suite: Deploy G Suite across network, unlimited support, employee education.
Azure, AWS & Rackspace: Advice, support, rolling out cloud service for your business.
We want to enable you to use your IT system as fluidly and efficiently as possible, meaning we educate and empower you to fully utilise all aspects of our services and infrastructure. We also monitor and support around the clock, and if something should go awry, you've got a dedicated team ready at hand to get you back on track so you're not derailed from working towards your goals. If you've got your managed services with Stanfield IT, then you can relax knowing we've got your back.
Key Facts about Managed Services
Converting your IT to a outsourced managed services takes your fixed IT costs (regardless of usage) and makes it a variable cost that allows you to budget more effectively. You essentially just pay for what you need and use, proving a more beneficial system for your business.
59% of IT services are addressed under a managed services model instead of the older break-fix model. Why wait until your network is down (and you're losing money) to address issues? A proactive, managed services approach makes a lot more sense.
With the fast-paced growth and evolution of IT, using managed services allows you to keep pace with technology as your MSP will handle all new updates and system rollouts for you, so you don't fall behind your competitors.
The managed services market
will be worth more than $200 billion in 2019. Managed services is booming at the moment due to the ultimate benefit of freeing your internal staff to focus on growth and strategic projects.
On average, 6.9% of a small business's revenue goes toward IT. With that being such a large percentage of your revenue, better to trust it to specialised professionals than to your sysadmin. It's a smarter way to ensure your money is well spent.
Stanfield IT Latest Managed Services Articles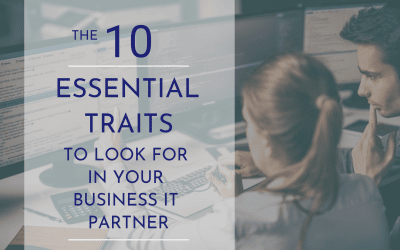 Choosing your business IT partner can be a stressful decision. How do you know when you've made the right choice? Do they have the relevant skills and experience to fully support you? How much do they charge? Is that a reasonable cost? How do you know? So many...