Gmail features will benefit your business – Google Apps for Work has been around for almost a decade now. Over the years Google have continued to add new features and at a pace of over 300 per year.
Here are 14 of the best Gmail features for business:
1. Gmail is consistent and in sync across all of your devices
By far one of the best features of Gmail is the consistency across all of your devices.
Your email works on all of your devices. Your email is in sync and the status of that email is instantly updated across all of those devices. If you open and delete an email on one device, this is reflected on your other devices.
2. Inbox by Gmail
Inbox by Gmail is still in it's infancy although fully available to consumers it is currently available for businesses though an early adopter program. Google have really taken a big step to help users manage their email and give them what is relevant and important and cut out the rest. Leaving the users with less of the mundane opening and organising email, Inbox does much of this for you.
Some of the cool things Inbox can do are make your tickets appear right before you walk into an event so you don't have to go looking for them, easily add reminders when someone sends you something to do, or bundle all of your trip information together to make it easy next time you go on a business trip. It will even update your trip details so that if your flight status or gate has changed, Inbox will let you know automatically.
Details on how to turn it on are here
3. Search for email
The is no easier way to find email than with Gmail's search functionality. When you search you get instant results based on your search query. There's no need to go digging through different folders (or as they are known in Gmail – labels)
Say you wanted to find a report from James. All you need to do is start typing the search query into the search bar and Gmail will automatically start to populate your search for you as you type. Below is a simple example of how this looks with the search dropdown option box.
Once you get the hang of searching you will never go looking through folders or labels again.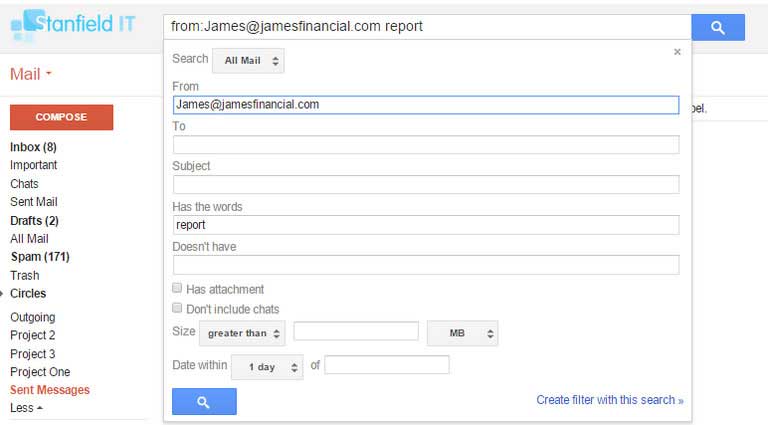 Advanced search options can be found here
4. Undo send
Everyone has at one stage or another sent an email they wished they hadn't. Usually most people realise within a few seconds of sending an email. Google has a neat feature that allows you to prevent an email going even after you have hit send.
Go to settings in Gmail and under the general tab you can turn on Undo Send and you can configure the cancellation period.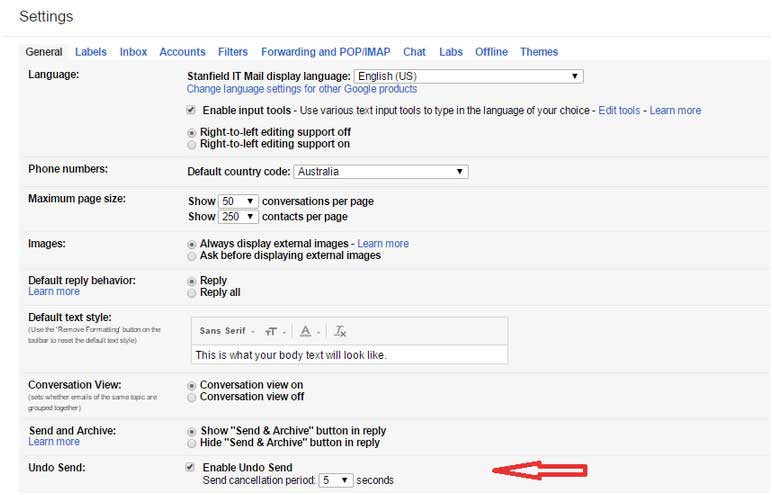 The send cancellation period is a predefined time frame that allows you to stop the email from being sent. After this time has passed you will no longer be able to stop the message from being sent. The options are 5, 10, 20 and 30 seconds.
5. 2-Step verification
2-Step Verification makes your account more secure and less likely to be hacked just like your internet banking now sends you verification codes on your mobile phone.
2-Step Verification means you will need a separate code to sign into other computers and devices.  You will also receive an email if someone has tried to log into your device from somewhere else.
There are multiple methods to allow you to get the codes to sign in. Text message, voice call or a mobile app are all options.
6. World class spam management
Gmail has world class spam filtering built right in. Gmail has a set of well tuned filters built in already, pre defined that you shouldn't need to touch. However there are many controls you can use to help tune it along the way if you need to. You can mark new spam messages that are not picked up as spam easily.
7. Canned responses
This is a great feature for people who send repetitive emails with the same or very similar content on a regular basis. Canned responses mean you don't have to copy and paste or re type the same content over and over again.
To turn it on go to the settings wheel in Gmail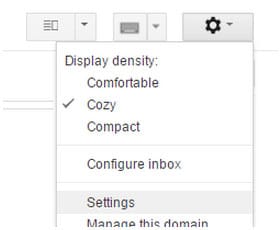 Then go to Labs, search for "canned responses" then enable it and save the changes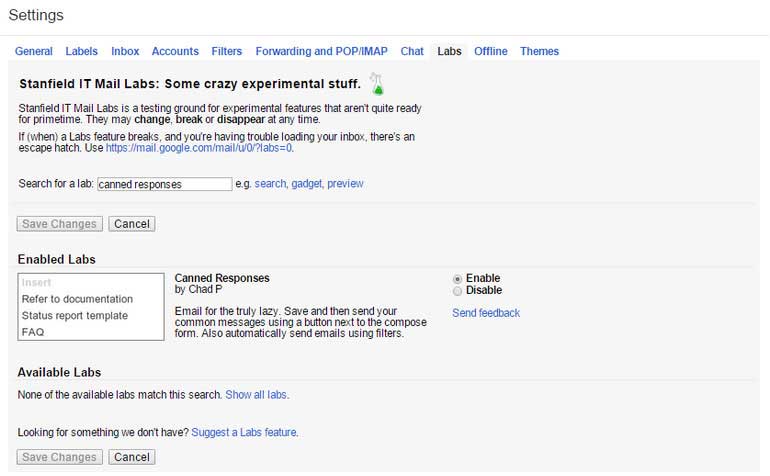 Once you have enabled it you can then make up your canned responses below when you compose a new message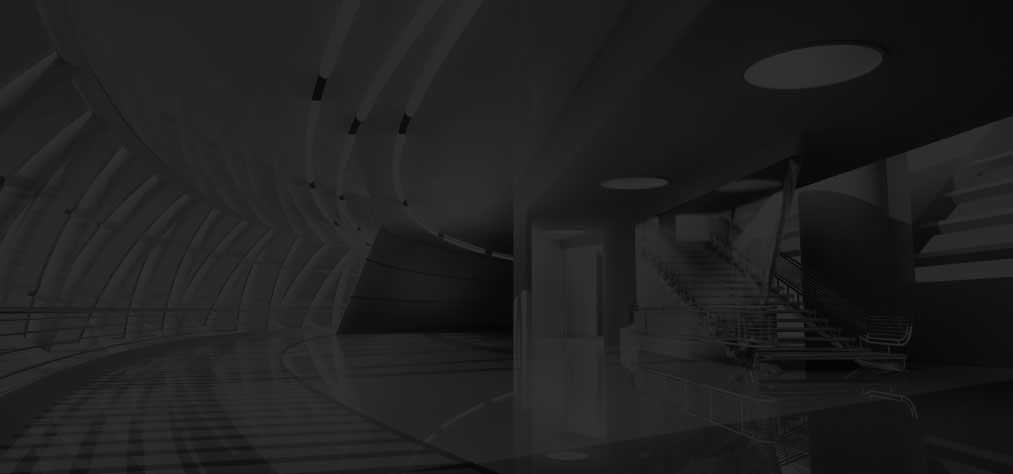 8. Labels
Labels are for people who like to be organised. Labels go one better that folders. Labels can be applied to multiple messages whereas an email can only be placed in one folder!
This means you can give your message a label that looks like a folder more meaning and make it easier to reference.
9. Unlimited email in one place
Have you ever used Outlook and found after your inbox gets to a certain size it becomes unreliable or unstable? It might crash, or you might need to repair your outlook file? This isn't a problem for Gmail as it can handle unlimited email from one place. No more archive pst files and not being able to access your email anywhere. Gmail gives you access to all your email from one place.
10. Use Gmail to get and send email from all of your other accounts
Your Gmail account can be configured to receive email and send email on behalf of another account. Maybe you have another account you no longer use but still occasionally receive emails from it.
Go to the settings wheel, then settings, and then click on the accounts tab. From there you can configure your other accounts.
11.Chat
Chat is built right into Gmail's interface along with all the other Google Apps tools. The thing I love about chat is it's pure collaborative function. It's another method that makes it easy to communicate with your colleagues. You can chat in your own time, get updates, send links and info without interrupting someone like you do when you call them or tap on their shoulder. This is just another great way you can get your job done faster and easier and get home to the family on time.
12. Large file attachments
Gmail allows you to send large attachments. Most email systems will only allow you to send email attachments up to about 25MB. This is not good if you have to send a few files that are larger.
In Gmail when you compose a new message click on "Insert files using Drive".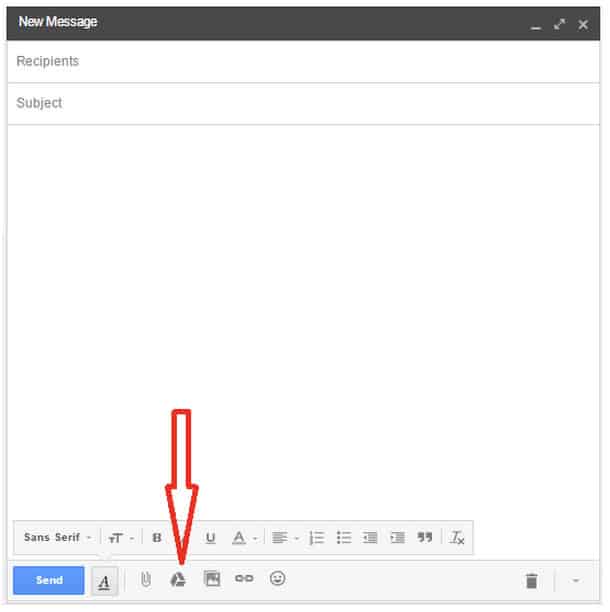 13. Archive email
Most people like to keep their inboxes neat and tidy. This means that if there's something in their inbox it needs to be actioned. Maybe you need to respond, you're waiting on a response or for something else to happen before you are finished with the email.
Once you have finished with the message select the message and click on Archive. See below. Once your message is archived out of sight and out of mind, don't worry it's still available to you. Either search for it at the top or click on your "All Mail" label and you will find it.

14. Offline
If you like to travel a lot and are disconnected from the Internet. You can turn on "offline Mode" Just go to your settings in Gmail and go to the offline tab. This will make your emails available through your web browser when you are offline.
If you need assistance taking advantage of the best Gmail features contact the team at Stanfield IT today