Cyber Security in Australia underwent massive evolution in 2018, which is entirely appropriate given the rate of cyber crime growth. Throughout 2018 and 2019, Australia moved forward in addressing the rise of cybercrime.
As a country, we implemented legislation to protect individuals and their private data. In terms of cyber security, Australia has definitely stepped it up. This continues, especially as ears are perked after the stream of reports of cybercrime in businesses every year and the new awareness that it's not just large businesses that are targeted.
We like to keep abreast of cyber security Australia focused news. So today, we'd like to provide a round-up of the top cyber security news, trends, and events for 2019 and coming into 2020. We are covering events that transpired in cyber crime, cyber security legislation, strategies, and more.
Let's dive in.
Don't miss out on our latest.
Join our subscribers and receive expert insights on cyber security and IT. Sign up now!
Growing Cyber Security Trends
Artificial-Intelligence-Driven Threat Detection
AI is now a tool for both malicious attackers and preventative security. With a machine's ability to self-learn and adapt, it's easy to see how this tool could be used for 'good' or 'bad'. In response to AI-driven botnets, cyber security measures are turning to AI-driven threat detection. AI-driven prevention can keep up with the rapid rate of change and sophistication in the world of cyber attacks. We enjoyed this in-depth article on how to win with artificial intelligence.
Blockchain Data Management
You may or may not be aware, but to sum up, blockchain is the technology behind cryptocurrencies like Bitcoin. It's a totally secure method of storing data, as each unit of data is universally verified by the participating network. Beyond its use in cryptocurrency, blockchain has true potential to provide great online security and data management. This could be anything from online voting to identity management, eliminating the risk of voter or identity fraud. These two articles by Dataversity give great insights into the era of blockchain: what its future looks like and how blockchain and artificial intelligence are driving the fourth industrial revolution.
Ransomware
Ransomware is the attack you need to worry about. Businesses are being hit with ransomware more than ever, and they're more sophisticated and clever about hiding their insidious operations. They lock up your files and private data, then extort you for money. Usually as a significant sum of cryptocurrency for anonymity purposes. This is an interesting article from CSO Online that goes into the five biggest ransomware attacks in the last five years.
Internet of Things Vulnerabilities
The growth of the Internet of Things (IoT) has brought some new issues to light. IoT has some incredible benefits and has improved the ease and quality of life for many of us. However, there are a few security concerns that should be considered as they begin to be exploited by opportunistic attackers. We've all embraced Google Home, but we need to be vigilant about cyber security Australia wide. This 2018 article by InfoSec provides a helpful summary of the security vulnerabilities present in this field, which are still current. They're also written a great article outline current IoT trends.
Greater Data Privacy Regulation
2018 saw the introduction of more privacy regulation and cyber security-related legislation, which have bled into 2019 and 2020. This tells us that governmental bodies are taking cyber security more seriously. They're now committed to enforcing data privacy for everyone. With the introduction of the Notifiable Data Breaches Scheme, and the General Data Protection Regulation taking effect both in 2018, it's clear there is a changing priority. This article from the Australian Financial Review takes a look at the global trend.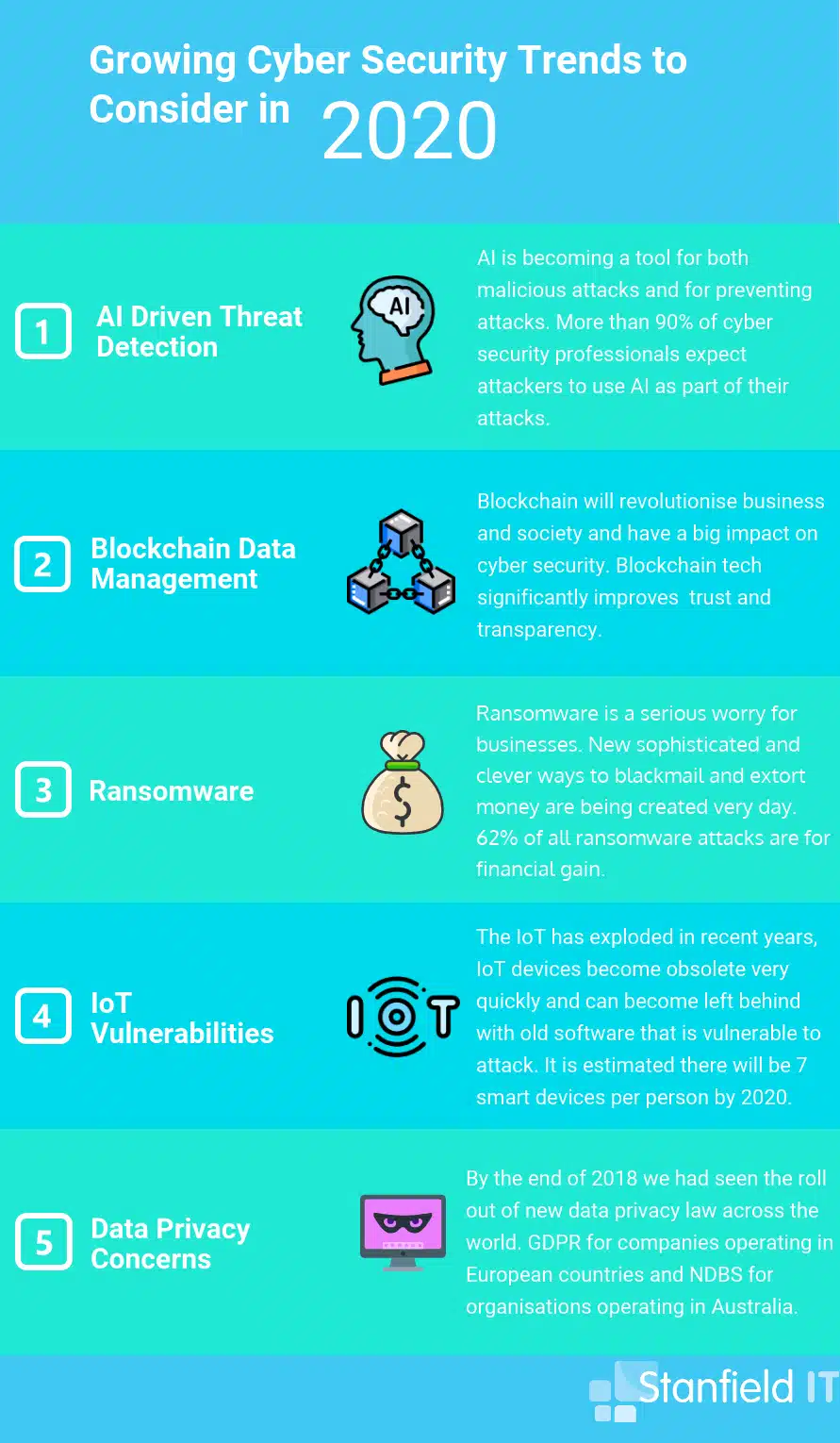 Best Cyber Security Strategies
Cyber Security Framework & Compliance

Above all, implementing and enforcing a cyber-security Australia-based framework for your business goes a long way towards protecting your data and private information. Frameworks cover a range of cyber-security protocols, procedures and security configurations. Stanfield IT has written an article that summarises the cyber security framework options in Australia.
Multi-Factor Authentication

Multi-factor (or two-factor) authentication is the new standard in online identity management and security. In short, it's a simple security feature that can almost completely eliminate successful phishing attempts. It does this by remote access requiring more than just a simple password. Here is a write-up of some reasons you should consider turning to multi-factor authentication this year.
Next-Gen Firewall

Next-Gen Firewall (or NGFW) may sound like a sci-fi invention, but is a very real. Nowadays it's quite a mainstream cyber security tool for breach prevention. NGFW utilise a combination of firewall technology, intrusion detection, SSL, and HTTP examination capabilities. It's an essential tool for your network and cyber security Australia wide. This article covers an important aspect of NGFWs that everyone should consider.
VLANs

A VLAN is a virtual LAN (Local Area Network) that allows you to group devices together despite being in different physical LANs. This can help with managing data security, optimising traffic and organising network areas. Above all, VLANs give you greater control over which devices can access one another, and therefore greater security. This article is a great breakdown.
Essential Eight

The ACSC's policy for cyber security in Australia is a simple list of eight steps everyone can (and should) take. If followed, these steps will immediately reduce your cyber risk and increase your network's cyber security. There is no hyper-technical tricks here, just common sense protocols for cyber safety. We will always advocate for the Essential Eight.
Most Common Cyber Threats
Phishing

Phishing is such a widespread and successful cyber attack as it relies on human error, unfortunately. They are counting on you to make a mistake and let them in. Ultimately, no security tool can prevent you from straight up giving your credentials away. But we can be alert, aware, and use sensible online practice to prevent successful phishing. SecureList provides quarterly statistical data around phishing and other cyber security threats. We recommend the IT threat evolution reports from Q2 and Q3, 2019, and the spam and phishing report from Q2, 2019.
Ransomware

As mentioned earlier, ransomware attacks are becoming far more sophisticated these days. Prevention is your best bet rather than trying to deal with the fall out and aftermath of an attack. Statistics vary on whether ransomware is on the rise or decline. Most importantly, though, it remains a popular method of attack amongst cyber criminals looking for a pay day. Just because you're a small business doesn't mean you're safe from ransomware attacks. In fact, Business News Australia goes over how SMEs in AU and NZ were hit the hardest by ransomware attacks.
Denial of Service

This malicious attack occurs when the attacker floods a system network or resources to the point that it can no longer function or respond to service requests. A DDoS (distributed denial of service) is the same type of attack, but instead utilises a large host of other machines controlled remotely by the attacker to provide more attack power. This article reviews DDoS attacks in 2018 and growing trends.
Man in the Middle

This type of attack is pretty self-explanatory. But despite its simple name, the attack itself is clever and can be totally devastating. A hacker can intercept a connection and then insert themselves into the exchange so that both parties now unknowingly reveal sensitive data to this malicious third-party. We found this site to be very informative and comprehensive on the nature of MITM attacks.
Social Engineering

This occurs when the attacker manipulates you (the victim) into believing a message, link or attachment has come from a trusted source and then infect your system to steal confidential data. It's easy to avoid messages and emails from unfamiliar contacts. But they've become clever, and will entice you to open something that looks like it's from your sister or friend or co-worker. Here is an interesting experiment on social engineering and how successful it really is.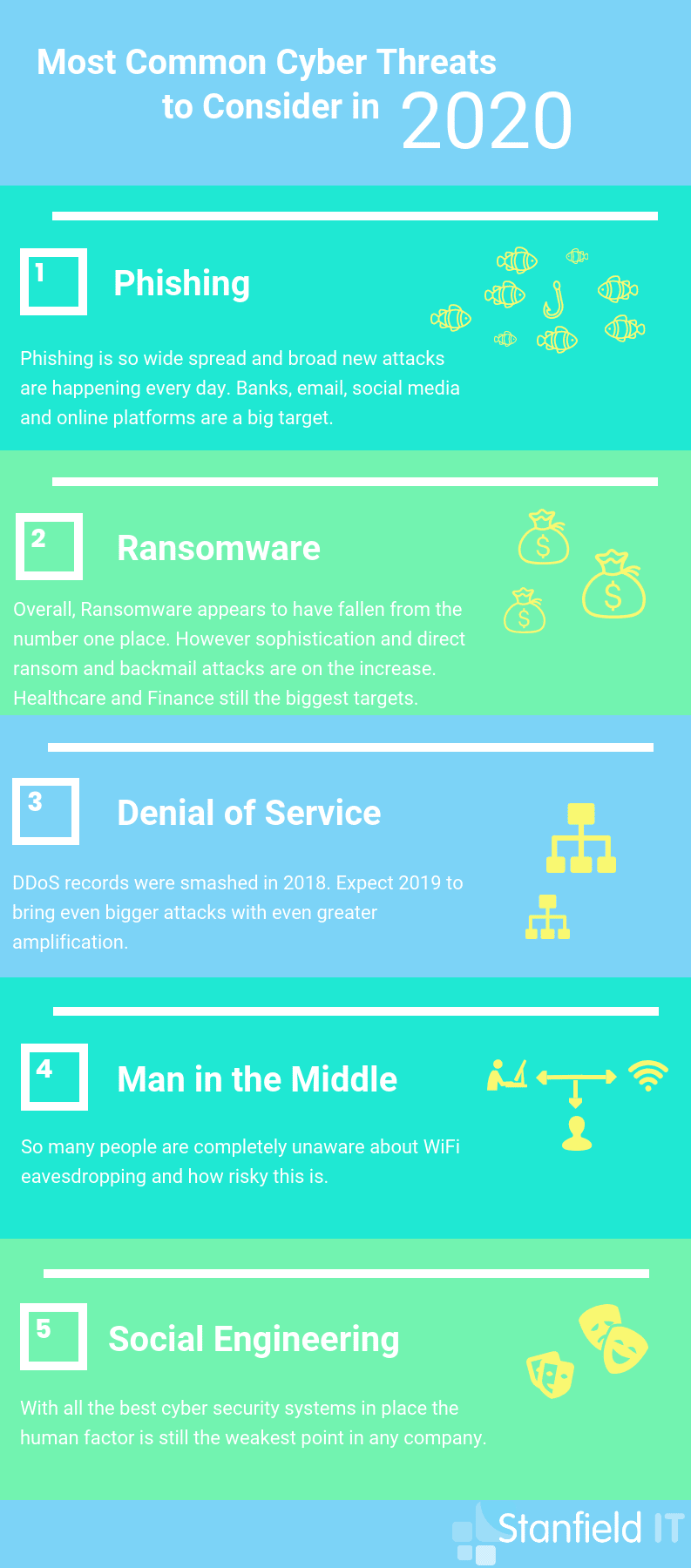 Data Breaches
2018
2019
2020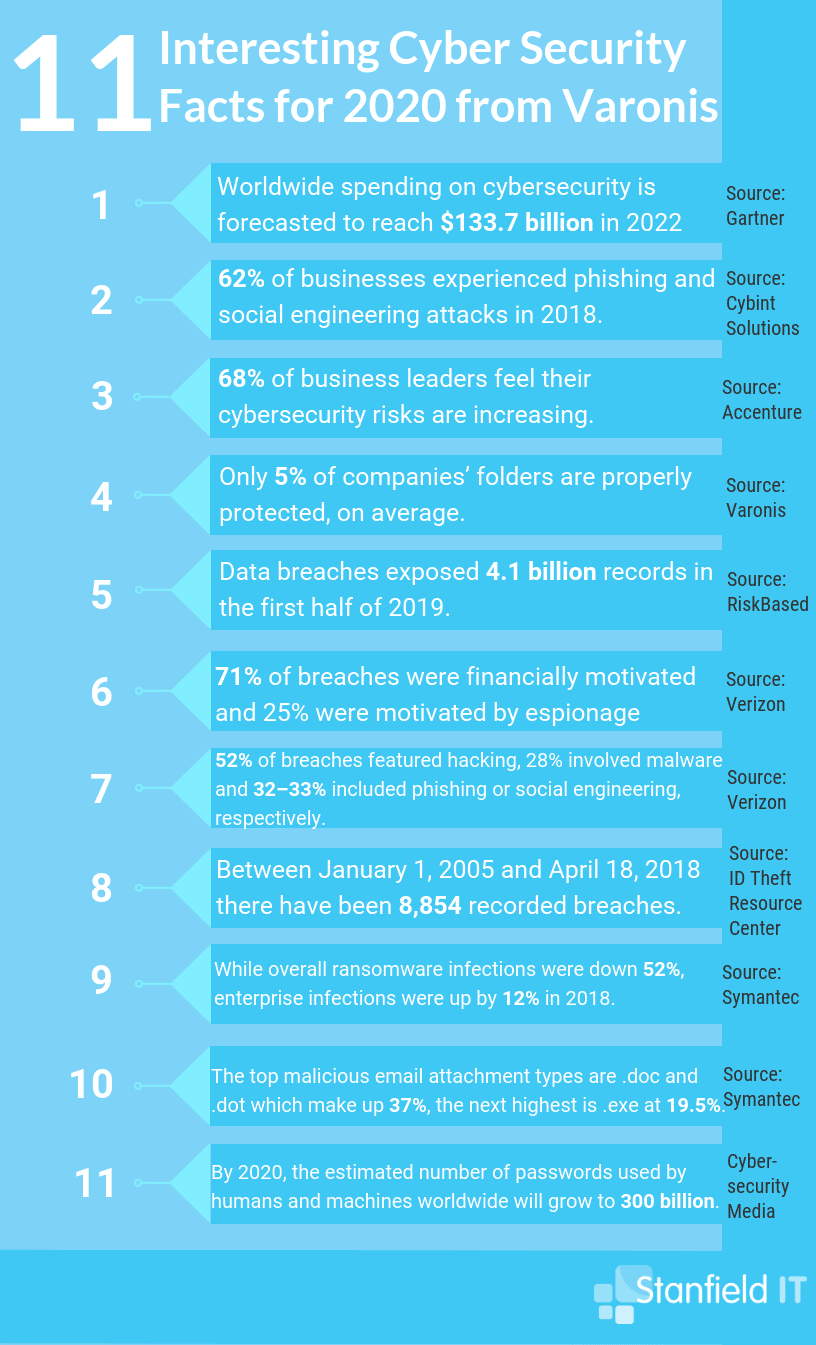 Cyber Security News from 2018 to 2020
2018
2019
In Conclusion
Want more? We recommend taking a look at Positive Technologies Cybersecurity breakdown from 2019 to 2020, which you can view online and download as a PDF.
If you are struggling trying to work out where to start with your cyber security give the team at Stanfield IT a call and we can help walk you through the process.